Weeks of rain are rapidly reviving California's drought-ravaged lakes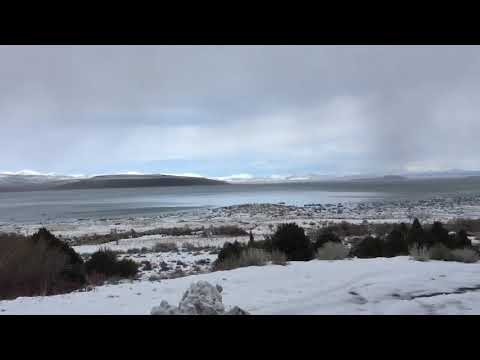 Recent storms and increased snowpack have contributed to rising water levels at Mono Lake. (Brian van der Brug / Los Angeles Times)
Reporting from MONO LAKE, Calif. —
Leaning against a wooden rail, environmental activist Geoffrey McQuilkin took stock of a parched geological wonderland that had been altered by a weekend deluge.
The air was still thick with moisture, and this lake's tributaries were cascading down from surrounding mountains, swollen by cargoes of fresh snowmelt and rain. Frothy whitecaps and wavelets lapped over grass meadows that had been dry ground only a week ago. The lake's famous tufa formations — for so long a symbol of California's lack of water — were capped with snow.
Similar scenes were playing out at lakes and reservoirs across Northern California as weeks of heavy rain and snow brought them back to life. Throughout the course of California's nearly six-year drought, the declining water levels at these places became a stark symbol of the state's water shortage. Now, they serve as barometers of the state's rapidly evolving drought picture.
Yet another storm pours rain on L.A. as snow and flooding continue in Northern California »
Lake Tahoe has risen 12 inches in just the last two weeks as the storms have dumped 33.6 billion gallons of water into the massive landmark, which measures 72 miles around and has a capacity for 37 trillion gallons of water.
As of Tuesday morning, 154 of the largest reservoirs tracked by the California Department of Water Resources had filled to about 97% of their collective average for the day, said Maury Roos, a longtime state hydrologist. Just a year ago, many were at or below 50% of average.
The storms dumped a combined 1.3 million acre-feet of water in those reservoirs from Jan. 1 to Tuesday, Roos said. That's about 423 billion gallons of water — enough to serve more than 2.5 million families for a year.
The turnaround at the 1-million-year-old Mono Lake and its ecosystem has been particularly dramatic. Less than two years ago, it was within 2 feet of the level that state officials say threatens the alpine ecosystem at the base of the eastern Sierra Nevada. Officials worried there would be so little water that coyotes would roam on the dry lake bed and go after the large gull colony there.
Less than two weeks ago, hydrologists had worried that it would take a wetter than average winter to keep this drought-stricken body of saltwater at a level high enough to avoid having to halt diversions of its Sierra Nevada snowmelt to Los Angeles.
If the level drops below 6,377 feet above sea level, the city cannot export water from here. The California State Water Resources Control Board established the limit in 1994 to resolve a dispute between environmentalists seeking to protect the lake's wildlife and the city 350 miles away defending its long-held water rights.
Prospects for averting the crisis brightened significantly over the weekend after another storm drenched the slopes surrounding this high desert lake east of Yosemite National Park with enough rain and snow to raise its level by at least 6 inches.
Now McQuilkin, executive director of the Mono Lake Committee, a nonprofit group organized to save and protect the bowl-shaped ecosystem, said, "The worst-case scenario is probably not going to happen. … These weather events have put us all on a different track. Who knows what the rest of the winter will bring?"
Many lakes and reservoirs have been slowly rising since October as Northern California saw increases in rain and snow. But January has been particularly wet thanks to "atmospheric river" storms.
Jana Frazier, a tour guide for the Department of Water Resources at Lake Oroville has a view of the dam and the reservoir from her office.
The numbers tell part of the story: The lake has risen more than 90 feet since December, she said — 21 feet during the 24-hour-span between Saturday and Sunday alone.
But seeing the change in person is even more striking. Prior to this weekend's storm, officials were launching boats from the bottom of one ramp. Water had climbed to the top of the ramp by Tuesday morning, Frazier said.
When Frazier returns to the ramp tomorrow, she expects that the parking area with the boat launch will be underwater and officials will have to move to a different ramp on higher ground.
"It's really weird," Frazier said. "We've been so low in water for so long, it seems strange to drive across the dam and see it almost full."
Lake Oroville, Lake Shasta and other reservoirs in Northern California are key pieces of the state's water system, which moves the resource from the Sierra Nevada to cities and farmlands. While the recent rains are making a dent, officials said it's still too early to say the drought is over.
Rain and snow are expected to continue through Thursday, with some higher elevations expected to see up to 20 inches of snow over the course of the week. Several key rivers have overflowed, and more flooding is expected.
In Sonoma County, about 3,000 residents were asked to evacuate as the Russian River swelled, damaging some homes. Along the Cosumnes River in the town of Wilton, about 2,000 people were told to move to higher ground.
The death toll from the storm also rose. A 20-year-old man was found dead Monday inside an overturned car submerged in a creek in Novato, authorities said. Three other deaths — including a woman who was killed by a fallen tree — are also believed to be tied to the storms.
For all the water that has flowed into Lake Tahoe, the National Weather Service said the lake was still below its long-term average for winter.
Which is why Chuck Self isn't batting an eye at the conditions.
The 51-year Lake Tahoe resident, who runs Chuck's Charter Fishing, said "the lake has come up, no doubt." But historically, "this is absolutely nothing."
Sahagun reported from Mono Lake, Serna and Stevens in Los Angeles. Times staff writer Paige St. John contributed to this report from Truckee, Calif.
ALSO
Powerful storm causes widespread flooding in Northern California, evacuations in Sonoma County and neighboring Nevada
253 drought maps show just how thirsty California has become
With snow piling up in the Sierra, what will it take to end California's drought?
Sign up for Essential California for news, features and recommendations from the L.A. Times and beyond in your inbox six days a week.
You may occasionally receive promotional content from the Los Angeles Times.