These 10 high schools are the best in L.A. Unified at getting their graduates to college
More students are graduating from Los Angeles Unified School District schools, but they're not all going on to college.
Some district schools are more successful than others at getting their students to college. According to L.A. Unified data for the class of 2016 obtained by The Times, Sherman Oaks Center for Enriched Studies was the most successful comprehensive high school — 86% had enrolled in a two-year or four-year college by April 2017.
The data are from National Student Clearinghouse, a nonprofit education research organization that tracks students through college.
Where are the schools?
The 10 L.A. Unified schools that sent the most 2016 graduates to college include five in the San Fernando Valley and the rest spread throughout L.A.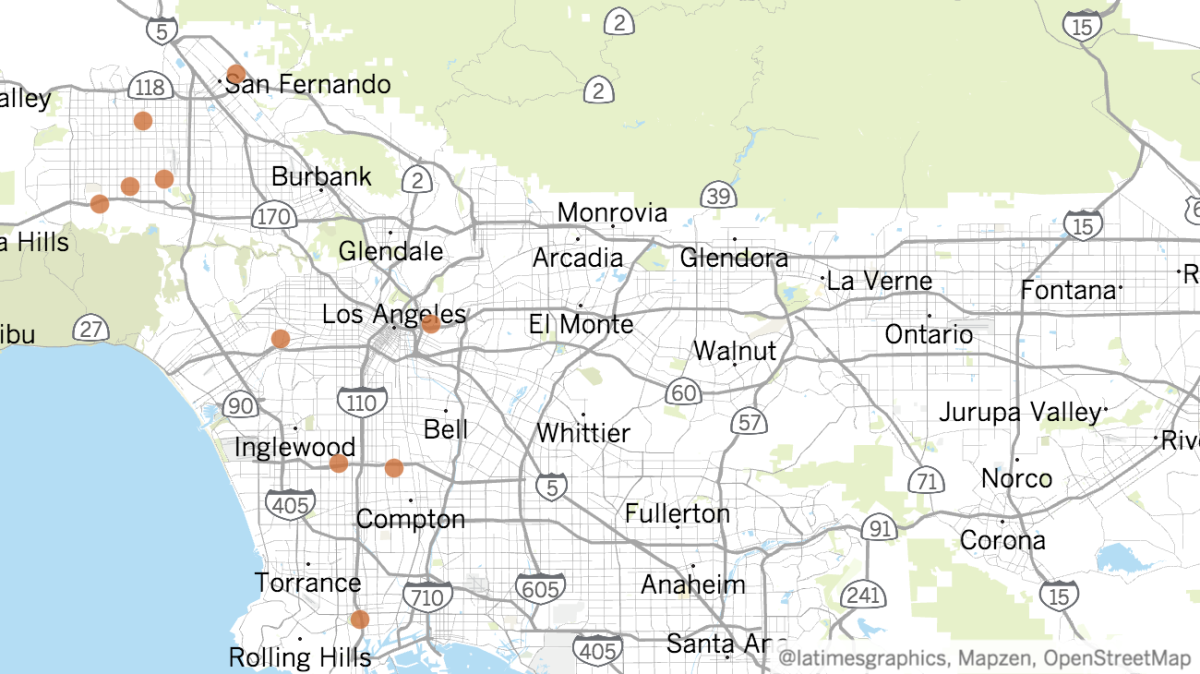 The schools all have high graduation rates, and most have some sort of application or lottery process to get in. Two — Middle College High and Harbor Teacher Prep Academy — have selective — admissions based on applications and are located on colleges campuses. Another, Northridge Academy High, has a partnership with Cal State Northridge. Five are full magnet schools, which choose students based on weighted lottery systems.
Sherman Oaks Center for Enriched Studies is one of the first magnets the district founded as part of its desegregation plan in the 1970s. The Sherman Oaks campus, which serves grades 4-12, is one of the most in-demand magnets in the district.
Magnet schools have themes, smaller class sizes and receive some extra funding from the district. They also serve fewer English learners, low-income students and special education students overall than traditional public schools.
Between 80% and 90% of Sherman Oaks CES graduates enroll in college each year, said Principal Martin Price. He attributes the high number to such factors as a college-going culture instilled from elementary school, students' ability to take community college classes in high school, and tools like Naviance, software designed to help students with career and college planning.
The school has been using Naviance but the district is paying for schools across the district to use it this year, Price said.
Other schools on the list also have an element of opting in. Social Justice Humanitas Academy is a pilot school, which means it has more freedom than a regular school in deciding its staffing, budgeting and scheduling. It shares its campus with other schools at the Cesar Chavez Learning Academies campus in San Fernando, and students from the neighborhood rank which schools in the area they'd like to attend.
Students sometimes arrive at the school, which serves grades 9-12, assuming they're bad at some subjects, said Principal Jose Navarro. He considers it part of his job to get them out of that mindset, he said.
"We are three traffic signals from the projects here in Pacoima," Navarro said. "The trauma of poverty, the trauma of racism, is real. It affects our ability to learn."​
HIs students learn about the history of racial and economic injustice toward their communities, and the importance of education as a tool to combat it, he said. D grades don't exist at the San Fernando school — it's A, B, C or F, so all graduates are eligible for Cal State University classes, Navarro said. The academy also has more class requirements than L.A. Unified students need to graduate.
"We've never let kids go home early," Navarro said.
Making college a visible part of high school
Part of the challenge is choosing the right college, principals say.
Cal State Northridge, just four miles from Sherman Oaks CES, was the most popular four-year college for 2016 L.A. Unified graduates who enrolled by April 2017, according to L.A. Unified's analysis of Clearinghouse data. Many students also attend two-year colleges, though a complete count is not included in the data L.A. Unified provided.
(The school-level data do exclude students who opted out of sharing records, so these numbers may be higher.)
At Sherman Oaks, the college counselor encourages students to broaden their views beyond Cal State Northridge and UCLA, Price said, improving their chances of getting into colleges that are the right fit for them.
"The idea is there are lots of colleges out there that have similar majors and they might be a little further from home but they might offer a new perspective," Price said.
The school also celebrates its students' successes, making college visible. "We do a big celebration in April and May when the kids get their acceptance letters," Price said. "We have them cut out either a star or the school emblem and put their name on it." Seniors put them up all over the school arcade.
For Navarro, it's equally important to make sure younger students see the successes of older ones. At the academy, freshman lockers are placed next to senior ones, and students decorate the seniors' lockers with college names and mascots as acceptances roll in, he said.
Alumni also play a key role, Navarro said. On Tuesday the school will host a financial aid night, with alumni now at various colleges attending. Over the summer, the school partners with an outside organization to give former students on vacation from college paid internships to help current students with their college applications, and the school makes sure to meet up with alumni on college visits.
"We take our kids to college campuses a lot," Navarro said. "When they get off the bus, they're greeted by our alumni," which helps them see what's possible.
Staying in college
Of course, just because they head off to college doesn't mean students will stick it out. Only 23% of L.A. Unified 2010 graduates got college degrees within six years, according to National Student Clearinghouse data.
Most students from these 10 schools do tend to stay in college after their first year, according to a recent analysis of Clearinghouse data on 2013 graduates, from the Los Angeles Educational Research Institute.
At Sherman Oaks, Price attributes that staying power in part to the magnet school's mission to desegregate.
"Our kids have already been introduced to somebody from three or four or 12 different cultures in a class," he said. So arriving at colleges where many people don't look like them doesn't faze them.
Both Navarro and Price said they get students used to college classes early, and help them start to build up college credits in high school so they have a head start as college freshmen. Sherman Oaks students are bused to nearby Pierce College to take college classes during the school day, while Los Angeles Mission College professors teach classes at Navarro's academy.
Navarro also tries to give former students support after they've left for college. For three years now, he has invited alumni back to the high school over winter break for sessions on such topics as socio-emotional learning and dealing with microaggressions.
To read the article in Spanish click here
Twitter: @Sonali_Kohli
ALSO
UC Irvine to debut brain research center with advanced MRI machine
Milo Yiannopoulos plans to speak at Cal State Fullerton despite protests and criticism
High School Football Player of the Week: Noah De Loera has Ocean View off and running to best start in 18 years
Sign up for Essential California for news, features and recommendations from the L.A. Times and beyond in your inbox six days a week.
You may occasionally receive promotional content from the Los Angeles Times.