L.A. officials push for new focus on school safety after Parkland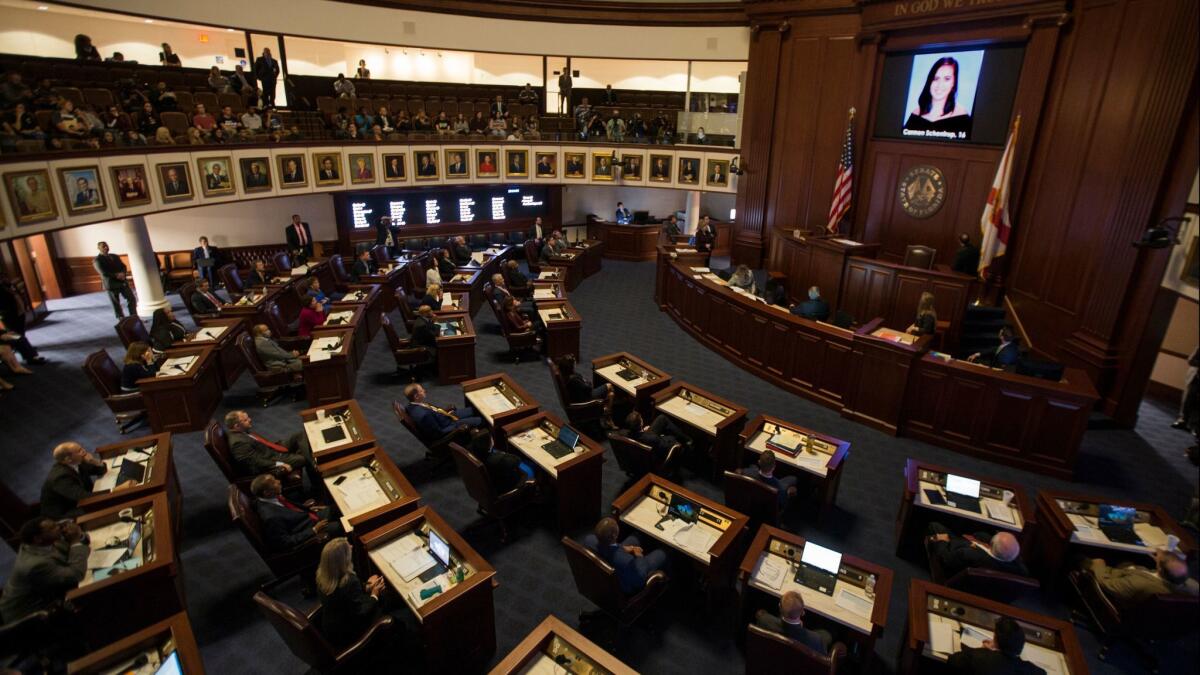 Political leaders in Los Angeles want the city to join the nation in focusing hard on how to prevent violence on campuses in the wake of one of America's deadliest school shootings.
On Monday, L.A. City Atty. Mike Feuer will announce his formation of a blue-ribbon panel to look at measures that would make schools safer and how to make them happen. The next day, L.A. school board members will introduce a resolution calling for stronger state and federal gun control and for a review of school district policies.
"Everyone recognizes this is a key moment," said Feuer of the aftermath of the shooting that killed 17 people last month at Marjory Stoneman Douglas High School in Parkland, Fla. "Every school district, especially in the wake of Parkland, should be doing everything it can to ensure its schools are as safe as possible."
The city attorney plans to chair the panel he's creating and to recruit about 15 others to serve. Eight already have agreed to take part, including retired California Supreme Court Justice Carlos Moreno, former L.A. City Controller Laura Chick and Earl Paysinger, a former Los Angeles assistant police chief who is now a senior administrator at USC.
Chick said she hoped the effort would make L.A. a "role model" for the nation.
"This is an effort to take in information from both experts and from boots on the ground — people who are living and breathing daily the concerns about school safety," she said.
L.A. school district interim Supt. Vivian Ekchian supports the idea but also was firm about the district's security. "The schools are safe," she said.
All the same, she said, "the district's safety and the city's safety go hand in hand and we cannot determine in advance where the moment of 'unsafety' may arise. I encourage all of us to work together."
Over the weekend, Florida legislators narrowly rejected a ban on assault rifles sought by many Parkland students. They are scheduled to vote Monday on proposed legislation that would expand an existing three-day waiting period on handgun purchases to all firearms, raise the minimum age to purchase a rifle or shotgun from 18 to 21, increase funding for mental health and school safety programs and ban "bump stocks," which modify semiautomatic weapons to fire like automatic weapons or machine guns.
Bump stocks were used by Stephen Paddock, the shooter who killed 58 and wounded hundreds more in Las Vegas in October.
President Trump has suggested training and arming teachers and other staff at schools, an idea pushed by the National Rifle Assn. The Florida bill also has a provision that would permit this approach in that state.
Although Feuer said he doesn't want to limit the discussion, he dislikes turning teachers into an armed security force.
"There are too many guns too easily accessible to the wrong people," said the former L.A. city council member and state Assemblyman, who pushed for gun control in both jobs. "A teacher's mission in life is to instruct rather than to fire weapons in a classroom."
At the L.A. Board of Education, three board members are sponsoring a resolution to call for state and federal bans on assault weapons and large-capacity ammunition magazines, required background checks for all gun purchasers and licensing and training for gun owners.
California has stricter gun laws than the nation as a whole but does not ban outright the ownership of all guns that critics identify as assault weapons.
The board resolution also asks the federal government to increase funding for student mental health services and pay for research on gun violence. It would give the school district 30 days to conduct an internal review of its violence-prevention policies and plans for dealing with an active shooter on campuses. It would also set up a safe schools task force that would meet periodically.
The city attorney's panel is compatible with the resolution's goals of having "city, district, expert and community collaboration in working toward … keeping teachers and students safe in our schools," said board member Nick Melvoin, who co-sponsored the measure along with board President Monica Garcia and Kelly Gonez.
Other confirmed members of Feuer's panel are: Benjamin Holtzman, a Hamilton High senior who represents students as a non-voting member of the school board; Jessica Lall, president of the Central City Assn., a pro-business group; Kelvin Sauls, the senior pastor at Holman United Methodist Church in Jefferson Park; former L.A. City Councilman Greig Smith, and Garen J. Wintemute, director of the University of California Firearm Violence Prevention Research Center.
Sign up for Essential California for news, features and recommendations from the L.A. Times and beyond in your inbox six days a week.
You may occasionally receive promotional content from the Los Angeles Times.