School board extends Supt. King's contract in current majority's final days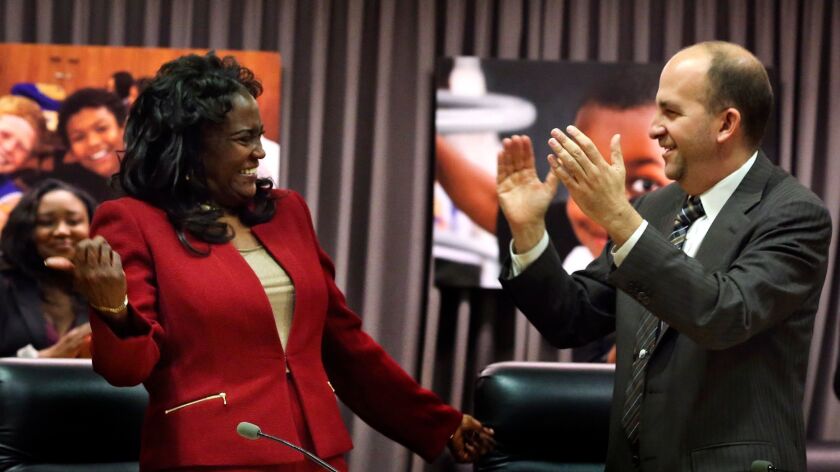 Steve Zimmer is about to lose his seat on the Los Angeles school board, but he pulled off an 11th-hour political triumph by engineering a contract extension for Supt. Michelle King.
The move means that the new school board, the first with a majority supported by charter school backers, will inherit a longer commitment to King, whose performance as superintendent has received mixed reviews.
The new charter-friendly majority came after the most expensive school board election in U.S. history. Charter supporters saw the election as a way to make fundamental changes in the Los Angeles Unified School District, which already has more charters than any other district.
But a debate has long raged about whether the explosive growth of charter schools does long-term harm to the traditional school system and students who remain in it.
Critics say the decision on future leadership of L.A. Unified should have been left to the newly reconstituted board, which takes charge in July. Supporters of the action call it a reward for a job well done that will ensure needed stability in the nation's second-largest school system.
The board's action, by a 6-1 vote, extended King's contract two years, until the end of June 2020.
King's extension comes after a bitter campaign face-off with backers of charter schools on one side and allies of the teachers union on the other.
When the mudslinging and vote counting ended, charter-friendly political newcomers Nick Melvoin and Kelly Gonez were victors.
But before they could take office, the current board majority, which has concerns about unlimited charter growth, had one or two last chances to get things done. The most daring move Tuesday was King's contract extension.
The internal debate took place in a closed session that began at 9 a.m. and ran until nearly 3 p.m., delaying the start of the regular public meeting by two hours. King's future was far from the only topic — the board also discussed hires and lawsuits. Board members eventually emerged in public, but they withheld the announcement about King until 11 p.m., after the regular meeting ended.
King expressed gratitude for the board's action in a statement Tuesday but left the board meeting without taking questions from reporters.
The prolonged sessions dampened what was supposed to be an important public hearing on the $7.5-billion budget, which is scheduled for a vote next week. Even though the district faces critical questions over its solvency, the board never truly uncorked that topic. And most public speakers had given up and gone home by 10:30 p.m., when the board belatedly asked for input, hours after the scheduled time.
To some degree, King's extension is symbolic. Her contract guarantees only a 90-day severance. It also sets a maximum severance of one year of pay or the remainder of her contract, whichever is less. King's salary is $350,000 per year.
But the deal was fully intended to bind the new board to King, according to a district insider who was not authorized to speak on the record.
"When you know you will not have control, you stop others from making their moves quickly," the source said. "We know what we have. What will we get if they do a buyout and bring in their own person?"
The board still could make such a change, the source said, "but the argument has to be stronger."
There's precedent for an outgoing board to extend a superintendent's contract, but it didn't end well. In 1999, the board extended the contract of Supt. Ruben Zacarias. Then three new board members joined the seven-member body. The new majority replaced Zacarias within months and had to pay a larger buyout because of the extension.
The new majority in that case justified its action by saying Zacarias was unable to handle a crisis in the school construction program. A crisis — real, perceived or manufactured — is a handy tool in such situations.
In 2006, a differently configured board acted quickly to limit the options of successors. Board members at that time worried that L.A. Mayor Antonio Villaraigosa was about to take control of the school system. They wanted to put a superintendent in place before he could choose his own person. The political uncertainty limited the field of applicants and may have rushed the process.
Retired Navy Vice Adm. David Brewer got the job, and Villaraigosa never obtained direct control — but he helped elect board members who, two years later, successfully pushed to buy out Brewer's contract.
As in many large urban school systems, churn at the top is pretty much constant, exacerbating problems, said David Rattray, executive vice president of the L.A. Area Chamber of Commerce.
"Each time you get a new superintendent, there's just this tremendous turmoil that is generated for one or two years," Rattray said. "The superintendent of such a large district starts becoming more impactful in their second, third and fourth year. That's when they start to develop their momentum."
Still, critics — including Melvoin, who replaces Zimmer in July — said the decision was the new board's to make.
"I was surprised they didn't defer any action on contracts," Melvoin said. "It's something I do think we'll revisit given the incoming board's charge to evaluate the superintendent."
Gonez declined to comment. Both she and Melvoin said they've had positive meetings with King since the May election.
The California Charter Schools Assn., however, did not mince words.
"Yesterday's vote was clearly a power play by the outgoing board, led by Steve Zimmer, to tie the hands of new board members mere days before they take office," the group said. The association, while it did not criticize King, said the board's action underscored the need for new leadership.
Charters are privately operated public schools. Most are nonunion. Under California law, the school district is required to authorize charter schools. But charter growth has exacerbated district financial strains because most education funding follows the student.
Concern over the budget motivated outgoing board member Monica Ratliff to support the extension. She spoke of "the need to have a calm environment as we go into these difficult budget times."
Board member Monica Garcia, who cast the lone "no" vote, expressed "confidence" in King in a statement Tuesday but added, "it is my view that she is best affirmed by that new board."
Garcia and Ref Rodriguez are expected to be part of the new charter-friendly majority. Rodriguez also expressed qualms about the timing but endorsed King.
"I believed it was important to show my support for her and the work she has done," Rodriguez said.
The performance of King, a career district employee, never became an issue in the recent election, but L.A. Unified itself was on trial in the campaign. This was particularly true in District 4, which stretches from the Westside to the west San Fernando Valley. Two-term incumbent Zimmer, the school board president, was targeted by charter backers in a campaign that portrayed the district as woeful and blamed him for all its woes.
In his campaign, and in his justification for Tuesday's action, Zimmer spoke of an improving school system that has advanced markedly under King.
He cited three examples. The first was King's shepherding of district resources to get record numbers of students to graduate. The second was her focus on improving the skills of students still learning English. The third was her role in the district's unwavering support of families with immigrants in the face of increased pressure from the Trump administration.
A statement from Zimmer added another point of praise — for King's support of restorative justice, which is aimed at ending suspensions and expulsions by improving counseling and developing students' senses of citizenship and personal responsibility.
"The performance of the superintendent has been extraordinary in ways that we expected and ways that we haven't expected," Zimmer said. "We really do see this district as on the right track, and we want to endorse that track."
Most of the efforts cited have critics as well as champions — either of the ideas themselves or how they've been executed.
"Politics are always at play," said UCLA education professor Tyrone Howard. "Folks want to see their people kept in places where they can support a particular issue or agenda."
"Even with a new contract, of course," he said of King, "that doesn't make her exempt from any kind of removal."
Twitter: @howardblume
Twitter: @annamphillips
---
For reporting and exclusive analysis from bureau chief John Myers, get our California Politics newsletter.
You may occasionally receive promotional content from the Los Angeles Times.