L.A. Unified's spending out of step with similar school systems, task force says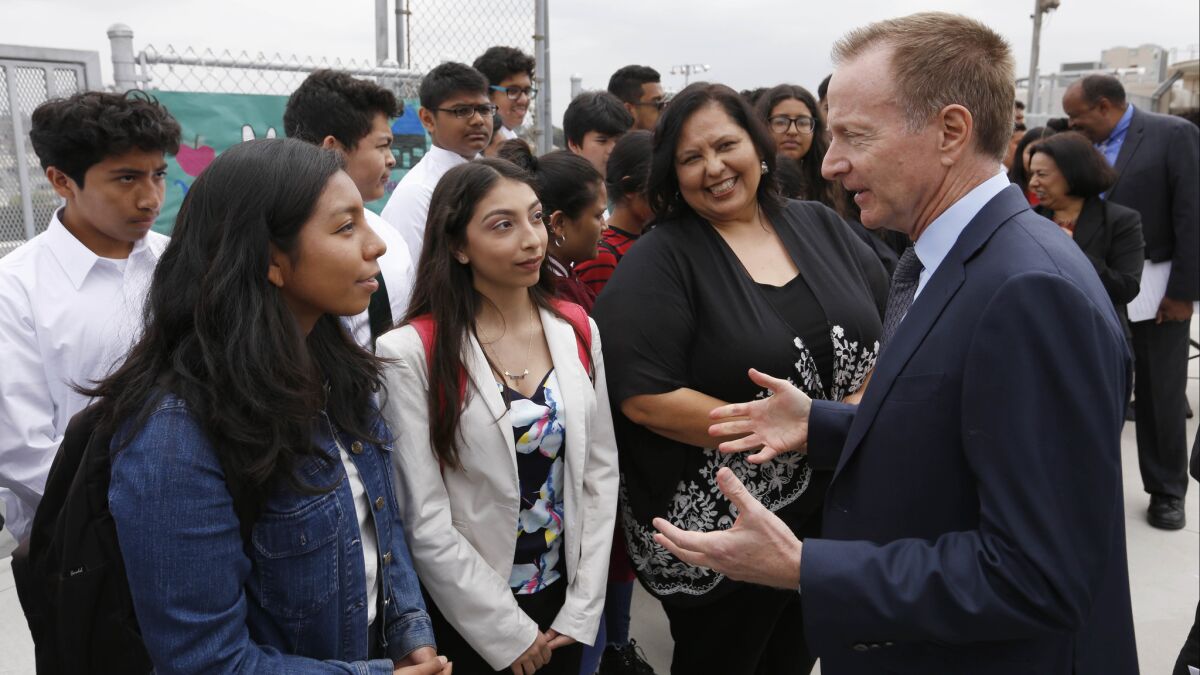 The Los Angeles school district is out of step with similar school systems, spending more on teachers' pay and health benefits and less on activities that could enhance student learning, according to a new report by an outside task force.
The L.A. Unified School District Advisory Task Force did not make specific recommendations, but instead posed a series of questions it said the district needs to answer to make sure its funding is aimed at providing a full opportunity for all students to succeed.
"What we're trying to say is: Let's put the data on the table. Let's look at the truth. Let's be transparent and here are the numbers," said task force member Renata Simril. "This is not to say that … we should cut teachers' salaries."
Some conclusions, including those about salaries and benefits, are likely to be met with skepticism by unions and others. L.A. Unified is currently involved in contract negotiations with most of its employee unions. And on the other side of the table is new Supt. Austin Beutner, who put together and formerly headed the task force before taking the superintendent's job in May.
The new report, titled "Hard Choices," is based largely on the work of consultants, who delivered their analysis — confidentially — to Beutner's panel in March.
Some key findings about overall district finances are consistent with earlier analyses by the district and a previous independent review. The most pressing is a budget deficit that — in about three years — would force sharp cutbacks in programs and jobs unless measures are taken to prevent them.
"This report says: Here are all the data points that we looked at. And it's called 'Hard Choices,'" said Simril, chief executive of the LA84 Foundation, which supports youth sports programs. "So district, community, we want you to be informed. And if we're all about student achievement, how do we get this train back on the right track?"
The heart of the report is a comparison of L.A. Unified to school districts in Oakland, Cleveland, Baltimore, Denver, Palm Beach County, Fla., and Shelby County, Tenn. Those districts are much smaller, but the comparison group was put together based on factors such as the similar percentages of students who are learning English and qualify for free or subsidized school lunches.
The report concludes that, compared with the "peer districts," L.A. Unified:
devotes fewer resources to middle schools.
provides less instructional time for students — and less focus on math and English instruction in particular.
offers teachers less time for collaboration and meaningful training.
spends more on administrators, but gives teachers less instructional coaching.
The task force also flagged as a problem the fact that most L.A. principals remain at their schools for two years or less.
The report does not mention potentially important contributing factors to some differences with other districts, such as state mandates and legal settlements that affect instructional time.
L.A. Unified also has challenged assertions that it has too many administrators, saying that the state misclassifies some of its employees, including counselors assigned to help schools reduce the number of student suspensions.
Making teachers work longer would require contract concessions or increased pay. Indeed, several issues raised by the task force, including salaries and benefits, are covered by labor contracts.
The task force concluded that the district's average teacher salary is 17% above the median of the comparison districts and that its average healthcare benefits cost is 44% above the median, when adjusted for the cost of living.
The report did not consider the extent to which pay levels are affected by L.A. Unified's older workforce: Salary structures in most school systems are based heavily on experience.
The task force did note, however, that some of the higher pay results from salary bumps teachers can earn by taking coursework or attending seminars. The consultants, in their underlying analysis, said this practice costs the district about $150 million in higher salaries, yet some of the training has a tenuous link to improving teaching.
Teachers were not the only focus. The report asserted, for example, that the position of a full-time food service worker in L.A. Unified includes benefits that cost $19,000 more per year than in the comparison districts.
Earlier reports by the year-old task force covered student attendance, district real estate and transparency.
Task force members characterized their latest report as the first to look at the district budget through the lens of student learning, although the report does not define what it means by student learning or state whether the school systems it used for comparison do better academically. The report also uses pseudonyms to refer to other districts, which makes it impossible to assess the comparisons independently.
The underlying analysis was conducted by Massachusetts-based Education Resource Strategies and was released in conjunction with the task force report.
Joe McKown, a partner at the nonprofit, said his team supports strategies including greater teacher collaboration based on other research and on his firm's examination of other school systems.
---
UPDATES:
4:50 p.m.: This article has been updated to include further details in the report and the underlying analysis. An earlier version of the article also said the underlying research had not been released but it is now public.
This article was originally published at 1:30 p.m.
The stories shaping California
Get up to speed with our Essential California newsletter, sent six days a week.
You may occasionally receive promotional content from the Los Angeles Times.