No more library fines for most young readers in L.A. County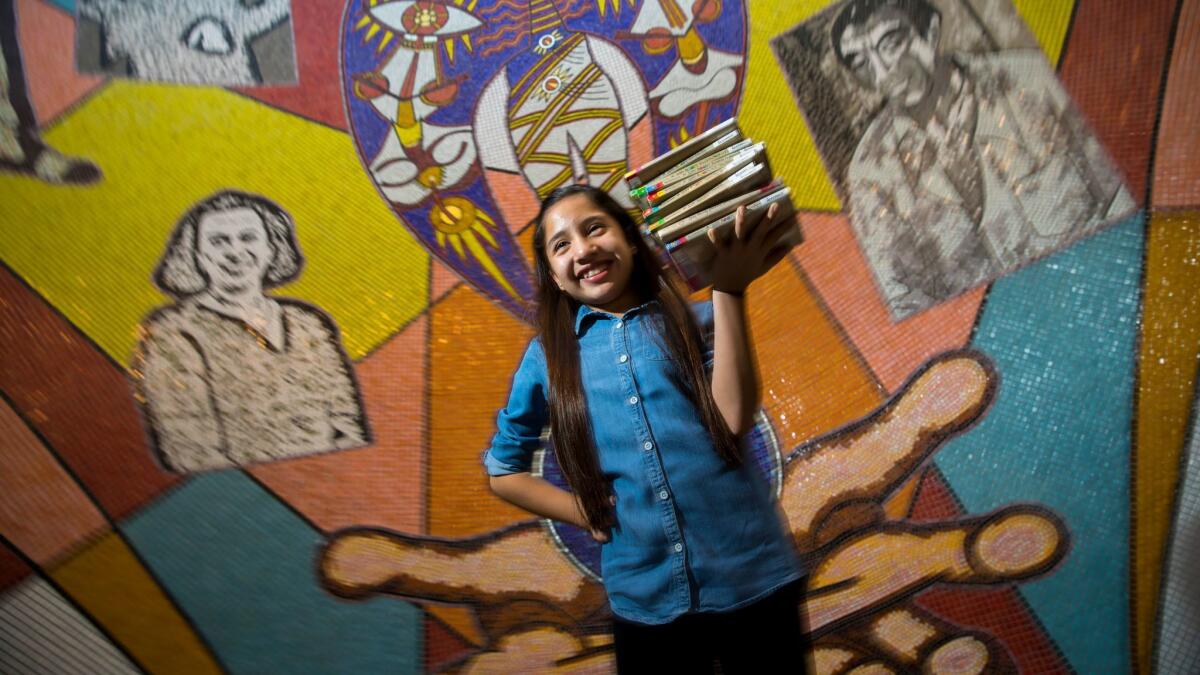 Leilany Medina, 11, loves books so much that she'd like to become a librarian. But even she sometimes forgets to return books on time, especially if she hasn't quite finished. And she's racked up some late fines.
But local libraries are providing a way out for such book lovers, and creating new lures for other children, who haven't caught the reading bug, by doing away with late fees, automatically signing up students for library cards through their schools and allowing them to "read away" their fines and fees.
The most recent move was a vote last week by Los Angeles County supervisors to end late fees for patrons under 21 at county-run libraries, effective immediately. That did not help Leilany because officials offered no amnesty for past fines.
So on Thursday, Leilany went to the East Los Angeles Library, a county facility, to read off $4 in late fees. Students can eliminate debt at a rate of $5 an hour under a program that took effect in June.
"You tell them you'll read and they'll sign you in and you start," said Leilany, a fifth-grader at Morris K. Hamasaki Elementary in East L.A. "When your head starts losing the book you can stop reading and they tell you how much money they took away."
She's especially fond of fairy tales and Megan McDonald's "Judy Moody" series, about a third-grader with many notable emotional states.
In an era where screen time dominates the lives of children, librarians and others haven't given up on instilling a love of books and libraries. They also want to make sure there isn't a "library gap" between the more prosperous and the poor. The program for "reading away" library debt is especially important because the cost of damaged or lost materials can be high.
A library debt of $10 results in suspended borrowing privileges. Since "Read Away" went into effect, the county library system has cleared 3,500 blocked accounts, said Darcy Hastings, the county's assistant library administrator for youth services.
Even fines of 15 cents a day per book can push children away.
"When charges accrue on a young person's account, generally, they don't pay the charges and they don't use the card," Hastings said. "A few dollars on their accounts means they stop using library services."
In random surveys, 80% of parents said they are more likely to let children check out materials because of the more lenient policies. Which is not to say libraries have gone completely soft: Patron debts of $50 or more are turned over to a collection agency.
"We do try to work with families before it gets there," Hastings said.
At least 100 students a week read away their debt at East L.A. Library, children's librarian Aleah Jurnecka said.
"The parents express gratitude and relief," Jurnecka said. "It lessens the burden on a lot of families."
Most children in the county use one or more of three library systems: L.A. city, L.A. County or a school library.
The state of school libraries varies greatly by location and school district. L.A. Unified has only one elementary library, for example, that it considers fully staffed, with a full-time librarian and a part-time aide. But for about a year, district students have automatically received city library cards that accrue no overdue fees. Students can check out three books at a time. About 15,000 have used the new cards. (Thousands of others already had library cards.)
The county action last week greatly expanded access to fine-free libraries. The city of Los Angeles does not have a read-away program for fines. Other cities with library systems set their own fee policies.
Leilany needs little encouragement to get to the library on a near daily basis after school. In addition to reading voraciously, she plays computer games, does online research for homework and took part in a summer gardening club and an animation workshop.
"She's using some words at home that other kids her age don't know if they're using tablets and not building their vocabulary," said her 22-year-old cousin Yeimi Cortez.
Leilany logged more reading time than necessary to retire her debt. That's what happens with a book you can't put down, like "Because of Winn-Dixie" by Kate DiCamillo.
"I like doggies," Leilany explained, "and this dog, Winn-Dixie, was like lost."
Sign up for Essential California for news, features and recommendations from the L.A. Times and beyond in your inbox six days a week.
You may occasionally receive promotional content from the Los Angeles Times.