In court loss for Trump, U.S. judge to oversee more family separation cases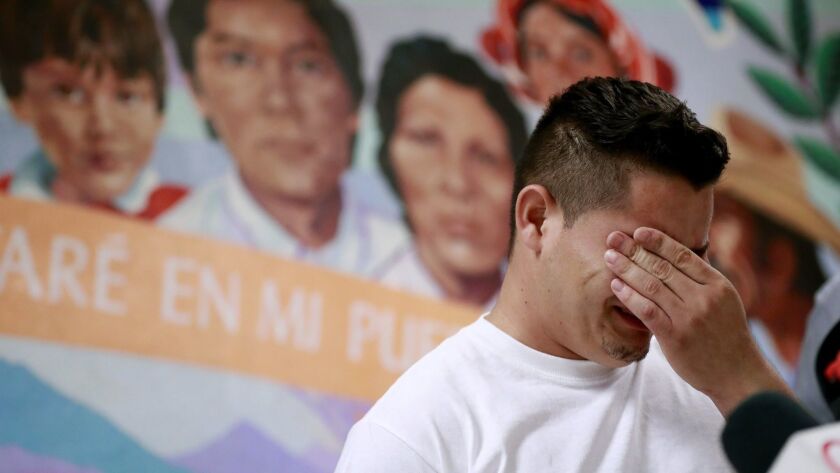 A San Diego federal judge has expanded his authority and will now oversee the cases of potentially thousands of additional children who were separated from their families at the border during the Trump administration.
Judge Dana M. Sabraw ruled late Friday that his authority applies to any families that were separated at the border on or after July 1, 2017. Previously his order applied only to minors who were in federal custody on June 26, 2018 — more than 2,800 children.
The June 26 date was when Sabraw made his original ruling, but it was otherwise an arbitrary date and should not be used to deny relief to other potential victims, the judge decided.
Sabraw said his latest ruling was based on a report by the U.S. Health and Human Services Department's internal watchdog. The report concluded that since the summer of 2017, thousands more children may have been separated than the government had previously acknowledged.
The department's inspector general said the precise number is unknown.
Judge orders Trump administration to act on young Central American refugees left in limbo »
The separation of parents from their children "was and is unlawful," Sabraw wrote. "Although the process for identifying newly proposed [affected families] may be burdensome, it clearly can be done."
The Trump administration carried out family separation as a deterrent to illegal immigration. Children of all ages were separated from their parents at the border. Sometimes they went to separate detention camps. Sometimes the parents were deported.
The policy resulted in a widespread and bipartisan public outcry, and the administration ultimately reversed course. Federal officials have been deeply involved in reunification efforts, although they were not able to comply with the judge's original 30-day deadline because of inadequate record-keeping and other shortcomings.
Still, at this point, nearly all of the children who were part of the original case "have now been reunified with their parents or otherwise discharged in accordance with their parents' wishes," Sabraw wrote in his order.
Should activists aid migrants in the desert, or leave their fate to the Border Patrol? »
The government argued against expanding the number of cases under the court's jurisdiction, saying that these additional families are in a different legal position and that reviewing their cases would be time-consuming and cumbersome.
Sabraw did not accept that argument, saying that it "overlooks the profound importance of the reunification effort, which entailed a search for parents who had been separated from their minor children under questionable circumstances; it ensured every reasonable effort was employed to avoid the very real possibility of a permanently orphaned child due to the actions of one or more government officials."
The new ruling would expand the case considerably. For example, during a five-month period in 2017, the El Paso sector of Customs and Border Protection "implemented new policies that resulted in 281 families being separated," according to the government report.
Officials with the Department of Homeland Security and the Department of Justice either could not be reached or were not prepared to comment Friday night.
Times staff writer Molly O'Toole contributed to this report.
---
The stories shaping California
Get up to speed with our Essential California newsletter, sent six days a week.
You may occasionally receive promotional content from the Los Angeles Times.