Will Felicity Huffman get prison time for her role in college admissions scandal?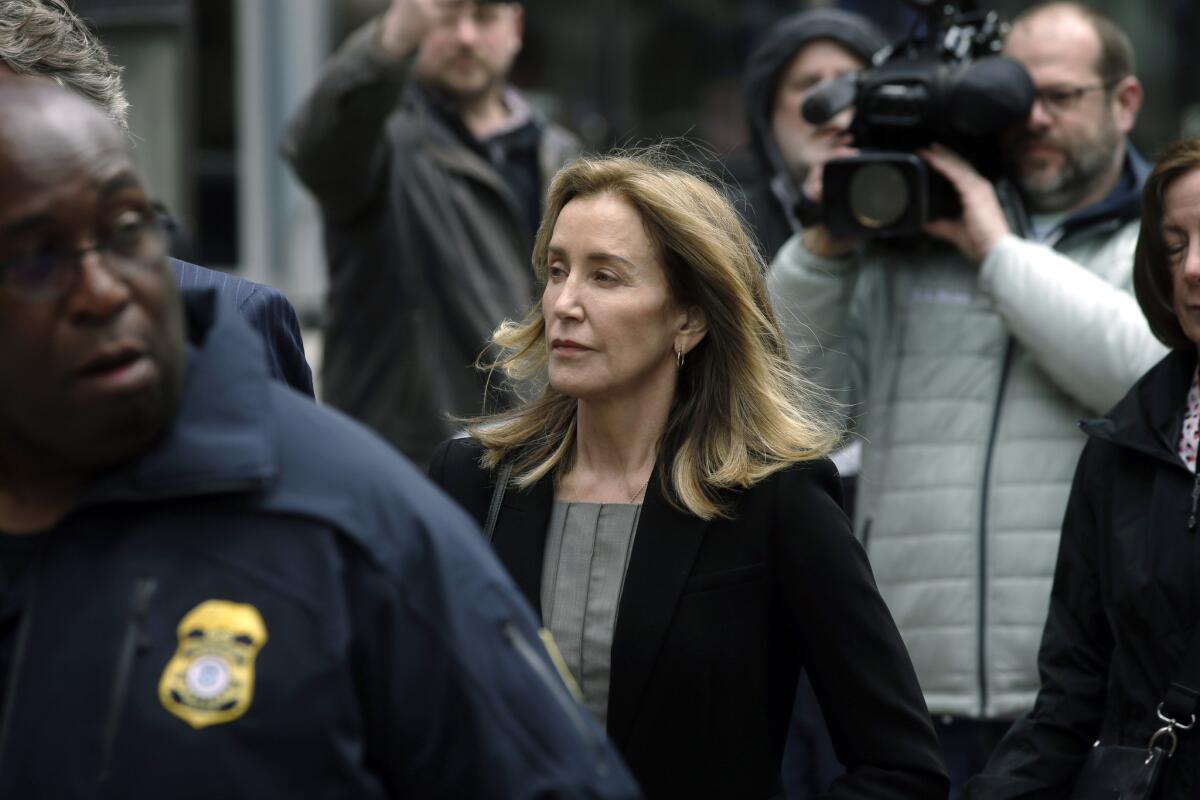 Felicity Huffman formally pleaded guilty Monday to her role in the college admissions scandal.
The question now is what her punishment will be.
A judge will determine that at a later date. But here is what legal experts are saying:
— Huffman pleaded guilty to a fraud conspiracy charge for her role in a brazen test-fixing and bribery scheme that has sent the actress' reputation and career prospects tumbling.
— Huffman, 56, has admitted to paying $15,000 to William "Rick" Singer, a Newport Beach college admissions consultant, to inflate her daughter's SAT score. The amount is the lowest paid in the college admissions scandal.
— Prosecutors will recommend a sentence at the low end of guidelines that call for four to 10 months in prison, according to Huffman's plea deal and federal sentencing guidelines. But Huffman's attorneys said in her plea agreement that they would reserve the right to argue that her sentence should be calculated at a slightly lower range than what prosecutors have proposed. If they make that argument and are successful, Huffman could face a sentence between no time at all and six months in prison, according to federal sentencing guidelines.
FULL COVERAGE: Dozens charged in connection with college admissions scheme »
— Legal experts said there is a strong prospect that Huffman will get electronic monitoring and not actual prison time.
— Manny Medrano, a defense attorney and former federal prosecutor, told The Times last month that based on 2019 federal sentencing guidelines, Huffman likely would face from four to 10 months in prison as part of her plea. Eric Rosen, the lead prosecutor, told the judge Monday that his office was recommending four months as a sentence, which the judge then characterized as a "trade" for her not appealing. The judge can, however, ignore that recommendation.
— Some experts said Huffman's public apology might help in sentencing. "I want to apologize to the students who work hard every day to get into college, and to their parents who make tremendous sacrifices to support their children and do so honestly," Huffman wrote in a statement.
— "She was first out the gate to take responsibility and will be handsomely rewarded for it, especially if the other defendants drag their feet, which [we're] beginning to see," Louis Shapiro, a federal defense attorney in Los Angeles, told The Times last month.
Sign up for Essential California for news, features and recommendations from the L.A. Times and beyond in your inbox six days a week.
You may occasionally receive promotional content from the Los Angeles Times.