$300,000 Ferrari with keys inside stolen, trashed by alleged joyrider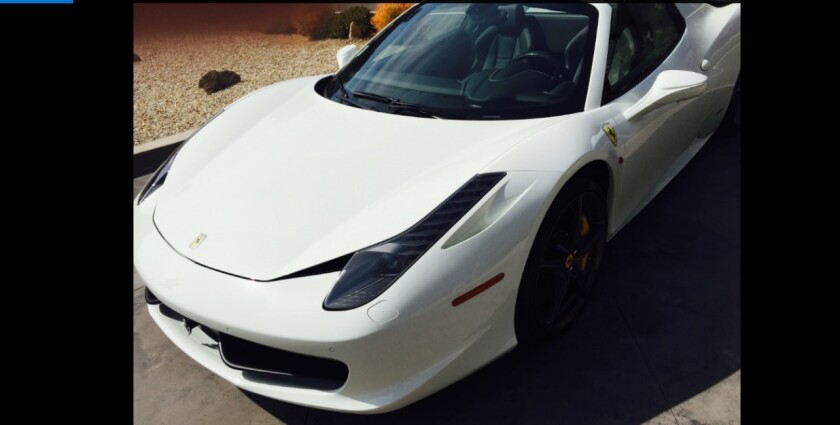 Santa Ana police knew something wasn't right when they approached a man who was asking for money to put gas in a Ferrari 458 Spider at a Mobil station.
The nearly $300,000 exotic car was trashed, with cracked fins, a destroyed gearbox, emblems torn from the body, missing paddle shifters and vomit caked on the side.
It turned out the 2015 model had been reported stolen about two weeks earlier from the Ferrari & Maserati of Newport Beach service center in Costa Mesa.
The car was owned by Susan Friedman of Laguna Beach, who went to the service center Oct. 19 to collect her vehicle. But employees couldn't find it.
Apparently, a worker had left the key on the passenger seat. Security footage showed a man wearing a Ferrari jacket walking onto the property past employees, looking in a few car windows and then driving off in the Ferrari.
Twenty-seven hours elapsed before anyone noticed the car was missing.
"It was just like 'Gone in 60 Seconds,' " Friedman said, referring to the 2000 movie starring Nicolas Cage. "I'm like in a shock. This whole last month has been a nightmare."
Friedman originally believed that members of an organized crime ring stole the Ferrari and put it in a shipping container bound for Asia.
However, on Nov. 1, someone reported an exotic car being driven erratically in the area of Dyer Road and Hotel Terrace in Santa Ana.
A Santa Ana police officer found the Ferrari at a Mobil gas station on East Dyer.
"After running away from the vehicle, the suspect was arrested behind the bushes at the entrance to the Holiday Inn," said Anthony Bertagna, spokesman for the Santa Ana Police Department.
The suspect, Israel Perez Rangel, 38, of Santa Ana, has pleaded not guilty to felony charges of vehicle theft with a prior felony conviction of driving or taking a vehicle, grand theft auto with a prior conviction, and vandalism. He also faces a possible sentencing enhancement on allegations of theft over $200,000, according to Orange County Superior Court records.
He has a lengthy criminal record dating to 2002, including vehicle theft, drug possession, resisting arrest, shoplifting, possession of a deadly weapon, assault with a deadly weapon, carrying a switchblade, criminal threats, evading a peace officer with reckless driving and buying or receiving a stolen vehicle or equipment, according to court records.
Ultimately, Friedman's insurance company cut her a check for the trashed vehicle. She used the money to buy a 2018 Lamborghini Huracán.
"I love it," she said. "It's unbelievable."
Langhorne is a contributor to Times Community News.
---
For reporting and exclusive analysis from bureau chief John Myers, get our California Politics newsletter.
You may occasionally receive promotional content from the Los Angeles Times.