Rye fire spreads to 5,000 acres, triggers evacuations and gridlock in Santa Clarita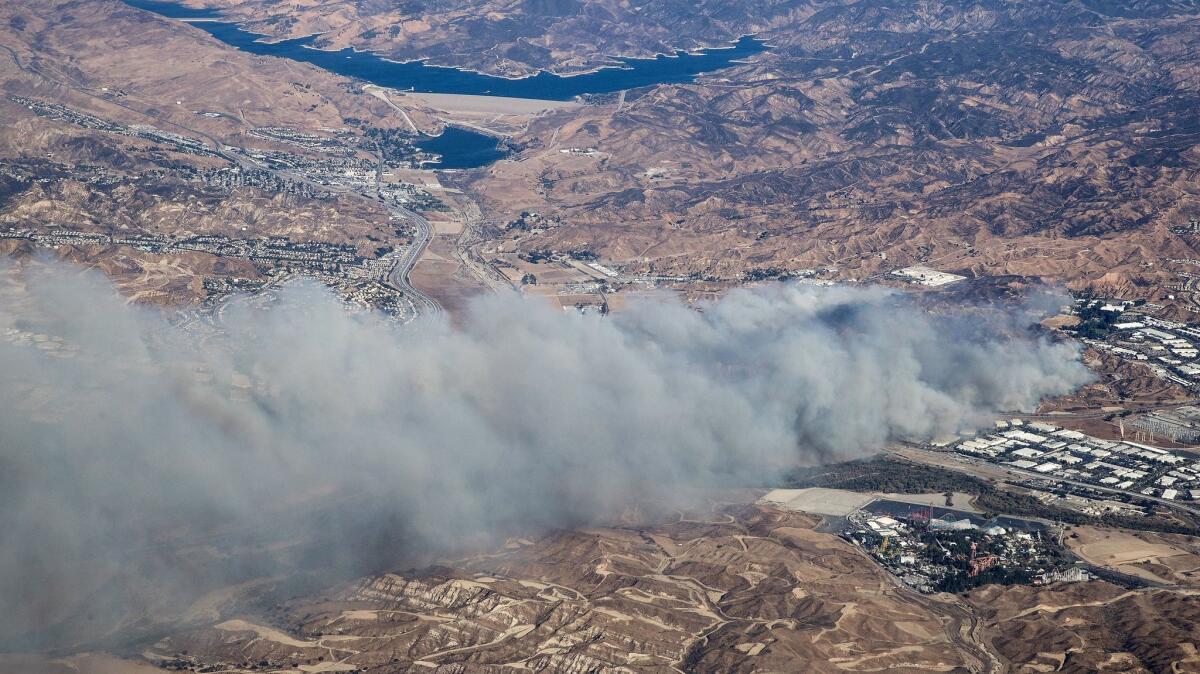 A growing wildfire in Santa Clarita has burned 5,000 acres, forcing thousands to flee their homes and schools as an enormous cloud of smoke rose over the area.
Authorities ordered evacuations of 1,300 homes in the Westridge area as well as schools on Valencia Boulevard in Stevenson Ranch. Students at West Ranch High School and Rancho Pico Junior High were being evacuated to College of the Canyons. As of 4 p.m., the Rye fire was 5% contained, Los Angeles County fire officials said.
"Traffic is jammed in the area," the city said. "Parents are being asked to go to College of the Canyons and not try and go to the schools. Oak Hills Elementary parents have been asked to pick up their kids from the school immediately."
When Stacy Reardon learned that the flames of the Rye fire were nearing her 4-year-old daughter's school in Santa Clarita, she jumped in her car and raced there.
But when the usual one-hour drive from her work in Sherman Oaks turned into a 2½ hour drive with flames nearing 10 feet of her car, she started to panic.
"I was crying all day," Reardon said.
As she drove up Rye Canyon Road toward Santa Clarita Valley International Charter School, gray smoke filled the air. She drove slowly due to poor visibility.
As she neared the school, she told a police officer who had blocked the road that she needed to pick up her daughter.
"He let me go through but told me drive slow because of all the smoke," she said.
About one minute away from the school, Reardon said the flames were so intense that her car began to overheat. Ten feet away, the shoulder of road was engulfed in flames.
She parked her car and walked inside the school, shaking.
"The school supervisor saw me crying and told me my daughter was fine. But I felt bad because she was one of the only kids left," Reardon said. "I was so thankful the teachers stayed with her. They were texting me and telling me she was safe."
Finally reunited with her daughter, Rowan Reardon, she breathed a sigh of relief. As she followed the news of the wildfire raging through Ventura, the last thing she expected was that a similar situation would erupt in Santa Clarita.
The Valencia Travel Village motor home park near Highway 126 was also evacuated as flames moved west, according to Sgt. Wayne Waterman of the Santa Clarita Valley Sheriff's Station.
Jane Welborne and her husband had spent the last two weeks on the road in their RV, exploring the Pacific Ocean coastline in Oregon and California.
The Montana couple had planned to sleep in Castaic on Tuesday, and maybe Wednesday, too, before heading south to San Diego.
Instead, they arrived at the Valencia Travel Village three hours after officials had ordered its evacuation.
The property was all but empty. The swimming pool was coated in debris. Rows of firetrucks blocked the back half of the property. Ash rained down on rows of empty RVs.
"We may end up going to San Diego sooner than we thought," Welborne said, brushing ash off her jacket. "This air is nasty."
After briefly consulting with an employee in a golf cart, Welborne's husband turned around in the parking lot, and the couple headed back out.
But Tim Armstrong drove right in, parking his Mini Cruiser next to his RV. When he'd left at 8:30 a.m., the sky was blue. Eight hours later, it was hazy gray, and raining ash.
When Armstrong heard the news about the evacuations, he called the property's front desk. His Chihuahua mix, Brody, was still inside his RV, and he was worried the park would burn down with Brody inside.
An employee with a key to Armstrong's RV had scooped up the pup and kept him with the staff for the afternoon, Armstrong said.
Armstrong and Brody moved to Castaic from Orlando, Fla., in July, and have lived at the travel village since then. More than 100 people live at the property permanently and would be financially devastated if it were destroyed, Armstrong said.
Even as residents returned to the park, Armstrong considering finding a hotel, because the power was out and the air was so smoky.
"What's important is that I have him," Armstrong said, picking Brody up. "This is insured" — he patted his RV — "and everything else is saved in the cloud."
The blaze erupted about 9:30 a.m. at Rye Canyon Loop, authorities said.
It grew to 200 acres by 10:50 a.m., and had zero containment, said Los Angeles County Fire Inspector Joey Marron.
Strong wind gusts of up to 60 mph fanned fire. By early afternoon 1,000 acres had been charred.
The fast-moving flames forced closure of the 5 Freeway at Highway 126 on Tuesday morning.
Thousands of tractor trailer trucks and automobiles idled in bumper-to-bumper gridlock on the freeway, the primary link between Los Angeles and California's Central Valley.
By 2 p.m. the freeway was reopened in both directions.
Power outages have been reported throughout the Santa Clarita Valley, according to officials.
Evacuation centers have been set up at Valencia High School at 27801 Dickason Drive, and at City of Santa Clarity Activities Center at 20880 Center Pointe Parkway.
Firefighters were also dealing with major fires in Sylmar and Ventura, where more than 150 structures were lost.
Times staff writer Alene Tchekmedyian contributed to this report.
---
UPDATES:
5:55 p.m.: This article was updated with a new amount of acreage burned.
2:15 p.m.: This article was updated with a revised estimate of the acreage burned, the reopening of the 5 Freeway and evacuation details.
This article was originally published at 11:25 a.m.
Sign up for Essential California for news, features and recommendations from the L.A. Times and beyond in your inbox six days a week.
You may occasionally receive promotional content from the Los Angeles Times.