With summer here, expect the fires to follow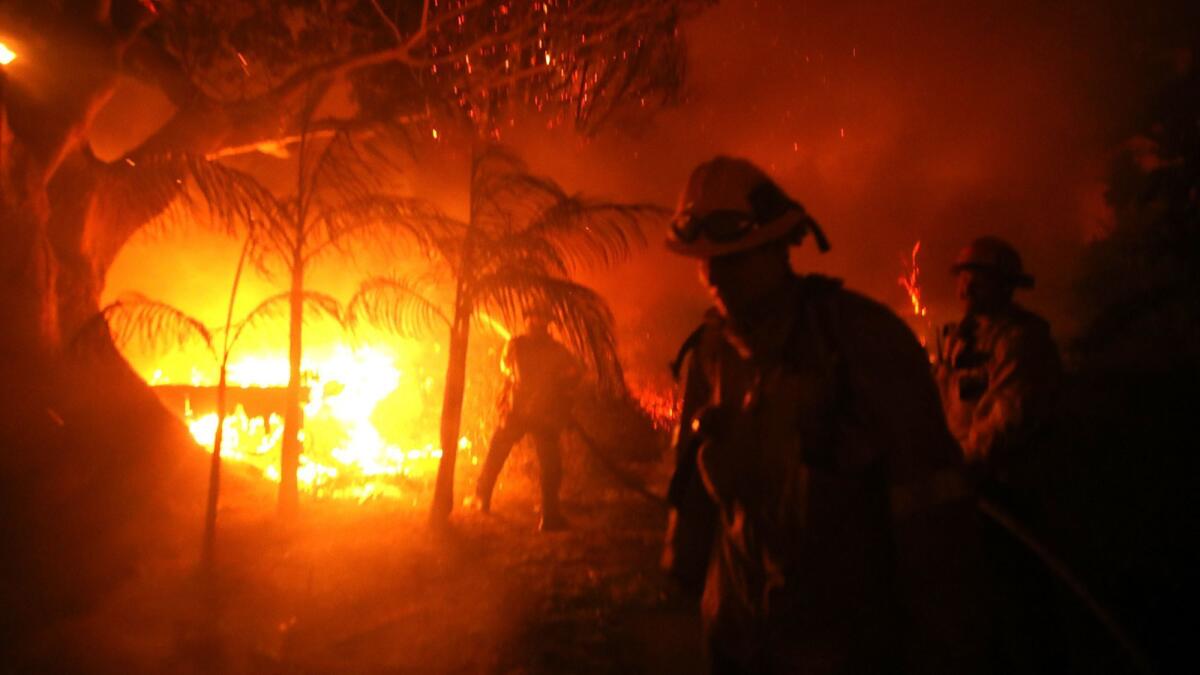 Summer finally arrived in Southern California this weekend with temperatures in the 90s and a series of small fires around the region.
Firefighters were able to put out the fires — including one near Dodger Stadium and another in the San Gabriel Mountains — fairly quickly. But officials say this is just beginning.
Significant rainfall brought an increase in grasses, and as those dry out during what's expected to be a hotter-than-normal summer, lower elevations will be vulnerable. Much like last year, the greatest fire potential will occur from October through December, experts say, as the Santa Ana winds pick up.
Officials are expecting numerous grass fires of between 5 and 150 acres to burn during June. Several spot fires have already broken out across the state, according to the California Department of Forestry and Fire Protection.
But those burn areas are expected to nearly double in July — to around 250 acres — and balloon to 1,500 to 5,000 acres by September and October. Like last year, the worst could come in November, when experts warn that fires of more than 5,000 acres could break out.
Last year, the state was ravaged by monster conflagrations during the first week in November. The Woolsey fire killed at least four people, blackening more than 96,000 acres and destroyed more than 1,100 structures. The devastating Camp fire wiped out the town of Paradise, killing 85 people and destroying more than 18,000 structures as it torched some 150,000 acres.
"As the summer progresses into the fall months, the potential for devastating fire increases until we get rainfall," Los Angeles County Fire Chief Daryl Osby said during a news conference at the Pomona Fairplex.
Fire officials from more than a dozen agencies throughout the state, including Cal Fire, the Governor's Office of Emergency Services, the U.S. Forest Service, the Orange County Fire Authority and the Ventura County Fire Department, were on hand to outline what the state is likely to face this year as fire season gets underway.
Officials can't say for certain whether this year will be the worst for fire in state history, but they are encouraging residents to be vigilant and proactive.
"I'm not here to proclaim the sky is falling. Instead, I'm here to tell you it will," Ventura County Fire Chief Mark Lorenzen said, emphasizing that the last two fire seasons serve as evidence for what could happen.
Last year, Ventura County firefighters were trying to contain the Hill fire between Thousand Oaks and Camarillo when the Woolsey fire began steadily growing in the hills of Thousand Oaks before jumping to Malibu. The fire would become one of the most destructive — and expensive — in Los Angeles County, with home losses topping $1.6 billion.
"I'm not here to proclaim the sky is falling. Instead, I'm here to tell you it will."
— Ventura County Fire Chief Mark Lorenzen
"Whatever happened in Malibu could happen in San Gabriel with the right fuel conditions," said Mike Takeshita, the acting division chief of the L.A. County Fire Department's forestry division.
After the deadly Camp fire revealed glaring shortcomings in municipal evacuation plans, Cal Fire conducted a risk assessment that found an estimated 11 million residents — or 1 in 4 Californians — live in areas considered to be at high risk of a wildfire.
"I anticipate there's a whole lot of people in suburban Southern California, and, frankly, in the Bay Area, that would never consider themselves a part of that '1 out of 4 Californians that live in a fire risk area,' but they actually do," said Wade Crowfoot, head of the California Natural Resources Agency.
The state's current wildfire-fighting strategy relies heavily on altering forestland and creating firebreaks. Firefighters say there are currently active prescribed burns in the Angeles National Forest but not elsewhere in L.A. County.
But environmental advocates and others say that fire safety "starts from the home outward."
Officials recommend that residents clear brush within a 100-foot radius of residences and do any yard work in the early morning before temperatures get warm and dry. Those using metal blades should keep a suppressor, such as a shovel, nearby in the event of a spark.
For those who live in areas without easy access to alternative roads or emergency routes, Lorenzen recommended that residents have personal belongings at the ready in the event of an evacuation.
"When we tell you to go, it's time to go," he said. "The last thing we want is a loss of life."
While L.A. County Fire Department is the largest in the state, thousands of resources — including personnel and fire engines — are shared across California to assist during wildfires, considered by officials to be the greatest threat to life and property in the state.
Residents are encouraged to contact their local fire agencies with questions and use the "Ready Set, Go" program through the L.A. County Fire Department's website to assess their fire readiness.
Even the state's highest office is warning of the potential danger of this year's fire season. Gov. Gavin Newsom recently told a gathering of emergency managers to "prepare for the worst."
"We just can't take this anymore," Newsom said. "The state can't take 2018 again. Can't do 2017. … We can't take it anymore."
Times staff writers Louis Sahagun and Joseph Serna contributed to this report.
Sign up for Essential California for news, features and recommendations from the L.A. Times and beyond in your inbox six days a week.
You may occasionally receive promotional content from the Los Angeles Times.