Hate crime is suspected after a gunman kills 3 white men in downtown Fresno
Reporting from Fresno —
Kori Ali Muhammad told his family there was a war going on between blacks and whites in America.
On social media, he referred to white people as "devils." Earlier in the year, he released a rap album replete with violent, explicit, racially-charged lyrics, including referring to himself in one song as a "black soldier."
On Tuesday morning, police say Muhammad stalked the streets of downtown Fresno, fatally shooting three white men with a .357 revolver. Before surrendering to police, he allegedly shouted "Allahu akbar" and expressed hatred toward white people and the government, according to Fresno Police Chief Jerry Dyer.
Local authorities said they don't believe the attack was an act of terrorism but are investigating it as a hate crime.
'Filled with hate, filled with anger': Anatomy of a shooting allegedly fueled by racial animus »
"If in fact he's lashing out at white people — white males in this case — that would constitute a hate crime," Dyer said. "We believe it is a hate crime, definitely a hate crime."
The chief said investigators don't believe Muhammad worked with anyone else in the attack, calling him "an individual that is filled with hate, filled with anger."
The attack occurred over less than two minutes with Muhammad firing a total of 16 shots. Dyer said he surrendered to a responding officer without incident and later apologized to the chief.
In addition to Tuesday's killings, police said Muhammad was suspected in the fatal shooting of a security guard, also a white man, last week.
Muhammad's father, Vincent Taylor, told The Times on Tuesday that his son believed that he was part of an ongoing war between whites and blacks, and that "a battle was about to take place."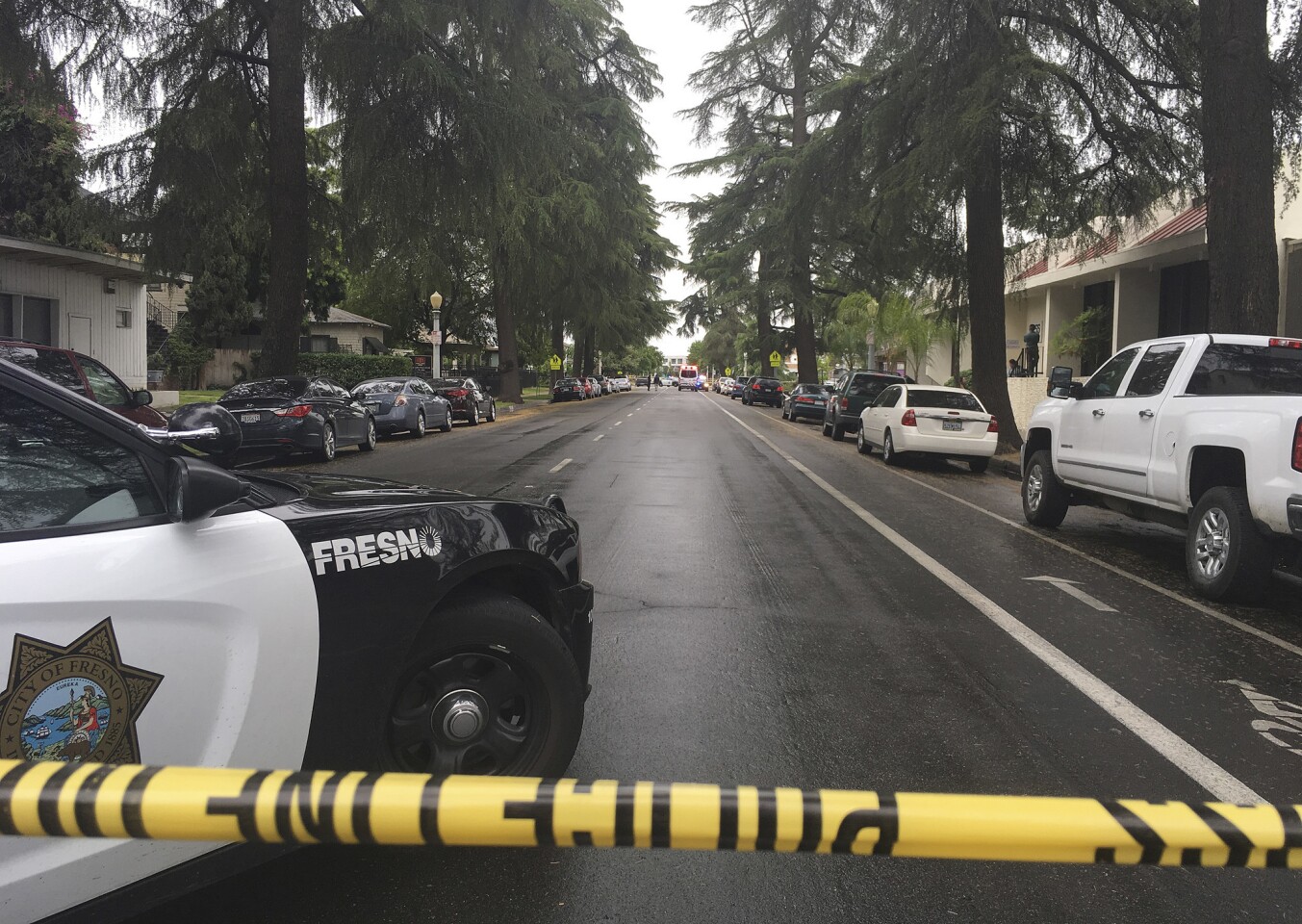 A street is blocked off in Fresno after a gunman shot and killed three people.
(Scott Smith / Associated Press)
The attack began at around 10:45 a.m. in the 300 block of North Van Ness Avenue. Within a few seconds, a second burst of gunfire was heard, then a third and a fourth. Sixteen rounds were fired in four locations, Dyer said.
After the shots were heard, Dyer said the driver of a PG&E truck arrived at the city's police headquarters to report that a passenger had been shot by a gunman who had approached them on foot.
After mortally wounding the truck passenger, Muhammad walked west on East Mildreda Avenue, where he came across a resident and opened fire but missed his target, Dyer said.
Muhammad continued walking on Mildreda and approached Fulton Street, where he fatally shot a second man before reloading his weapon, Dyer said.
He then headed toward Catholic Charities in the 100 block of North Fulton Street and fired another fatal volley of gunfire, killing a man in the parking lot.
An officer in the area spotted the gunman running south on Fulton. He then "dove onto the ground" and was taken into custody, the chief said.
"As he was taken into custody, he yelled out, 'Allahu akbar,' " Dyer said.
"Allahu akbar" roughly translates to "God is great" in Arabic and is a common positive refrain uttered by Muslims in prayer or in celebration. But the phrase has also been linked to terrorist attacks. The gunman who killed 13 people in a terror attack at Fort Hood, Texas, screamed "Allahu akbar" as he opened fire in 2009, and the phrase is often tweeted by social media accounts sympathetic to Islamic State and other terror groups.
A look at shooting suspect Kori Ali Muhammad »
The victims in Tuesday's attack were not immediately identified. In a statement released last week, Fresno police identified the security guard slain Thursday as Carl Williams. The unarmed 25-year-old was shot outside a Motel 6 on North Blackstone Avenue.
Muhammad had cut off his braids and shaved his face, significantly changing his appearance, after Fresno police put out a news release about that killing.
After learning of that media release, Muhammad "made a decision to himself that he was not going to go to jail for shooting a security guard — that he was going to kill as many people as he could today, and that's what he set out to do," Dyer said.
The gunman did not make any references to race during last week's attack, according to Dyer, who said investigators will need time to determine the exact motive in the shootings.
"There was no statement made on Thursday night when he shot the security guard and killed him," Dyer said. "There was no comments or no statements made at that time, so I am not certain why he said what he said today."
Muhammad legally changed his name from Kori Taylor when he was a teenager, according to his grandmother, Glenestene Taylor, who said Muhammad was acting strangely when he visited her Sunday. He was crying, but she believed he was simply going out of town.
"I thought that's why he's upset, because he thinks of me as a mother," said Taylor, 81. "He's always telling me, 'I'll take care of it. I'll protect you. Don't you worry about it.' He really didn't want to go, but he was going."
A Facebook profile page for a Kori Ali Muhammad from Fresno paid homage to black pride and black nationalism, with images of the red, green and black Pan-African flag and a raised fist.
The rambling profile includes militant and apocalyptic language and repeated demands to "let black people go." He referenced "white devils" and praised melanoma skin cancer.
On Saturday afternoon, Muhammad posted a photo of himself in a colorful garment, with his head covered, and the words: "LET BLACK PEOPLE GO OR THE DOOM INCREASES REPARATIONS & SEPARATION NOW."
On Monday he wrote: "MY KILL RATE INCRESASES TREMENDOUSLY ON THE OTHER SIDE ASÈ ALLAH U AKBAR."
Brian Levin, director of Cal State San Bernardino's Center for the Study of Hate and Extremism, said many of Muhammad's social media postings make reference to terms used by the Nation of Islam, which has been labeled a racist hate group by the Southern Poverty Law Center. Pointing to Muhammad's repeated references to "white devils" and "Yakub" — the villainous figure responsible for creating white people, according to Nation of Islam lore — Levin said it is likely Muhammad thought he was taking part in a race war against whites.
"We're living in an era of violent reciprocal prejudice, and there are references on his website to Fard Muhammad, the founder of Nation of Islam, and Nation of Islam uses the term 'white devils' quite prolifically, as did this shooter," Levin said.
Muhammad also repeatedly used the phrase "Black Dragon Lion Hawk" in his Facebook posts, and Levin said such nods to warrior culture are common in black separatist circles.
But Glenestene Taylor said she didn't remember her grandson showing a racial bias, toward whites or anyone else, in all his years staying with her or during countless visits to her predominately white Fresno neighborhood.
"He would say something derogatory about anybody, didn't matter about the color," she said. "If he didn't like what they did, he didn't like what they did no matter the color."
Muhammad had run afoul of Fresno police before. He was indicted by a federal grand jury in February 2005 for possession of cocaine with intent to distribute, possession of a firearm for drug trafficking and possession of a firearm by a convicted felon, after a Fresno police officer searched his car and found two large bags of cocaine, a loaded handgun and two rifles, court records show. A federal judge later declared Muhammad mentally incompetent to stand trial.
He was deemed competent in August 2006 and pleaded guilty to the charges of cocaine possession with intent to distribute and a weapons charge. He ultimately served 92 months in federal prison, records show.
Hours after the shootings Tuesday, two shaken workers at the Catholic charity said they had ducked under yellow police tape to get out.
They said they were told not to talk to the news media. But one, a Vietnam veteran, said a person never forgets the sound of guns. He said that the charity gives away food every day and that families are allowed to come only once a week.
"We feed a lot of children, so we have to make sure that the food gets spread around," he said.
"This is a sad day for us all. My thoughts and prayers are with the families of the victims," Fresno Mayor Lee Brand said in a statement. "None of us can imagine what they must be going through."
Vincent Taylor said he hopes his son's capture headed off any future bloodshed.
"I'm happy he was arrested," he said. "I would hope that whatever Kori tells [police,] they take him seriously and they start following up."
Los Angeles Times staff writers James Queally and Richard Winton contributed to this report from Los Angeles; staff writer Melanie Mason contributed from Fresno.
Serna, Rocha and Branson-Potts reported from Los Angeles. Marcum reported from Fresno.
Twitter: VeronicaRochaLA
Twitter: @JosephSerna
Twitter: @DianaMarcum
Twitter: @haileybranson
ALSO
'Dreamer,' 23, sues after he is deported by Trump administration
Man charged with stealing FBI agent's gun and other gear from car trunk
Fewer shootings by police — that's the goal of new rules adopted by the L.A. Police Commission
---
UPDATES:
April 19, 7:10 a.m.: This article was updated with details of a news release police put out after the first killing.
7:40 p.m.: This article was updated with information about the suspect firing 16 shots.
7:15 p.m.: This article was updated with more information about the hate crime allegation.
6:15 p.m.: This article was updated with a new top and information about police saying they don't believe the shootings were an act of terrorism.
5:40 p.m.: This article was updated with additional information about Kori Ali Muhammad's social media activity and background about another homicide police believe he was involved in.
4:25 p.m.: This article was updated with additional comments from Muhammad's family and information about his criminal history.
3:25 p.m.: This article was updated with additional details from police and comments from an expert on black nationalism.
3 p.m.: This article was updated with comments from Taylor and from the suspect's social media posts.
1:40 p.m.: This article was updated with additional comments from workers at Catholic Charities.
1:10 p.m.: This article was updated with additional comments from Police Chief Jerry Dyer and a comment from PG&E.
This article was originally published at 12:55 p.m. April 18.
---
The stories shaping California
Get up to speed with our Essential California newsletter, sent six days a week.
You may occasionally receive promotional content from the Los Angeles Times.