Officials may never know the cause of the Ghost Ship fire. Will that hurt the criminal prosecution?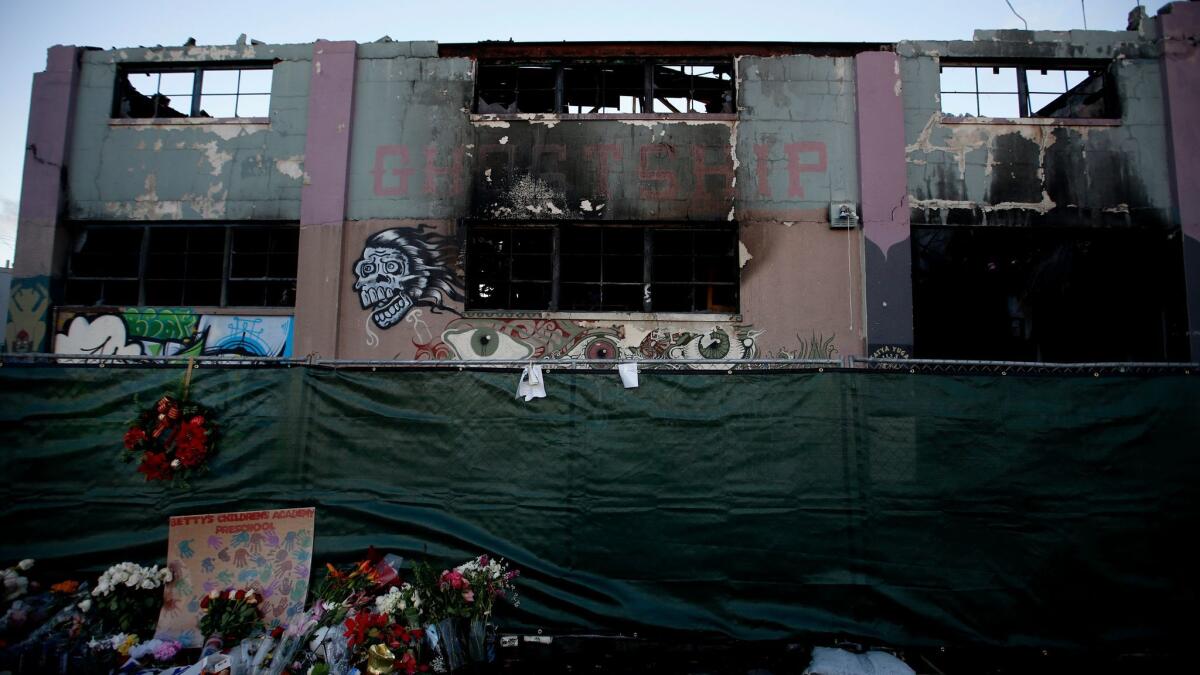 In 2003, flames raced through a nightclub in Rhode Island during a rock concert, killing 100 people in one of the worst fire disasters in U.S. history.
Prosecutors charged two nightclub owners and a band's tour manager with involuntary manslaughter; one eventually pleaded guilty and the other two pleaded no contest.
Those same type of charges were filed this week against two operators of Oakland's so-called Ghost Ship warehouse, where 36 people died in a fire in December.
But the two cases have one big difference. In Rhode Island, investigators determined a cause of the fire: Pyrotechnics, set off by the tour manager of the band Great White, ignited the club's foam ceiling.
By contrast, prosecutors acknowledge they don't know the origin or the cause of the Ghost Ship fire, and officials said they might never have those answers.
Legal experts said the lack of a cause could complicate the Ghost Ship prosecutions, but there is a debate about how much.
Alameda County Dist. Atty. Nancy E. O'Malley argues that master tenant Derick Ion Almena and concert runner Max Harris illegally converted the warehouse into a concert space and dwelling without proper safety systems or permits.
Authorities say the men filled the building from "floor to ceiling" with tapestries, pianos and furniture, turning the Ghost Ship into a tinderbox. On Dec. 2, when nearly 100 people piled into the warehouse for a concert, a stairwell that served as a secondary exit was blocked off, leaving concertgoers and residents with only one way out when the fire started.
That, O'Malley argues, makes what the defendants did criminal and not simply neglectful.
Former Los Angeles Dist. Atty. Steve Cooley said prosecutors would probably concentrate on the repeated flouting of safety codes and the efforts to conceal it. In court documents, prosecutors noted that Almena had told police no one lived in the warehouse.
"This pair here committed repeated criminal recklessness and it cost dozens of lives," Cooley said.
Others, however, said the case is not so open and shut.
Former prosecutor Dmitry Gorin said the fact that Almena, his wife and children as well as Harris lived in the Ghost Ship could be used by the defense.
"The pivotal issue is whether the property managers were aware of the risks and failed to mitigate them," he said.
Louis Shapiro, a well-known Southern California criminal defense attorney, said prosecutors would have to show that Almena, 47, and Harris, 27, knew of the potential dangers at the Ghost Ship.
"To say it is foreseeable … is a tough sell," Shapiro said. "The defense lawyers can use statistics to show there aren't many fires like this. If this has never happened before, how was this foreseeable?"
But the prosecution does have strong material to work with, he added, alleging that the defendants lied to city officials about the conditions inside the warehouse.
The prosecution also has the emotional power of such a staggering loss of life, Shapiro said.
"How will any jury set aside the impact here? Jurors and family of victims are feeling someone has got to pay for this," he said.
Almena's attorneys have said that he is being made a scapegoat and that they will vigorously fight the charges. Neither Harris nor his attorney could be reached for comment.
Jeff Pine, who represented one of the nightclub owners in the Rhode Island fire, said prosecutors in Oakland don't need to show the actions were intentional, just that the behavior amounted to gross negligence.
Pine, Rhode Island's former attorney general, said Oakland prosecutors will probably present evidence that any reasonable person would see that the warehouse posed a danger in the event of a fire.
But Jean M. Daly, a former prosecutor in Los Angeles and San Francisco, believes the unknown cause of the Oakland fire could be a big problem for prosecutors.
"When you don't know the origin and cause," she said, "that makes for reasonable doubt."
Twitter: @lacrimes
Sign up for Essential California for news, features and recommendations from the L.A. Times and beyond in your inbox six days a week.
You may occasionally receive promotional content from the Los Angeles Times.