The first step in finding Golden State Killer suspect: Finding his great-great-great-grandparents on genealogy site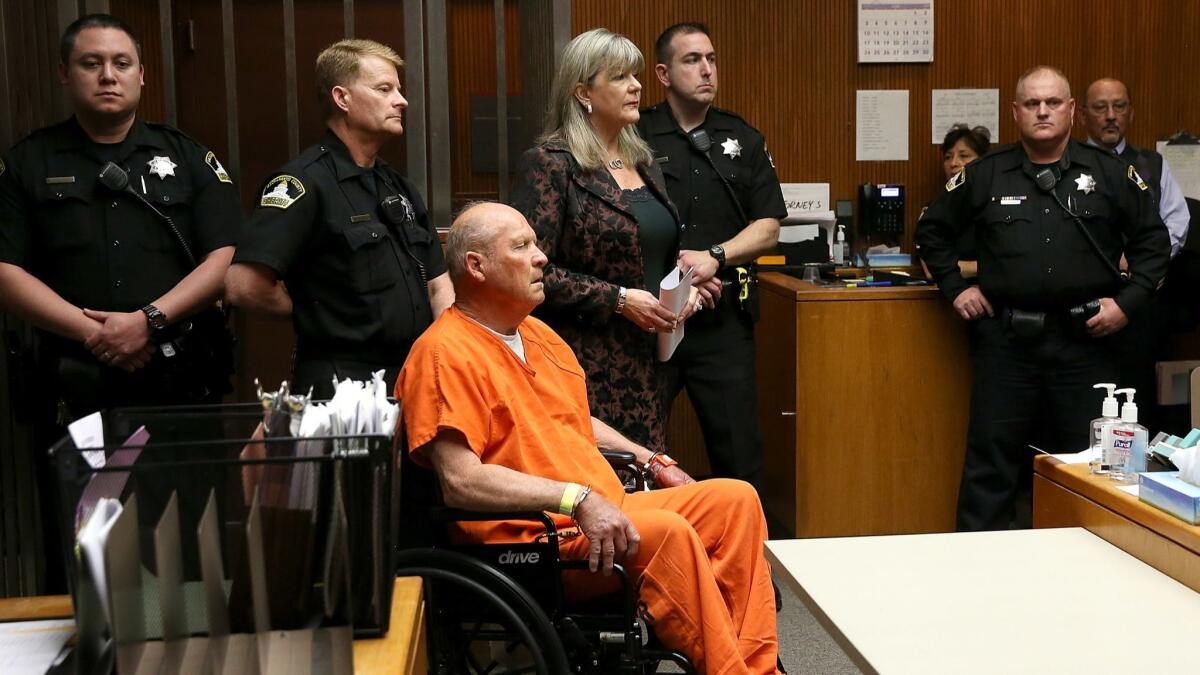 Reporting from Sacramento —
There was no match in the FBI's national DNA database. A search of California's forensic data bank came up blank.
The clue that led investigators this week to the door of the suspected Golden State Killer came instead from an unexpected source: an amateur genealogy website that's something like the Wikipedia of DNA.
The arrest of Joseph James DeAngelo Jr., a 72-year-old former police officer suspected of a string of rapes and murders across California from 1976 to 1986, hinged on GEDmatch.com, an open-source platform where people volunteer their genetic information in hopes of finding long-lost family members.
The breakthrough marks a novel investigative technique concocted by authorities desperate for leads in one of the nation's most notorious cold cases. Investigators were not sure what, if anything, they would find, but they eventually uncovered a new trail they traced back to DeAngelo's great-great-great-grandparents. From there, they spent months narrowing down his family tree to land upon him as the suspect.
The tactic highlights the increasingly complex relationship between law enforcement, which covets genetic data; private sector companies, which have amassed heaps of it; and civilians, who volunteer their most personal information without always knowing how it will be used. And the approach is fraught with ethical questions.
"It was basically a long shot on their part," said David Foran, director of the Forensic Science Program at Michigan State University.
The largest genealogy services, 23andme and Ancestry.com, conduct DNA tests for paying customers but largely shield their findings from other parties. GEDmatch is a free service where consenting users upload test results from a variety of genealogy websites and cross-reference their findings to discover relatives who might have tested with different companies.
"It's kind of intended to be unregulated so people on their own initiative can load their information," UC Berkeley law professor Andrea Roth said.
Founded in 2011, the site is run by genealogical enthusiasts and is funded by donations and sales of more sophisticated search features. It has amassed around 950,000 user profiles — a fraction of 23andme's more than 2 million customers and Ancestry.com's 10 million test-takers. But GEDmatch's data is not encrypted and is stored in plain text. Its privacy policy warns its information could be used for purposes beyond genealogical research.
That made the site the perfect tool for investigators, who were able to search it without needing a warrant and parse genetic profiles of a new swath of individuals who haven't previously been arrested.
Turning to GEDmatch was the idea of forensic criminologist Paul Holes, who spent years on the Golden State Killer investigation and recently retired from the Contra Costa County district attorney's office, and Stephen Kramer, an FBI lawyer.
"We went on a roadshow to educate everyone about the idea," Holes told the Los Angeles Times.
They won support from prosecutors but struggled to find a way to create a genetic profile for testing that wouldn't compromise too much of the remaining DNA evidence.
That's when Steve Rhods, a Ventura County district attorney's office investigator, discovered a second rape kit in the coroner's office from the slaying of Lyman and Charlene Smith in Ventura in 1980.
"It was the mother lode of DNA," Holes said, giving investigators enough material to pursue the genealogical approach.
Holes said he uploaded the data and watched the magic happen. "We are talking third, fourth and fifth cousins and more distant than that, but it is a starting point," he said.
The lineage search went back to "great-great-great-grandparents in the early 1800s to find the common relatives," he said. Since the start of the year, investigators have been tracing their way down the family tree to find a suspect.
"Most of the people we were getting were from the East Coast or Midwest until we finally found the branch of a lineage that came out West," he said.
Science turned to gumshoe investigating as law enforcement whittled down suspects. DeAngelo came to their attention around six weeks ago, Holes said, and wasn't the initial front-runner. But parts of his past lined up with the Golden State Killer's timeline.
Investigators reached out to others in DeAngelo's life in the 1970s and 1980s. They had long suspected the killer had a law enforcement background. After talking to the police chief in the city of Auburn, where DeAngelo once worked as a police officer, they "began to think, 'Does this guy add up?' " Holes said. "I began to think — is this finally our killer?"
Investigators put DeAngelo under surveillance and surreptitiously obtained two DNA samples, which they matched with evidence from several of the killings. He was taken into custody Tuesday at his home in Citrus Heights near Sacramento.
DeAngelo made his first court appearance Friday, wearing an orange jumpsuit as he was rolled into a downtown Sacramento courtroom handcuffed to a wheelchair. He appeared drowsy and expressionless throughout the brief hearing. Investigators believe he is responsible for at least a dozen homicides and 46 rapes.
The move by law enforcement to tap a database not originally intended to help catch criminals opens a new front for detectives while simultaneously raising questions about privacy in the digital age.
Melissa Deangelo, a GEDmatch.com user from Mississippi, said Friday that she was surprised by the company's disclosure that DNA housed on the site may have played a role in the suspect's arrest.
"Is it an invasion of privacy? Yes," she said. "Was it worth the risk considering what he was doing? It was."
(She does not believe the Deangelo family she married into is directly related to the accused California serial killer.)
Former Los Angeles County Dist. Atty. Steve Cooley believes the public safety benefit of mining DNA outweighs privacy concerns.
"Law enforcement was creative and resourceful, and what they did was lawful and I commend them," Cooley said. "It doesn't mean there won't be issues raised, but at the end of day, you have to give a certain amount of weight to taking a serial murderer and rapist who has been unapprehended for four decades off the streets."
It's easy to see why people would cheer the use of such tactics, said Roth, the Berkeley law professor. But "before we celebrate, we have to remember that the government probably looked at a lot of innocent people before getting here," she said.
GEDmatch says it was not approached by law enforcement regarding the case, but it said users should be cognizant their data could be used by outside parties.
"While the database was created for genealogical research, it is important that GEDmatch participants understand the possible uses of their DNA, including identification of relatives that have committed crimes or were victims of crimes," the company said in a statement. "If you are concerned about non-genealogical uses of your DNA, you should not upload your DNA to the database and/or you should remove your DNA that has already been uploaded."
DNA doesn't simply identify an individual, warned Lee Tien, senior staff attorney for the Electronic Frontier Foundation, it identifies whole families.
"People say, 'I signed this consent form,' but he or she is not the only one. The privacy of everyone I'm related to is affected," Tien said.
If investigators had no reasonable suspicion the Golden State Killer or his relatives were GEDmatch users, the tactic is the "definition of a fishing expedition," Tien said.
Ruth Dickover, director of UC Davis' forensic science program, described law enforcement's approach to catching the Golden State Killer as a glimpse into a future in which virtually all genetic information is accessible to the government.
"Unlike a Social Security number that can be forged," she said, "your DNA is your DNA, and it's with you from birth to even a little after death."
Times staff writers Sarah Parvini, Cindy Chang and Joseph Serna contributed to this report.
Twitter: lacrimes
Twitter: traceylien
Twitter: @paigestjohn
Twitter: boreskes
Sign up for Essential California for news, features and recommendations from the L.A. Times and beyond in your inbox six days a week.
You may occasionally receive promotional content from the Los Angeles Times.