Harvey Weinstein pleads not guilty to new charges; judge lets him stay free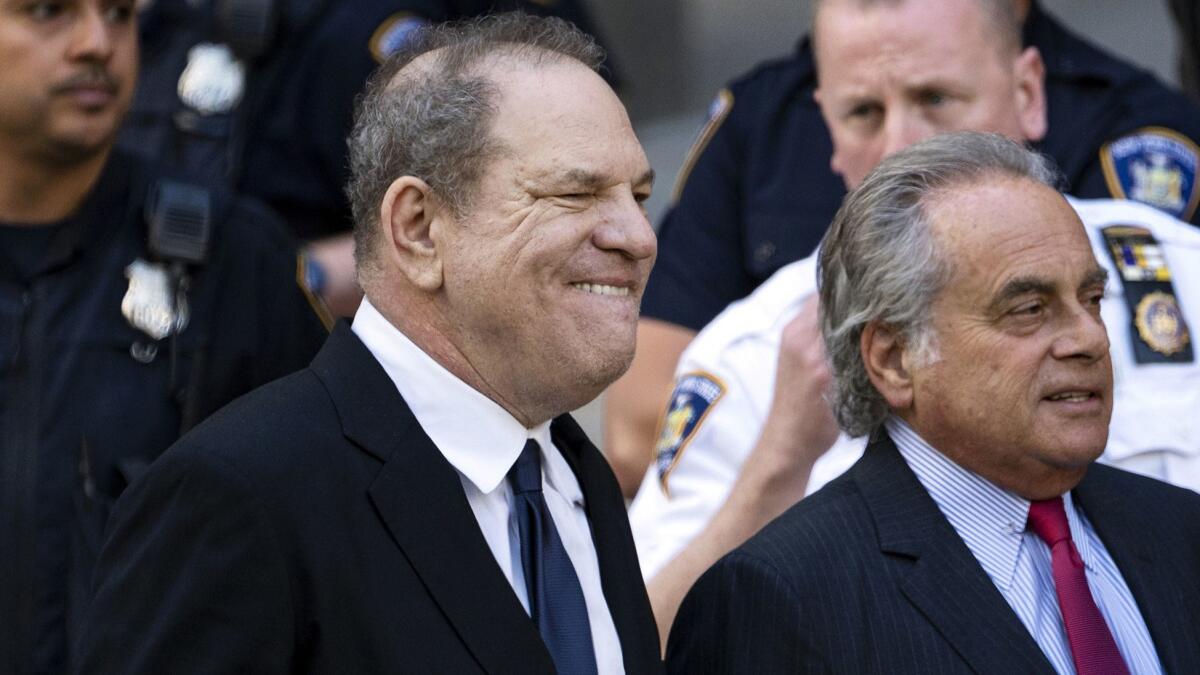 Harvey Weinstein was allowed to remain free on bail Monday after pleading not guilty to new criminal charges that he sexually assaulted a third woman and had committed a pattern of sex crimes.
The disgraced movie mogul, who wore a dark suit and handcuffs as he was escorted into a Manhattan courtroom, has been free on $1-million bail since May. Although prosecutors argued in court that Weinstein should be placed under house arrest — because he faces possible life imprisonment if convicted — Judge James Burke rejected that call.
Weinstein was initially accused of raping a woman twice in a New York hotel in 2013 and forcing an aspiring actress to give him oral sex in 2004 at his office, charges to which he also pleaded not guilty.
The new indictment, which was handed up by a grand jury last week, charges Weinstein with one count of a criminal sexual act in the first degree, for allegedly performing forced oral sex on a third woman in July 2006 at his Manhattan apartment. It also charges him with two counts of felony predatory sexual assault. One of those counts involves the woman in the 2006 allegations; the other involves the woman he was charged with raping in 2013.
Joan Illuzzi, the lead prosecutor, told the court those felony predator sexual assault charges changed the stakes in the case because they carry a potential life sentence and that Weinstein, a man of considerable wealth, had recently sold his home in Connecticut.
"The charges he is facing now are substantially more serious than the charges he faced when he appeared before you," she told the judge.
Benjamin Brafman, Weinstein's attorney, quickly rebuffed that supposition, noting that the original charges could have meant 25 years behind bars and that the producer can stay in the Connecticut home through next year. The judge agreed with Brafman.
Weinstein, who looked pale and appeared to have lost weight since his last court appearance, has already surrendered his passport and been fitted with an electronic monitoring bracelet.
Outside the courtroom Brafman said he was very pleased that the court did not change the existing bail conditions. He said that Weinstein has "scrupulously abided by" the terms of his release.
The attorney said his client would be exonerated and it was "ludicrous" to suggest he engaged in forcible sex acts.
"Mr. Weinstein is not a predator, he is not a rapist," Brafman said.
"The case has not grown stronger for the prosecution," he said. "Indeed, since his arrest in May, his defense has grown substantially stronger as we have found overwhelming corroboration well beyond Mr. Weinstein's assertions that support his claim that all (the) sexual encounters were consensual and that he did not rape anyone."
But in levying the charges of predatory sexual assault, Manhattan Dist. Atty. Cyrus Vance and his legal team may be able to include testimony from some of Weinstein's other accusers. More than 80 women have accused Weinstein of misconduct, including sexual harassment and rape. Police in Los Angeles, Beverly Hills, New York and London have conducted investigations into more than 20 allegations.
A grand jury continues to hear from witnesses about sex crime allegations and the financial role Weinstein's business played in his alleged behavior.
But civil rights attorney Gloria Allred, who represents the third accuser , said Brafman's contention that the encounters were consensual would require Weinstein to take the witness stand under oath and face vigorous cross-examination from prosecutors.
"Are you really willing to have your client face the jury? Are you willing to roll the dice and hope and pray that your client can answer questions … not only about this third victim but other alleged victims as well?" Allred said outside court. "I doubt that you will take that risk, Mr. Brafman."
Allred said her client, whom she did not identify, is willing to testify at trial.
The charges involving the third alleged victim match allegations made in October by Allred's client Mimi Haleyi, a one-time Weinstein production assistant who accused the producer of forcing himself on her at his home. In a news conference, she detailed her encounters with Weinstein, including going to his apartment and being held down in a bedroom. "He then orally forced himself on me while I was on my period," she said.
Meanwhile in Los Angeles, Dist. Atty. Jackie Lacey's team has been reviewing two investigations into Weinstein by Beverly Hills police, as well as three Los Angeles Police Department investigations — including an Italian actress' allegation that Weinstein raped her in 2013. That actress is not involved in the New York allegations.
---
UPDATES:
3:20 p.m.: This article was updated with comments from Illuzzi, Brafman and Allred.
8:40 a.m.: This article was updated with additional background information.
This article was originally published at 7:10 a.m.
Sign up for Essential California for news, features and recommendations from the L.A. Times and beyond in your inbox six days a week.
You may occasionally receive promotional content from the Los Angeles Times.