Harvey Weinstein pleads not guilty to sexual assault charges in New York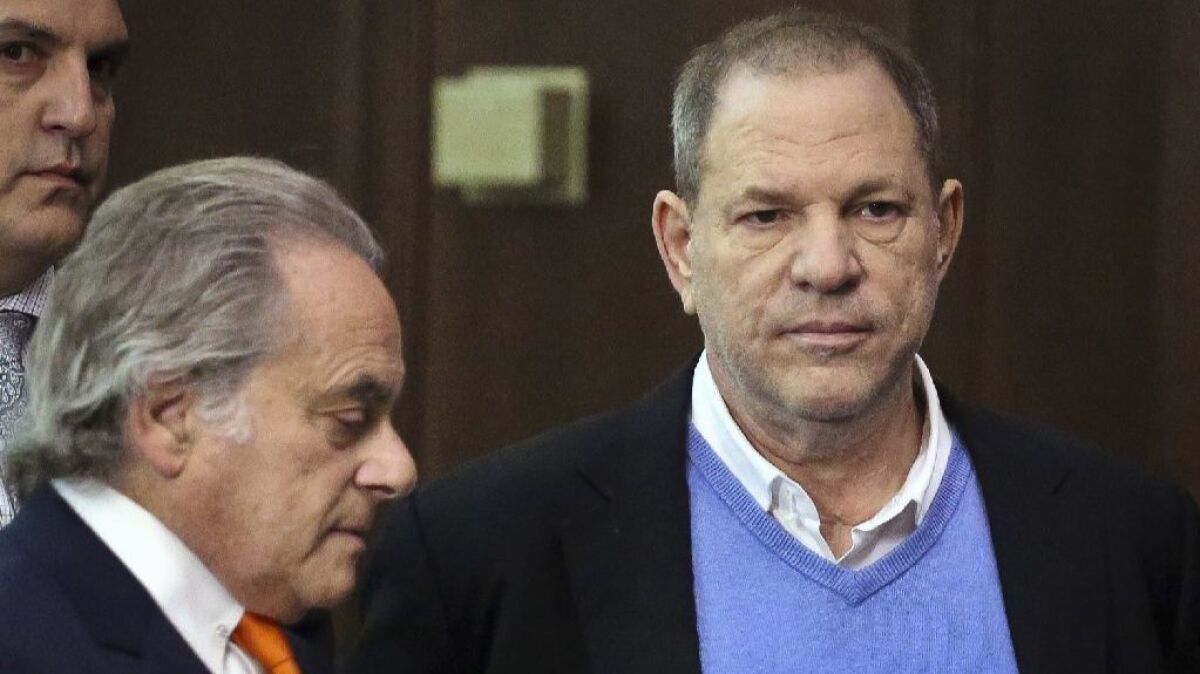 Harvey Weinstein has pleaded not guilty to charges stemming from a pair of alleged sexual assaults in New York City.
Weinstein was flanked by cameras as he entered a lower Manhattan courthouse Tuesday morning alongside attorney Benjamin Brafman. Weinstein was indicted by a grand jury last week on two counts of rape in the first degree, rape in the third degree and committing a criminal sexual act in the first degree in incidents involving two women in 2004 and 2013.
Attorney Gloria Allred, a longtime champion of women's rights who has represented many of the women accusing comedian Bill Cosby of sexual assault, was in the courtroom, seated in the gallery.
Weinstein has repeatedly denied engaging in nonconsensual sex with women, and his attorney has called the charges in New York "constitutionally flawed."
"As terrible a crime as rape is, it is equally reprehensible to be falsely accused of rape, and since Mr. Weinstein has denied these allegations, that's where we are," Brafman said on Tuesday.
Weinstein will return to court Sept. 20, when a judge will rule on motions Brafman is expected to file, according to a spokesman for the Manhattan district attorney's office. Brafman has said he plans to file a motion to dismiss the charges. On Tuesday, he said he may also file a motion to have the cases against Weinstein severed, meaning the mogul would face separate trials on the allegations made by each woman.
Prosecutors and Weinstein's lawyer are also expected to battle it out over efforts by the district attorney's office to potentially use evidence from additional accusers who are not included in the indictment. Brafman will fight to keep out such evidence, which was used in the conviction of Bill Cosby in his sexual assault trial.
A grand jury is continuing to hear evidence in ongoing investigations into Weinstein. On Monday, Melissa Thompson, a technology sales executive who has accused Weinstein of rape, met with prosecutors. She alleges a colleague of Brafman's duped her into turning over evidence related to the alleged attack. Brafman said that he never met with her and that the lawyer she cited had already left his firm.
Weinstein, 66, surrendered to police last month, when he was marched in handcuffs past a throng of reporters outside the New York Police Department's 1st Precinct. His arrest marked a significant victory for the #MeToo movement, which was born after dozens of women came forward to accuse the film mogul of using his power and influence to sexually exploit young women, including many aspiring actresses.
Prosecutors have not named the victims in the New York case, though one is believed to be a woman who accused Weinstein of sexual assault in an October article in the New Yorker magazine.
A judge last month ordered Weinstein to submit to round-the-clock GPS monitoring and to restrict his travel to New York and Connecticut. Weinstein also surrendered his passport, and one of the alleged victims has obtained a restraining order against him.
Brafman told reporters after Weinstein's arrest May 25 that he believed his client would be acquitted at trial as long as the jury is "not consumed by the movement that seems to have overtaken this case."
The charges in New York are the first to surface in the months since more than 80 women came forward to accuse Weinstein of a range of misconduct, from harassment to rape. Those accusations directly sparked the #MeToo movement, which has seen countless victims come forward to accuse powerful Hollywood figures, entertainers and others of sexual exploitation and assault. A raft of notable personalities, including comedian Louis CK, former news anchor Matt Lauer, actor Kevin Spacey and former Sen. Al Franken, have been ensnared by such accusations in recent months.
As the case in New York proceeds, authorities in Southern California and London are continuing to investigate allegations against Weinstein.
The Los Angeles County district attorney's office is currently reviewing five investigations into the 66-year-old — two by Beverly Hills police and three by the Los Angeles Police Department.
Law enforcement sources have told The Times that one particular case in Los Angeles, an Italian actress' allegation of rape in 2013, is promising for prosecution. The woman told her story to three people, including a priest, relatively soon after the alleged attack, the sources said. Detectives also have evidence the woman was a guest at the Beverly Hills hotel where she alleges Weinstein attacked her, the sources said.
The case does have flaws, they added. Detectives found little physical evidence of an attack and have been unable to secure proof that Weinstein was at the hotel when the woman says the rape occurred.
Follow @JamesQueallyLAT & @LACrimes for crime and police news in California.
---
UPDATES:
4:30 p.m: This article was updated with additional information on the hearing and legal issues.
10:35 a.m.: This article was updated with additional information from the district attorney's office.
8:45 a.m.: This article was updated with comments from Weinstein's attorney.
This article was originally published at 7:20 a.m.
The stories shaping California
Get up to speed with our Essential California newsletter, sent six days a week.
You may occasionally receive promotional content from the Los Angeles Times.