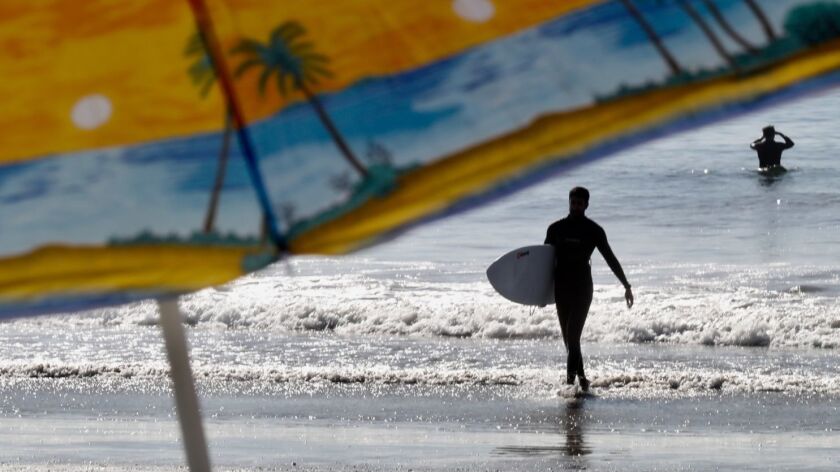 After the gloom and doom of early July — with cloudy skies in many areas and major earthquakes that shook holiday plans — Angelenos can look forward to brighter weather.
Across the Los Angeles area, temperatures will jump 5 to 10 degrees above normal next week. Meteorologists don't expect to issue advisories in most areas, but they are warning people to prepare for the heat.
In downtown Los Angeles, temperatures have been about 83 degrees lately. By Saturday, the mercury will rise to 88 degrees and hover there for several days, said Tom Fisher, a meteorologist with the L.A. station of the National Weather Service.
The coasts — including Long Beach — can expect a similar outlook, and the marine layer will thin out. The combination should make for perfect beach weather.
Meanwhile, temperatures in high desert areas such as Palmdale and Lancaster will soar from about 95 to 105 degrees, Fisher said.
Are you ready to feel the heat? An extended heat wave is expected Thu through Mon as high pressure builds over the region. Temps will peak on Sat, soaring into the 90s and even into the low 100s for the hottest valleys! Stay hydrated! #SoCal #CAwx #LAheat pic.twitter.com/LOPWVx3Dpa

— NWS Los Angeles (@NWSLosAngeles) July 11, 2019
A high pressure zone intensifying over the Southwest is creating warmer weather in Northern California as well, with the Sacramento area seeing temperatures that are slightly above normal. A few places will swelter with 100-degree-plus temperatures, according to the weather service.
In San Diego, warm temperatures will peak between Friday and Monday. Meteorologists said they may issue a heat advisory on those dates for parts of the Inland Empire, which could reach temperatures up to 105 degrees.
Fisher said the warmer weather is not unusual, but perceptions may be skewed because temperatures have been 5 to 10 degrees below average in the last few weeks.
"It makes it feel really hot," he said.
The warming trend will continue today as high pressure continues to build over the Desert Southwest. Even warmer conditions will arrive by Friday and Saturday with 90s (and even some 100s) returning to the interior. #CAwx pic.twitter.com/uDMY97H3zN

— NWS Bay Area (@NWSBayArea) July 10, 2019
To beat the heat, experts remind residents to drink fluids and seek air-conditioned spaces, and they warn people to avoid leaving children and pets in hot cars.
And if you're making a trip to the beach, be careful, Fisher said.
"Now that we have a beautiful beach weekend ... we urge people to watch for rip currents," Fisher said, adding that although the risk isn't much higher than normal, he expects more people to flock to beaches, increasing the likelihood of rescues. "Listen to lifeguards."
Sunny skies are coming, Fisher promises, but Angelenos may have to face a couple more days of dense, patchy early-morning fog.
alejandra.reyesvelarde@latimes.com
Twitter: @r_valejandra
---