Harvey Weinstein is the subject of multiple criminal investigations, but detectives face challenges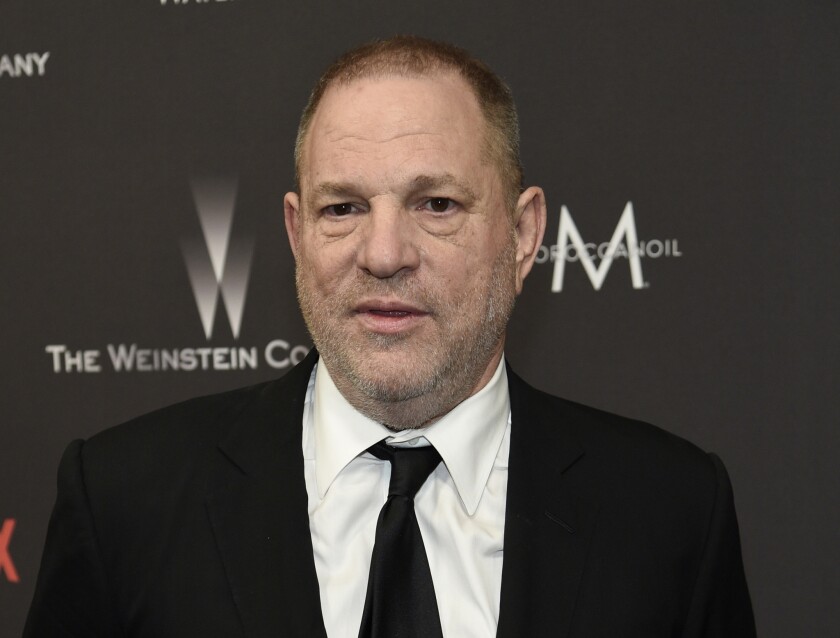 In the three weeks since allegations of sexual misconduct by Harvey Weinstein first surfaced, the famed movie mogul has already become the subject of criminal investigations in at least four jurisdictions.
But it's probably going to take time for detectives to investigate the various accusations made by women. All of the probes appear to be in their early stages and detectives will need to work to corroborate their stories, examine evidence and interview any witnesses.
'These are not the easiest cases'
Dmitry Gorin, a criminal defense attorney and former Los Angeles County sex crimes prosecutor, said the detectives in each city — Los Angeles, Beverly Hills, New York and London — will probably compare notes to look for patterns and possible witnesses. Authorities in New York and Los Angeles are already in talks, sources said. Police will also probably interview Weinstein's legal team.
"Detectives and prosecutors are going to let them present any evidence that helps exonerate their client before making any decisions on whether to pursue charges," Gorin said.
Weinstein's representatives have repeatedly denied that he committed any criminal acts.
Loyola Law School professor Laurie Levenson, a former criminal prosecutor, said the cases by their nature face challenges, in part because the investigations are beginning years — and in some cases decades — after the alleged misconduct is said to have occurred. It also remains unclear what types of physical evidence might still exist and whether supporting witnesses can be found.
As a result, the various detectives will probably share information to help determine which agency has the strongest evidence.
"These are not the easiest cases, so you want the most timely and the most corroborated," Levenson said.
Scotland Yard has 11 cases
The epicenter of the criminal investigations appears to be in London, where Scotland Yard said this week it is investigating 11 separate allegations. But Levenson said New York or Los Angeles would be most likely to bring a case because Weinstein remains on American soil. The mogul's lawyers would probably fight extradition to England if it came to that, she added.
British authorities said the alleged attacks involved seven women and that nine were reported to have occurred on British soil. Three women have stepped forward within the last week, British police said, including one who contended she was attacked in the early 1990s.
Scotland Yard released details of the probe this week but did not mention Weinstein by name, which is standard procedure in British criminal investigations. Several sources confirmed to The Times that the subject of the investigation is Weinstein.
The British investigations began Oct. 11 when a woman came forward to report that Weinstein sexually assaulted her in the late 1980s in West London. British actress Lysette Anthony later said publicly that she had made the report.
On Oct. 14, another woman alleged that she was sexually assaulted in Westminster in London in 2010 and 2011, and in Camden, a London borough, in 2015. A day later, a woman alleged to police that she was sexually assaulted in Westminster in 1992, Scotland Yard said.
A fourth woman told British police she was sexually assaulted outside England in the early 1980s. Scotland Yard said it referred that report to the appropriate police agency but did not provide details.
A fifth woman reported to police Oct. 24 that she was attacked in Westminster in the mid-1990s. Two days later, a sixth woman came to police and contended that she was attacked outside the United Kingdom in 2012 and then in Westminster in 2013 and 2014. British police said they forwarded the 2012 allegation to the relevant police agency.
The seventh woman reported her allegation Saturday, saying she was sexually assaulted in Westminster in 1994, according to Scotland Yard.
LAPD investigating allegations by two women
Since a New York Times article Oct. 5 first revealed allegations of sexual misconduct against Weinstein, more than 50 woman have alleged they were sexually harassed or assaulted by the former independent film impresario. Weinstein was fired from his job early last month.
Actresses Asia Argento, Rose McGowan, Lucia Evans and Anthony have publicly stated that they were raped or forced to perform a sex act by Weinstein.
In Los Angeles, police are investigating an Italian model-actress' accusations of being forced by Weinstein to have sex with him in her hotel room in 2013.
It is the first case related to Weinstein to be reported in Southern California.
At Mr C's Hotel, the actress told The Times, "he grabbed me by the hair and forced me to do something I did not want to do," she said. "He then dragged me to the bathroom and forcibly raped me."
Weinstein's representative denied the allegation.
On Thursday, the LAPD said it was investigating allegations made by a second woman. A department spokesman did not provide details about the accusations but said the incident occurred in 2013. A spokesman described the allegations as lewd conduct.
Beverly Hills police said Tuesday the department has opened investigations into Weinstein. Police did not provide details of the investigations but urged anyone who believes he or she was a victim to come forward.
Allegations in New York
New York police are reviewing at least three cases.
One investigation involves an allegation that Weinstein forced a woman to perform oral sex on him in his Miramax office. Lucia Evans has identified herself to the New York Times as the accuser. A second case involves an alleged forcible sex act more than a decade ago and a third investigation involves a sexual assault allegation stemming from a 2010 incident.
Manhattan Dist. Atty. Cyrus R. Vance in 2015 previously declined to charge Weinstein in connection with allegations by a model, who alleged he groped her.
Already a subscriber? Thank you for your support. If you are not, please consider subscribing today. Get full access to our signature journalism for just 99 cents for the first four weeks.
ALSO
Dustin Hoffman accused of inappropriate behavior by a second woman
She accused director Brett Ratner of rape in a Facebook post. Then he sued her for defamation
Warner Bros. responds to sexual harassment lawsuit brought by former 'Bachelorette' producer with arbitration demand
---
The perils of parenting through a pandemic
What's going on with school? What do kids need? Get 8 to 3, a newsletter dedicated to the questions that keep California families up at night.
You may occasionally receive promotional content from the Los Angeles Times.