'An unprecedented loss of life': The grim toll of Southland fires on animals born to run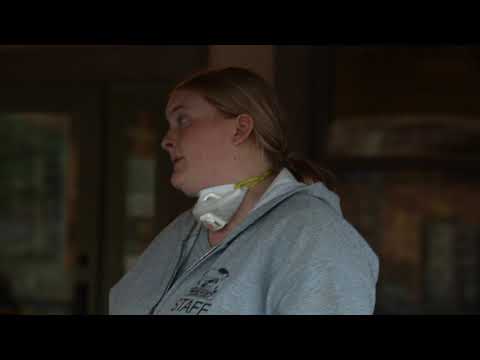 The Humane Society of Ventura County has been taking in animals that have been evacuated because of the Thomas fire. "These animals ... that's all that matters," says Amanda Hanline, who along with other humane society employees and volunteers, has
The evacuation of San Luis Rey Downs was orderly at first. Trainers at the 500-stall facility for racehorses in northern San Diego County led thoroughbreds from the stables into trailers or onto a nearby racetrack.
But as the Lilac fire raced closer, choking the paddocks with smoke and setting palm trees ablaze, the horses began to panic. By the time the barn roofs caught fire, the thousand-pound animals were stampeding.
"It just started coming so fast that we couldn't stay with it," trainer Linda Thrash said. "Eventually, we just had to turn them loose. There was not time to do anything else."
Some horses refused to leave their burning stables. Some got out only to run back in. Some made it to safety on the track, only to collapse and die.
Human life has been remarkably preserved in the Southern California wildfires this week, with authorities confirming a single fatality. But for horses — animals born and bred to run — the death toll has been staggering.
More than 66 animals are known to have died. At least 35 perished at San Luis Rey Downs on Thursday afternoon, and 29 at a Sylmar ranch overrun by the Creek fire Tuesday. There are reports of dead or missing horses and ponies from small farms and ranches throughout the region. Some owners won't know the fate of their animals until evacuation orders are lifted and they can search their properties.
"It's just tragic," said John Madigan, an expert in animal disaster rescue who teaches at UC Davis School of Veterinary Medicine. He called the deaths "an unprecedented loss of life."
While stable fires caused by smoking, arson and electrical malfunctions have killed large numbers of horses, this week's equine deaths appear to be a record for wildfires.
Santa Ana winds moved the fires so quickly and so unpredictably that those fleeing had only minutes to leave. In some cases, horse owners said they had to choose between saving themselves and their animals.
In the Creek fire in the mountains above Sylmar, Gail Thackray woke before dawn Tuesday to find her home edged by fire. She said she didn't have time to gather any belongings let alone free her two ponies and horse.
"I felt like if we had taken an extra 30 seconds, we could have all been dead," Thackray said.
The ponies died, but the horse, Swagman, managed to jump a fence and escape.
Nearby Rancho Padilla was not a place with show horses or equestrian events. Jaime Padilla, whose family owns the ranch, said it was never meant to be a luxurious place, but one where "people could just escape."
In the arena, they would hold Mexican rodeos known as charreadas. This Sunday they had planned to host an event for the Virgen de Guadalupe.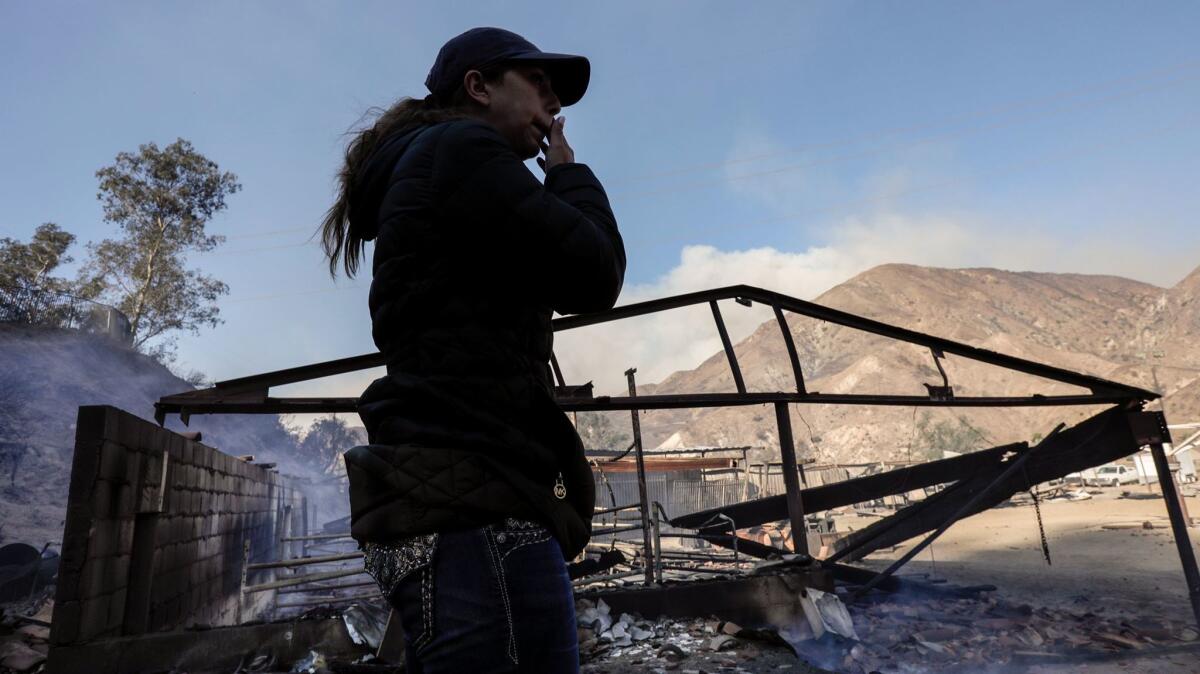 As walls of flame approached on Tuesday, Padilla family members said, a fire crew ordered them to flee immediately. They left behind a barn filled with their own horses and those they were boarding for others.
"All I could think about was the horses, the horses, the horses. And they were like, 'Get out, get out, get out,' " said Patricia Padilla, whose family owns the ranch.
When a team from the county's Department of Animal Care and Control arrived hours later, they found the barn burning.
"The officers could see and hear horses in distress and quickly retrieved two horses and a puppy," according to a department statement.
At least 10 horses were padlocked in their stalls, an apparent guard against horse theft that animal control officials criticized Thursday as dangerous and unacceptable. Officers broke the locks on 10 stalls and rescued some horses before the barn began to collapse.
After The Times published a story about the deaths of 29 horses, a member of the Padilla family said she was "receiving awful hate mail accusing me of being a horse-killer." She threatened legal action against the paper, and relatives did not respond to further requests for comment.
In the aftermath of the calamity on Wednesday, a young woman mentioned to the Padilla sisters that many of the stalls had locks on them.
"I know and we had told them to take them off," Virginia Padilla responded.
Oscar Martinez, who had boarded his horse Chikilin at Rancho Padilla for about five years, said the family had asked boarders not to put locks on stalls.
"Every single ranch has rules. If you rent and have a horse over there, when you rent they tell you not to lock the corral," he said. "I don't know why they locked the horses in."
About three miles down from Rancho Padilla on Little Tujunga Canyon Road, several hundred horses were safely evacuated from Middle Ranch, a so-called show barn where horse owners work with trainers.
As soon as news came about the fire, all the trainers, who have haulers or rigs, were called to load up the horses and evacuate them. The fire burned all around Middle Ranch and caused some damage, but all of the horses were already out by then, said office assistant Karen Rice.
"The fire started up by [Rancho Padilla], so they probably didn't have time," Rice said. "When it starts on top of you and you wake up and you have to get out with your life, that's about all you have time to think of. I don't know what happened really."
Capt. Lucas Spelman of the California Department of Forestry and Fire Protection said firefighters were upset by the loss of life at the ranch.
"All of us love animals and hate seeing that type of things. Especially firefighters — the way we feel about everything surviving. For us, zero percent is acceptable, so we go at everything 110% to make sure that every viable life can be saved, including animals," Spelman said.
At the San Luis Rey Downs, the thoroughbred facility in Bonsall, some surviving horses were moved to the Del Mar Fairgrounds. Officials expected that some 800 horses evacuated in the fires will be stabled there.
Many owners and trainers were struggling with memories of the chaotic afternoon that left so many prized horses dead.
"It went from one minute being, 'Yeah, we're going to be OK,' to 'Oh my God, what are we going to do?' " said trainer Doug O'Neill, repeating the words of his chief assistant Leandro Mora, who was there when the fire hit.
Madigan, the UC Davis professor, said that he had watched video of the frantic scene and thought the trainers and stable hands, far outnumbered by the horses, had acted correctly as the blaze bore down by opening stalls and hoping that horses would run to safety.
That many did not, he said, was "one of the most frustrating features of horses and fire."
"They get afraid to leave or they actually try to reenter the spot that they previously knew as safe — the burning barn," he said.
paul.sisson@sduniontribune.com
Sisson writes for the San Diego Union-Tribune. Times deputy sports editor John Cherwa and news researcher Scott Wilson, and Union-Tribune staff writers David Hernandez and Jay Posner contributed to this report.
ALSO
Fire crews fighting to defend Carpinteria from reenergized Thomas fire
Residents return to rubble as fire crews make progress on San Diego and Los Angeles wildfires
Dogs trained for disaster relief were displaced by the Thomas fire. Their trainers are using it as a learning experience
Sign up for Essential California for news, features and recommendations from the L.A. Times and beyond in your inbox six days a week.
You may occasionally receive promotional content from the Los Angeles Times.