Fire crews fighting to defend Carpinteria from reenergized Thomas fire
Reinvigorated by Santa Ana gusts and canyons of bone-dry vegetation, the Thomas fire surged into the Santa Barbara County foothills Sunday, forcing evacuations in the coastal communities of Carpinteria and Montecito.
Reinvigorated by Santa Ana gusts and canyons of bone-dry vegetation, the Thomas fire surged into the Santa Barbara County foothills Sunday, forcing evacuations in the coastal communities of Carpinteria and Montecito.
As the blaze spread westward into the mountains, it grew the blaze to at least 230,000 acres, putting it in the top five of California's largest modern fires and creating new challenges for the exhausted crews in their sixth full day of battling it.
With the northern and eastern fronts of the fire moving mainly into uninhabited areas of the Los Padres National Forest, fire officials concentrated Sunday on protecting the beach city of Carpinteria and Montecito, the wealthy enclave to its west.
Throughout the day, the fire moved down the mountains north of Carpinteria into foothills several miles from its downtown. The flames chewed rapidly through hillsides thick with vegetation.
"The fuels in there are thick and they're dead so they're very receptive to fire," said Steve Swindle, spokesman for the Ventura County Fire Department.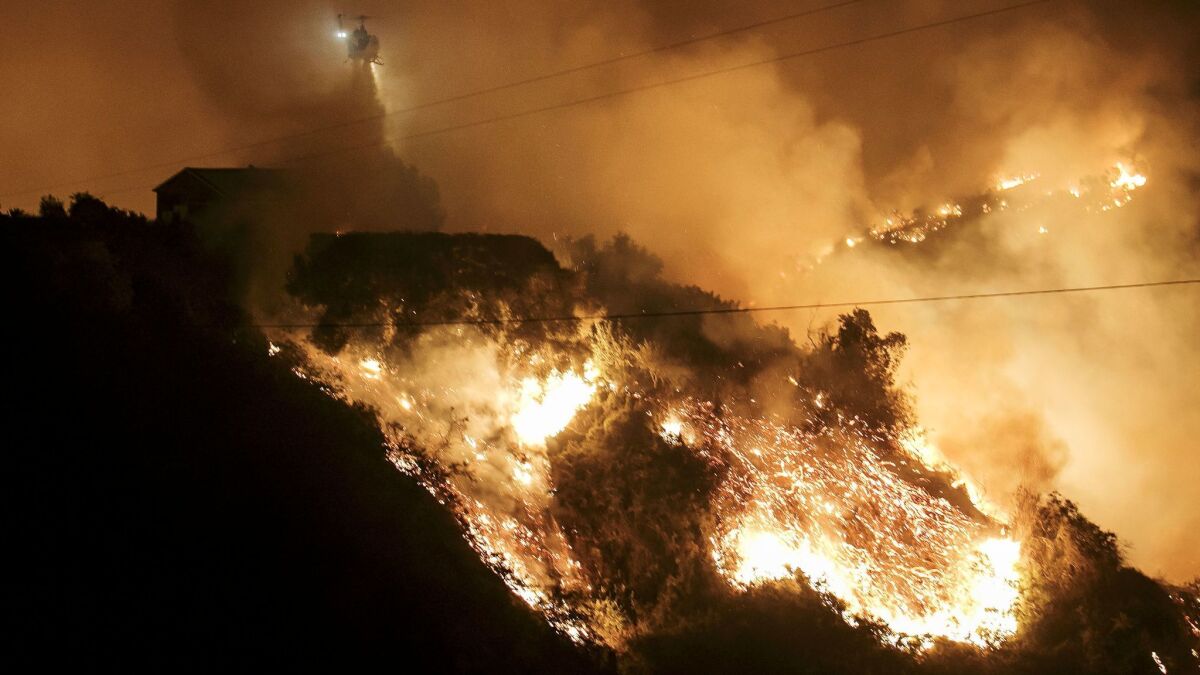 The blaze, which had already destroyed more than 750 buildings, leveled six more in Carpinteria, said Ray Navarro, chief of the Carpinteria-Summerland Fire District. As of Sunday evening, the blaze was about four miles from Montecito.
As the fire moved, people in the foothills near Carpinteria and Montecito were ordered to leave immediately and fire officials urged all residents to begin preparing to evacuate.
Retired LAUSD teacher May Osher, 66, packed photo albums and pet supplies into her car Sunday afternoon, but said she didn't plan to leave her Carpinteria neighborhood unless ordered to by police.
"I'm staying until it's time to go,"Osher said.
Fire officials identified dry creek beds as a particular hazard. If the blaze moved into the arroyos, officials warned, it could create a chimney-like effect that would send flames exploding down the creek path and into undefended terrain.
Winds that had gusted to 50 mph overnight weakened Sunday afternoon, allowing helicopters to drop water on fires in the foothills. Lower down, bulldozers sliced fire breaks in the heavy brush.
"Contingency strike teams" were dispatched throughout Carpinteria in case the blaze manages to cross fire lines, said Newport Beach firefighter Jude Olivas, a spokesman for the Thomas fire response.
Arna Crittenden, 61, who lives near downtown, said the extensive efforts by the fire crews reassured her — to an extent.
Watch huge smoke plume from the Thomas fire Sunday morning. (Video by Marcus Yam / Los Angeles Times)
"When the winds are calm, I feel very confident, but once the winds pick up, I start to worry," she said.
Even with the fire miles away, there was no escaping its effect. Plumes of putty-colored smoke churned over the coastline and people in Carpinteria donned face masks to run errands.
Concerned residents walked through ash to get to a Sunday evening meeting at nearby San Marcos High School. The crowd in the the packed auditorium clapped for the firefighters.
Nathan Underwood, 26, who lives in a rural area north of Highway 192, moved his horse, Velvet, to the Earl Warren Showgrounds. He is among the thousands who have been warned they might have to evacuate, but he said that he isn't too worried and that firefighters had done a good job of preparing.
"We are waiting to hear updates about Velvet, but otherwise we have stuff ready to go in a tote bag," he said.
The Santa Barbara Zoo was closed to the public Sunday and its 500 animals confined to their night quarters. The zoo was outside the evacuation area and not in immediate danger, but there was smoke and ash on the 30-acre property.
"We drill for and are prepared for emergencies," zoo director Nancy McToldridge said in a Facebook post. "We are taking all precautions to ensure the safety of our animals and our staff."
The animal care staff was providing "enrichment," including toys, treats and puzzles, to prevent the zoo residents from becoming bored inside, said director of marketing Dean Noble.
"The gorillas like music," Noble said.
As many as 85,000 customers in Santa Barbara County were without power, according to Southern California Edison.
Officials expected weaker winds Monday, but anticipated the fire would continue its westward march toward Montecito, where Oprah Winfrey, Al Gore and other celebrities have homes and some chaparral-covered hillsides vulnerable to fire are dotted with luxury estates.
Since it erupted near Thomas Aquinas College on Dec. 4, the Thomas fire has forced 88,000 people to flee their homes. Official estimates have put the cost of combating the blaze at $25 million.
By Sunday evening, the fire was 10% contained. The cause of the fire is still under investigation.
For more Southern California news, follow us on Twitter: @LATvives, @melissaetehad and @latimesharriet
ALSO
Track the key details on Southern California's fires
Residents return to rubble as fire crews make progress on San Diego and Los Angeles wildfires
'An unprecedented loss of life': The grim toll of Southland fires on animals born to run
The stories shaping California
Get up to speed with our Essential California newsletter, sent six days a week.
You may occasionally receive promotional content from the Los Angeles Times.