L.A. leaders say Trump proposal would boot thousands of immigrants from public housing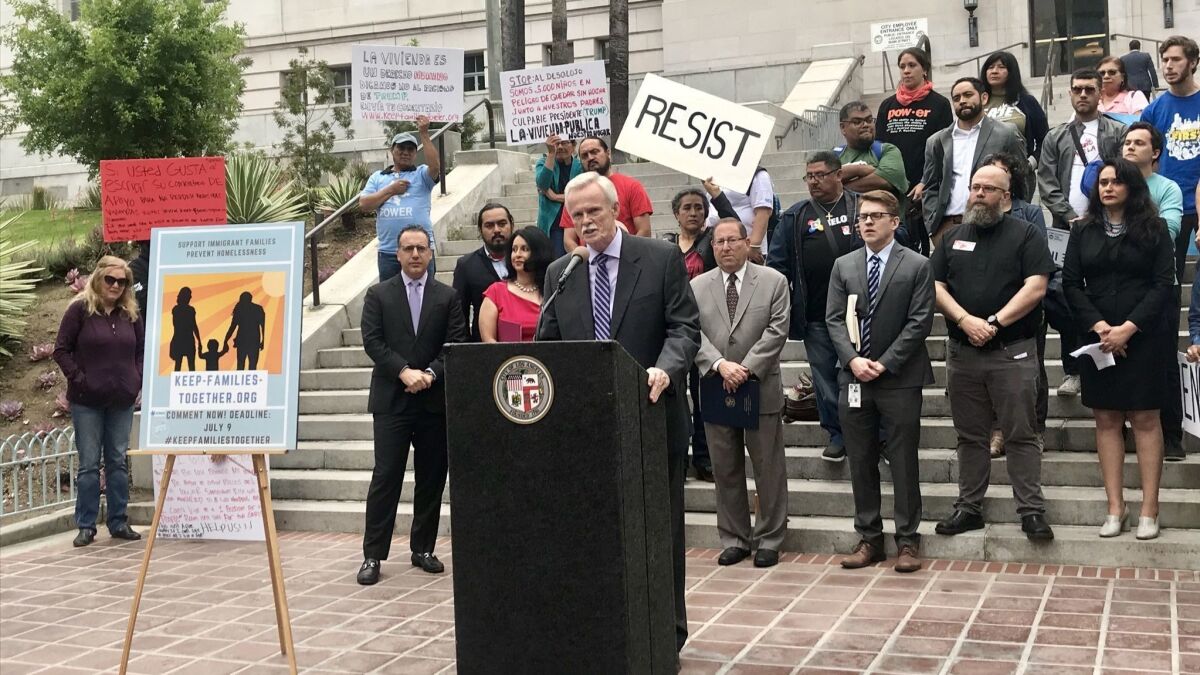 Calling the plan "torture" and "state-sponsored terrorism," Los Angeles City Council members on Wednesday blasted a proposed rule that would deny federal housing aid to households that include anyone living in the country illegally, even when other members are eligible for such aid as lawful residents or U.S. citizens.
Immigrants lacking lawful status are ineligible for federal housing subsidies. But current rules under the Department of Housing and Urban Development allow for subsidized rent to be prorated to cover eligible residents such as minors who are U.S. citizens. Under the proposed rule, such partial coverage would disappear.
The change could affect 25,000 households — 2% of all public housing units — and put as many as 55,000 children who are legal U.S. citizens or residents at risk of eviction, an internal agency analysis found. Families that become ineligible will have up to 18 months to move.
Councilman David Ryu described the rule as "breathtaking in its cruelty."
"This would force immigrant families to choose between staying together or staying in their home," he said. "Let's be very clear: This is not housing policy — this is family separation policy."
HUD Secretary Ben Carson has said that the rule is not "mean-hearted" but logical and that it's only fair to take care of legal residents first.
"There is an affordable-housing crisis in this country, and we need to make certain our scarce public resources help those who are legally entitled to it," he said in a statement.
Democrats in Congress, particularly from California, New York and Texas, have pressured Carson to drop the proposal.
Last month, the L.A. City Council adopted a resolution formally opposing the proposal. Leaders say that the change could lead to the evictions of 11,000 people in a city already grappling with surging rates of homelessness. They urged residents to submit comments to HUD by the July 9 deadline.
In a letter to HUD, Mayor Eric Garcetti said the proposal threatens the safety of thousands of families and breaches the agency's mandate to create strong communities with quality affordable housing.
"For Los Angeles, the repercussions of this rule are not abstract or distinct: They would be felt firsthand in our neighborhoods and our economy," he wrote.
Council President Herb Wesson called the proposal "torture."
Councilman Mike Bonin echoed Wesson and added the words "stupid" and "counterproductive."
"Whether the Trump administration is saying they are going to do raids on a given weekend or whether they're saying they're not, they are deliberately trying to scare people," said Bonin, who represents parts of L.A.'s Westside. "It is nothing short of state-sponsored terrorism."
A HUD spokesperson said that only 1 in 4 qualified households nationwide currently receive housing assistance and that people spend an average of more than two years on a waitlist. In L.A., the average wait time is more than four years.
Critics say the move represents yet another example of the Trump administration's whittling away of protections afforded to immigrants under the Constitution. Jean Reisz, an immigration law professor at USC, said that although the administration can't change the law, it can create a hostile environment for immigrants living in the U.S. and send a message to deter others from immigrating.
Doug Guthrie, president and chief executive of the Housing Authority of the City of Los Angeles, had to pause as he teared up while noting that the majority of those who stand to lose their housing are children. Guthrie said that although his agency is charged with implementing HUD rules, he believes this one is "outrageous," referencing HUD's own estimate that by removing households with prorated subsidies, it could cost more than $200 million more a year to continue assisting the same number of households.
"What sort of sense does that make?" Guthrie said. "These mixed-status households have played by the rules — they've done nothing wrong. There's not one dollar of federal funding that is supporting an undocumented resident."
Guthrie isn't alone in his concern. The national Council of Large Public Housing Authorities said the rule would discourage landlords from participating in Section 8, the housing choice voucher program, and impose additional burdens through evictions. HUD estimates those evictions could cost $4.4 million.
Leticia Lopez, a single mother of four U.S. citizen children, has lived in the same housing project in Pacoima for the last 18 years. Her eldest son, 26, suffers from schizophrenia, and she cares for him full time.
Lopez said she pays nearly $700 a month for their four-bedroom apartment. Their only income comes from disability benefits for her son and welfare assistance for her 11-year-old daughter. Some months after paying rent, she said, there's not enough money left to cover the full electricity bill until her next check comes in the mail.
"I'm really worried about this proposal," the 49-year-old said. "I have little income and barely make enough to pay my bills. If they kick me out of my home, where will I go?"
andrea.castillo@latimes.com | Twitter: @andreamcastillo
The stories shaping California
Get up to speed with our Essential California newsletter, sent six days a week.
You may occasionally receive promotional content from the Los Angeles Times.