Sheriff Baca admits shortcomings in hiring problem officers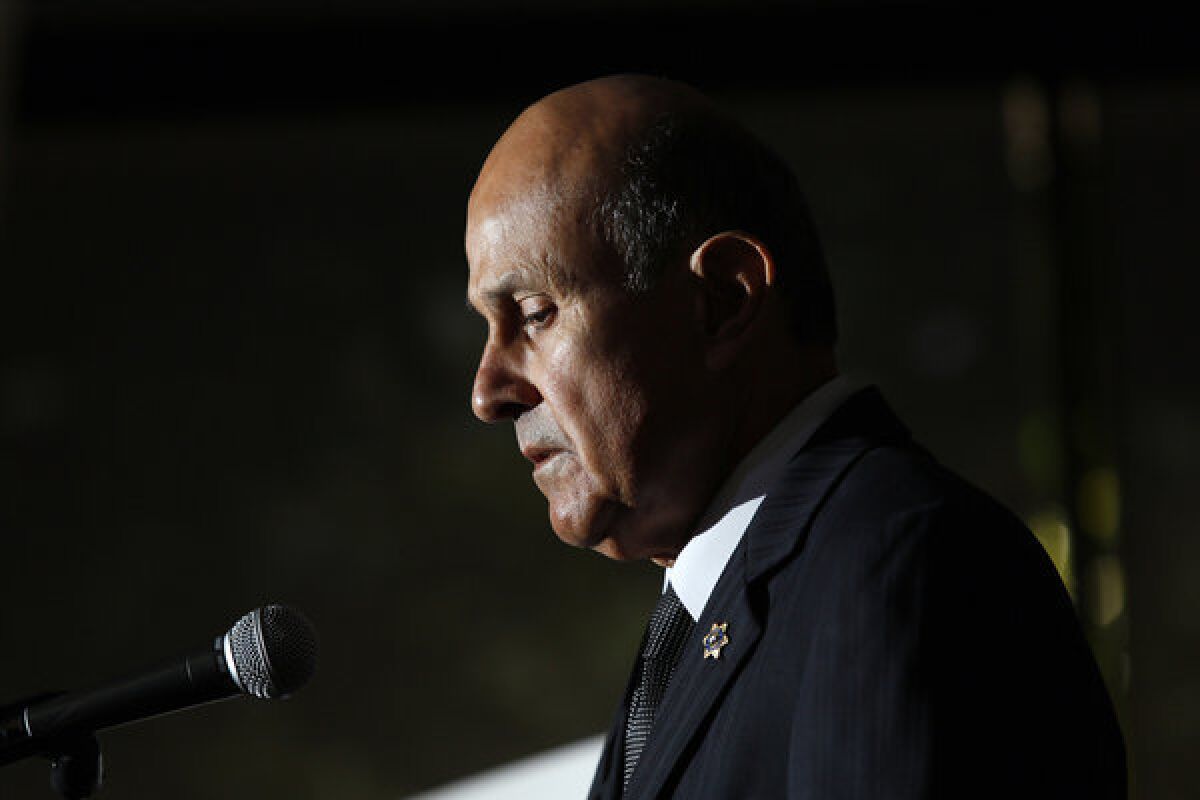 Under fire for hiring dozens of officers with histories of serious misconduct, Los Angeles County Sheriff Lee Baca acknowledged Wednesday shortcomings in the way his agency handled the process.
"It could have been done better," Baca told reporters.
Baca's comments come a day after county leaders demanded he investigate his hiring practices in response to an L.A. Times investigation last weekend that found that his agency hired dozens of officers from a disbanded county police force in 2010 even though investigators had found significant misconduct in their backgrounds.
Special report: Behind the badge
Internal sheriff's files showed that jobs were given to officers who falsified reports, accidentally fired their weapons, had sex at work, committed theft and solicited prostitutes. Twenty-nine of the roughly 280 hires had previously been fired or pressured to resign from other law enforcement agencies.
Baca, who had previously declined to be interviewed on the subject, said "the undersheriff" was responsible for the hires -- a reference to his former second-in-command, Larry Waldie, who led the expansion.
"We should not have relied on just one person" to make the hiring decisions, Baca said.
Baca's spokesman, Steve Whitmore, later elaborated on the sheriff's comments. Whitmore said the sheriff "doesn't know yet" if his agency hired officers it shouldn't have. He said the shortcomings Baca was referring to was how the process was handled -- instead of leaving the decision on who to hire all up to the undersheriff, "it should have been done with several people."
Baca "believes he should have been more involved," Whitmore said.
Waldie and a small circle of aides were responsible for reviewing the background files. In an earlier interview with The Times, Waldie said he personally reviewed many of the applicants' files, but he said he was not aware of any hires with histories of significant misconduct.
Waldie, who is now retired, also said he and his aides were under "significant pressure" from the county Board of Supervisors and other officials to hire as many county officers as possible.
A county spokesman denied Waldie's account, saying that the Board of Supervisors told the Sheriff's Department to hire only applicants who met the agency's hiring standards.
Waldie could not be reached immediately Wednesday to respond to Baca's comments.
Baca's spokesman has said this week that the department had completed its initial review of the hirings, but declined to release any preliminary findings.
Michael Gennaco, who heads the sheriff's civilian monitoring agency, said he is conducting a separate review of the county police hires. He said he expects that report will be coordinated with the department's newly selected inspector general, Max Huntsman, who is expected to start his watchdog role next year.
Huntsman, a Los Angeles County deputy district attorney, said previously that he considers the 2010 hiring process an important issue and will investigate the matter if supervisors request it.
Baca has pledged to cooperate with the new inspector general.

ALSO:
PETA to stage protest over SeaWorld float in Rose Parade
7-year-old boy wounded in Mid-City shooting dies, police say
O.C. residents ordered to remove Christmas lights may get reprieve
---
The stories shaping California
Get up to speed with our Essential California newsletter, sent six days a week.
You may occasionally receive promotional content from the Los Angeles Times.