Looting prompts closures at mining sites in Joshua Tree
Two areas of Joshua Tree National Park noted for their mining artifacts have been closed indefinitely because of looting, according to the park's superintendent.
The areas include Carey's Castle and El Sid Mine, in the Eagle Mountains range in the southeast area of the park.
The areas will be closed "at least for a month" until cultural artifact teams can inventory and record the areas, and while the park devises an enforcement and surveillance strategy, park Supt. David Smith said Monday.
See the most-read stories this hour >>
"We had some looting at El Sid that started a few months ago," he said. "We actually bought some artifacts to replace the original ones and they got stolen, too."
Both sites harbor former miners' homesteads.
Carey's Castle, north of Chiriaco Summit, was built during the Great Depression in the hollow beneath a boulder that also was visited by Native Americans.
El Sid (also known as El Cid), at the far eastern edge of the park, was first prospected in the late 19th century, though most of its artifacts date from the Depression era to recent decades.
Neither site attracted many but the most intrepid cross-country hikers, until a newspaper recently printed a two-page spread about day hiking to Carey's Castle, Smith said. Soon after, the ranger's office received six calls in one day about the site, compared with about that many visits by individual hikers per month, along with a few Sierra Club-sponsored group trips per year, he said.
NEWSLETTER: Get essential California headlines delivered daily >>
Several other areas of Joshua Tree, including Barker Dam and Rattlesnake Canyon, were closed for short periods over the last three years because of graffiti and other types of vandalism. All have been reopened.
Last year, Andre Saraiva, a French graffiti artist known as "Mr. Andre," was publicly shamed after displaying boulders he tagged within the park. That, and an anti-graffiti program created by Otis College of Art and Design in Los Angeles, have helped dissuade that activity, Smith said.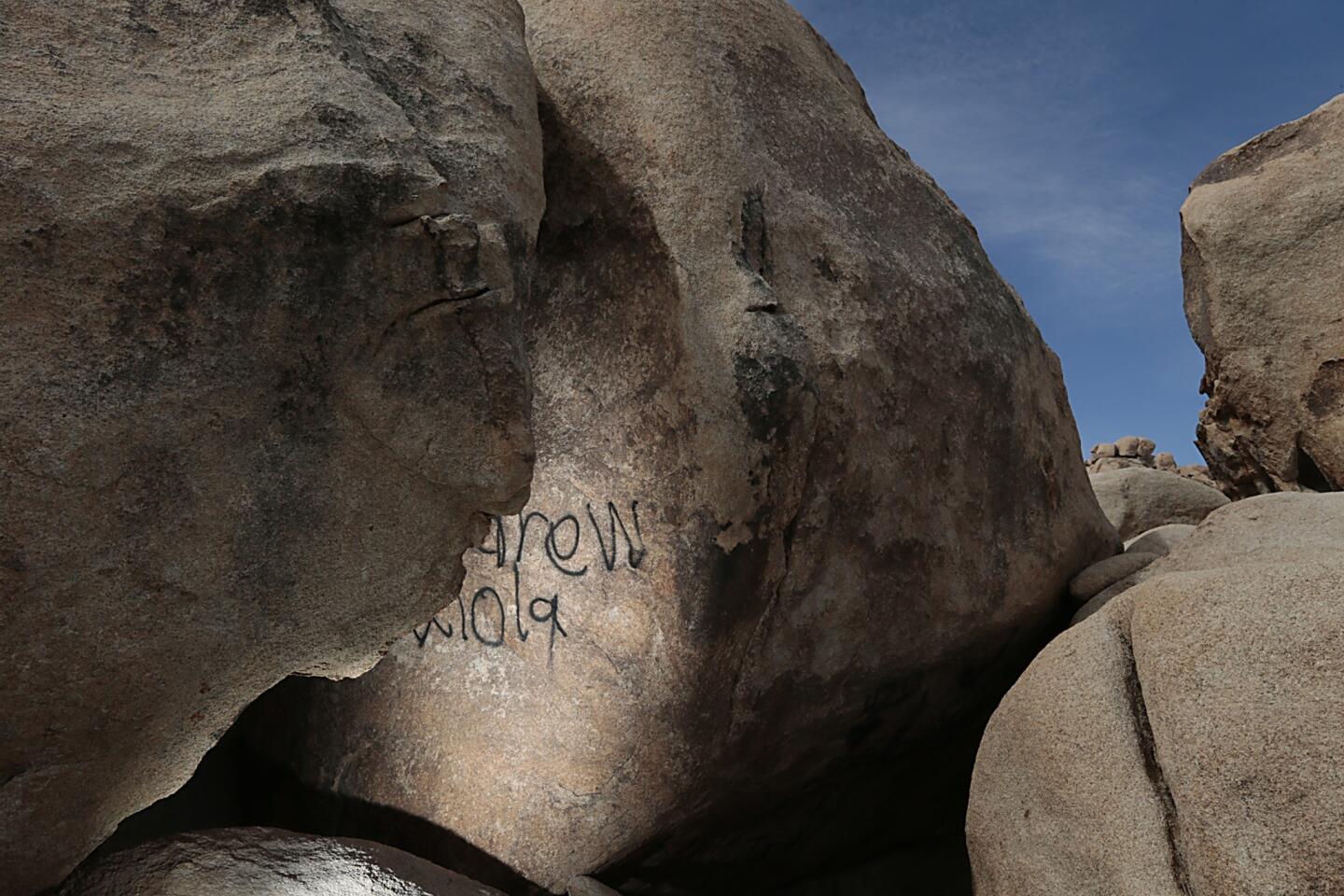 A sacred Indian site inside Rattlesnake Canyon in the Joshua Tree National Park is defaced with graffiti. Vandals have posted pictures of themselves damaging the park, causing officials to close parts of the park as they investigate.
(Robert Gauthier / Los Angeles Times)
Joshua Tree National Park maintenance man Ameer Amit closes the gates to the road leading to Rattlesnake Canyon, where vandals spray-painted graffiti on numerous rock formations. Park officials have closed parts of the park as they investigate Facebook postings of someone painting the graffiti.
(Robert Gauthier / Los Angeles Times)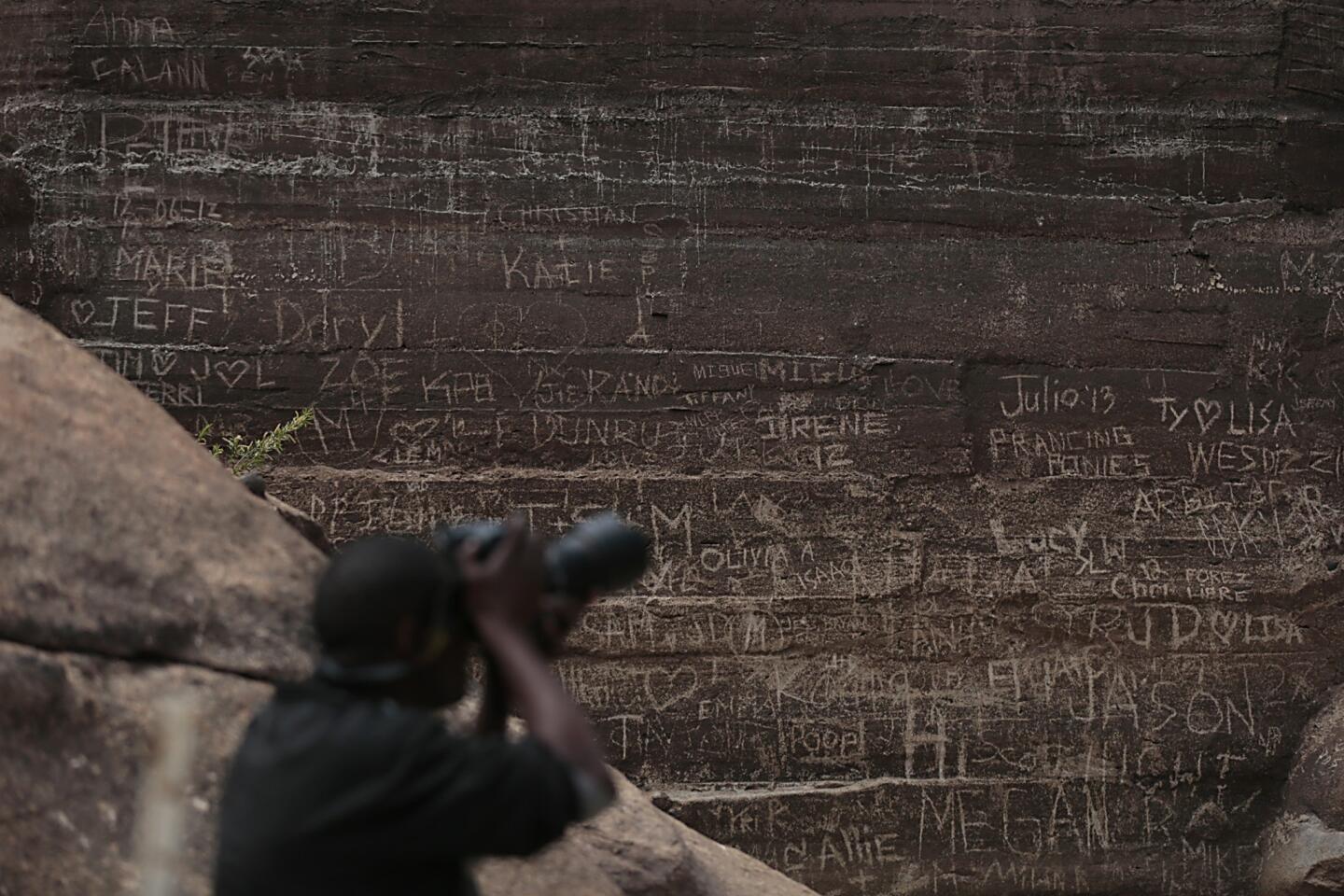 A photographer takes pictures of Barker Dam, where vandals have carved their names.
(Robert Gauthier / Los Angeles Times)
Ranger Pat Pilcher stands near Barker Dam, which has been vandalized. The park service isn't sure how to repair that damage.
(Robert Gauthier / Los Angeles Times)
Rocks on a sacred Indian site inside Rattlesnake Canyon in Joshua Tree National Park have graffiti on them.
(Robert Gauthier / Los Angeles Times)
The National Park Service has struggled with the abandoned mines on its properties -- there are 531 mining-related features in Joshua Tree, of which about 58 still required protection measures, according to a 2013 national inventory. Death Valley contains more than 9,000 such features, according to the report.
Nationwide, it will cost the park service $55.6 million to protect 2,869 abandoned mine features, according to that report.
Twitter: @LATgeoffmohan
ALSO
Proposal would shift bullet train funding for use on new water projects
L.A. County Supervisor Antonovich calls for air-quality spot checks in Porter Ranch area
Volcanic spires and Joshua trees: Obama protects 1.8 million acres in California's desert
Sign up for Essential California for news, features and recommendations from the L.A. Times and beyond in your inbox six days a week.
You may occasionally receive promotional content from the Los Angeles Times.