St. Junipero Serra statue vandalized in Mission Hills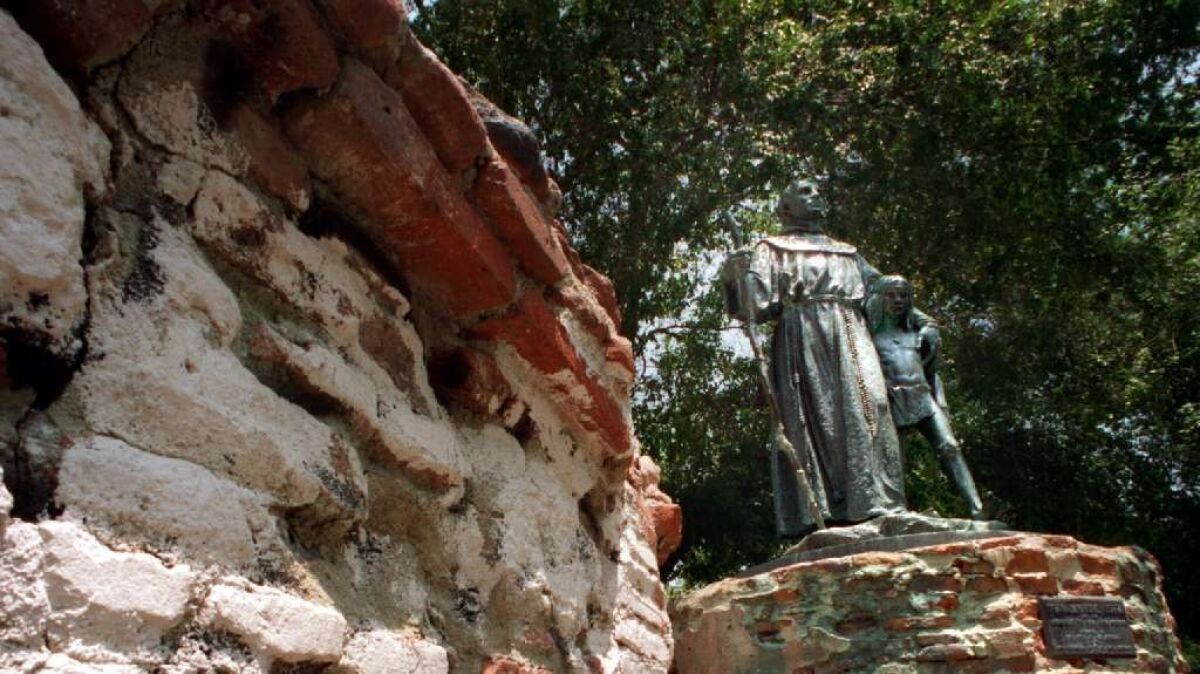 Soon after Pope Francis elevated Father Junipero Serra to sainthood two years ago, the statues and California missions that honor his memory became targets of vandalism.
It happened again last last week when one or more vandals targeted a statue in a park across the street from the San Fernando Mission, painting the hands of St. Serra in red and scrawling "murderer" on the monument. Photos of the vandalism were posted on Facebook.
"Everyone's entitled to their own public opinions and thoughts," Cristian Mendoza, a visitor to the park, told a CBS news reporter. "But once it gets to this level I don't think it's right."
Calls and emails to the archdiocese requesting comment were not returned Sunday. But the defacement of the statue has since been cleaned up.
St. Serra, a Franciscan friar who founded nine missions from San Diego to San Francisco, was credited for bringing Catholicism to California when it was under Spanish rule. Twelve other missions were erected after his death in 1784.
But to many Native Americans and others, Serra is a symbol of the mission system's oppression. Converted natives were kept separate from those who had not embraced Christianity, and some missions flogged and imprisoned those who tried to leave.
Pope Francis and other supporters say Serra was a defender of Native Americans and reshaped the culture of the West.
Serra "sought to defend the dignity of the native community, to protect it from those who had mistreated and abused it," Francis said during Serra's canonization ceremony in 2015.
Two years ago, days after Father Serra was elevated to sainthood, vandals struck the Carmel Mission, where the remains of the controversial missionary are buried, toppling statues and damaging grave sites.
They splashed paint throughout the cemetery and basilica and scrawled "Saint of Genocide" on a headstone.
In November, vandals attacked another historical religious site in the Central Coast connected to St. Serra. Vandals splashed red paint across the front door of the Mission Santa Cruz. It was the fourth incident of vandalism.
For more Southern California news, follow @latvives on Twitter.
---
The stories shaping California
Get up to speed with our Essential California newsletter, sent six days a week.
You may occasionally receive promotional content from the Los Angeles Times.