Tennis exec Justin Gimelstob pleads no contest in Halloween attack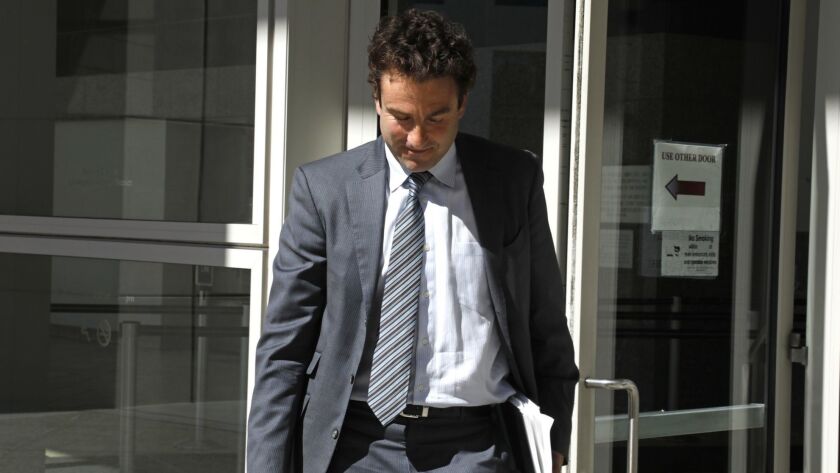 Tennis broadcaster Justin Gimelstob was convicted Monday of battery with serious bodily injury to the victim in what a judge called a "violent, unprovoked attack in public in front of children" on Halloween.
Gimelstob agreed Monday to plead no contest to a felony battery charge and a judge used his discretion to reduce the offense to a misdemeanor.
Gimelstob, 41, who sits on the powerful Assn. of Tennis Professionals board as the players' representative, received three years' probation and 60 days of community labor. In addition, Gimelstob must complete 52 weeks of anger management classes.
Gimelstob was accused of attacking Randall Kaplan, a longtime friend of the tennis circuit veteran's former wife. Kaplan, a venture capitalist, was walking with his wife and 2-year-old daughter in West L.A. on Halloween about 6 p.m. when the attack occurred.
Kaplan, addressing the court Monday, said that he never saw his attacker coming and that he feared for his life as he endured blows to his head and upper body.
"During that time, I was punched at least 50 times but when you count it — 1 ... 2 … 3 ... the actual number was likely over 100," he said.
"I realized that people had finally stepped in to pull my attacker off of me, who was still saying, 'I'm going to … kill you' while he pointed at me with eyes of a crazed lunatic," Kaplan said, adding that his family lives in fear of Gimelstob.
"Thankfully, my husband survived, but our unborn child did not," added Madison Kaplan, saying the trauma of seeing how her husband was beaten in front of her daughter led her to suffer a miscarriage. "My doctors said everything had looked perfect with the pregnancy before the attack. The only reason they could see causing the miscarriage was the stress from the attack. Justin might not have gotten his wish in killing Randy, but he did kill a tiny innocent little baby girl.
"It was the scariest thing I have ever seen," she added. "What type of person does this in front of children?"
As the couple recounted the attacks and Randy Kaplan alleged that Gimelstob had a history of violence, the tennis executive repeatedly shook his head "no." The judge afterward criticized Gimelstob's behavior, wondering how he would control himself outside court if he could not then.
Gimelstob told the judge that there was "no place for physical violence in society" and that he accepted responsibility for his actions on Halloween.
A police report on the incident includes pictures of a bruised and scratched Randy Kaplan and another of Gimelstob in what appears to be a Halloween costume based on the pilot's outfit in the movie "Top Gun."
Randy Kaplan said he realized who his attacker was when the man fled and an eyewitness snapped a photo of Gimelstob. Kaplan said in a November court filing that the attack left him with "large contusions and bruises on my face" along with bruises elsewhere on his body and possibly a concussion. He said in court Monday that his memory continues to suffer and that, combined with anxiety and fear, it has made work very hard.
Randy Kaplan said that Gimelstob threatened him months before the attack for being friendly with Gimelstob's estranged wife.
Cary Gimelstob in 2016 obtained a domestic violence restraining order against her ex-husband, alleging that he "physically assaulted, harassed, verbally attacked and stole" from her in front of their child. She said Gimelstob stole her cellphone to look at it and tried to strike her with it. He denied her allegations.
Twitter: @lacrimes
---
The stories shaping California
Get up to speed with our Essential California newsletter, sent six days a week.
You may occasionally receive promotional content from the Los Angeles Times.