Prosecutors want tennis broadcaster Justin Gimelstob's plea in attack tossed out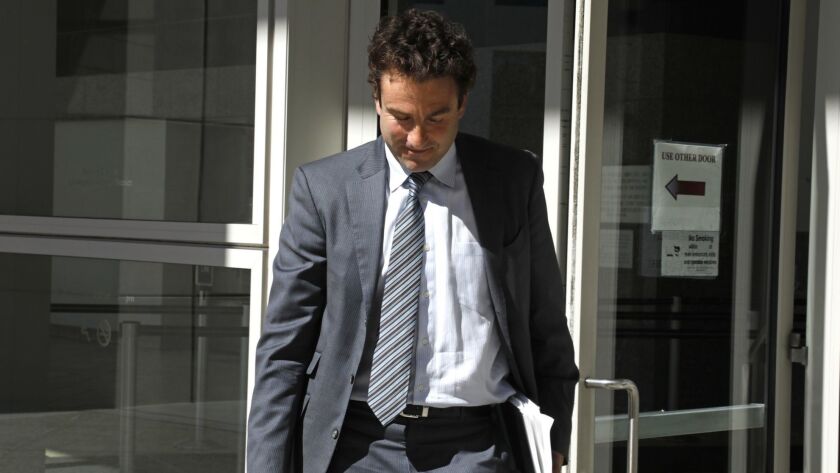 Los Angeles County prosecutors want tennis broadcaster Justin Gimelstob's no-contest plea in a Halloween attack tossed out after he denied committing the crime in court papers seeking a temporary restraining order against the man he is accused of injuring.
When Gimelstob agreed April 22 to a plea in the felony battery charge, which was reduced to a misdemeanor, he was repeatedly warned by the judge that if he denied the crime outside court, he could be called back and the case overturned.
"If, after the sentencing hearing, he goes on the courtroom steps or anywhere else and denies responsibility, there are consequences," L.A. County Superior Court Judge Upinder Kalra said. Kalra cautioned Gimelstob he could set aside the broadcaster's plea and proceed to trial.
On Monday, the Los Angeles County district attorney's office set aside the case resolution and moved to try Gimelstob based on sworn statements he made in a temporary restraining order filed against the attack victim. The statements were made within hours of Gimelstob's sentencing.
Kalra called the Halloween incident a "violent, unprovoked attack in public in front of children" and sentenced Gimelstob to three years' probation, 60 days of community service and a year of anger-management classes.
But Deputy Dist. Atty. Lucrecia Boado says Gimelstob denied the attack after his appearance before Kalra.
In efforts to haul Gimelstob back into court, Boado said he signed a statement in a restraining order claiming that Randy Kaplan — the victim in the attack — "initiated the physical altercation" by "aggressively shoving me."
Gimelstob alleged that Kaplan was angry because he got the better of him in the ensuing fight and posed a threat to him, Boado said. The prosecutor said that Gimelstob was asserting self-defense and asked the judge to take the appropriate action in vacating the initial ruling.
During his sentencing hearing last month, Gimelstob repeatedly disagreed and said "no" as Kaplan gave his victim's statement, laying out how he was hit repeatedly without provocation.
"I was punched at least 50 times but when you count it — 1 ... 2 … 3 ... the actual number was likely over 100," Kaplan said.
Gimelstob is accused of attacking Kaplan, a longtime friend of the tennis circuit veteran's former wife. Kaplan, a venture capitalist, was walking with his wife and 2-year-old daughter in West L.A. about 6 p.m. on Halloween when the attack occurred.
A police report on the incident includes pictures of a bruised and scratched Kaplan and another of Gimelstob in what appears to be a Halloween costume based on the pilot's outfit in the movie "Top Gun."
Kaplan said he realized who his attacker was when the man fled and an eyewitness snapped a photo of Gimelstob. Kaplan said in a November court filing that the attack left him with "large contusions and bruises on my face" along with bruises elsewhere on his body and possibly a concussion.
"I realized that people had finally stepped in to pull my attacker off of me, who was still saying, 'I'm going to … kill you' while he pointed at me with eyes of a crazed lunatic," Kaplan said, adding that his family lives in fear of Gimelstob. Kaplan says the attack was one of several altercations Gimelstob has been involved in in recent years, although the tennis star has denied that allegation.
Madison Kaplan, who witnessed the attack on her husband, told the court the trauma of seeing how her husband was beaten in front of her daughter led her to suffer a miscarriage.
"My doctors said everything had looked perfect with the pregnancy before the attack. The only reason they could see causing the miscarriage was the stress from the attack. Justin might not have gotten his wish in killing Randy, but he did kill a tiny innocent little baby girl."
Gimelstob, 41, resigned last week from the powerful Assn. of Tennis Professionals board as the players' representative.
Twitter: @lacrimes
---
Life is stressful. Our weekly mental wellness newsletter can help.
You may occasionally receive promotional content from the Los Angeles Times.