Los Angeles celebrates 235 years
To celebrate Los Angeles' birthday, Kelli Romo laced up her sneakers and joined hundreds of others Saturday in retracing the 9-mile route that the original settlers walked 235 years ago from the San Gabriel Mission to what is now El Pueblo de Los Angeles Historical Monument.
The group marched along Mission Road, through Lincoln Park and over the Los Angeles River to the Los Angeles Plaza Historic District downtown. It was a familiar route, one that Romo had traveled by car before. But by setting out on foot, the 38-year-old mother of two said she was transported to a different time.
"I really grasped what people did hundreds of years ago to start this city," she said. "They didn't have paved roads. They were carrying kids. It really put into perspective what we take for granted."
Romo said she knew the story about how Los Pobladores – 22 adults and 22 children – were recruited from present-day Mexico to come to California and provide food to the Spanish army. But she said she felt more connected to those early settlers and their struggle after the walk.
"It was a cultural experience," she said.
Later, hundreds gathered around the plaza to celebrate the city's roots. The festivities included live music, dancing, arts and crafts and, of course, a birthday cake.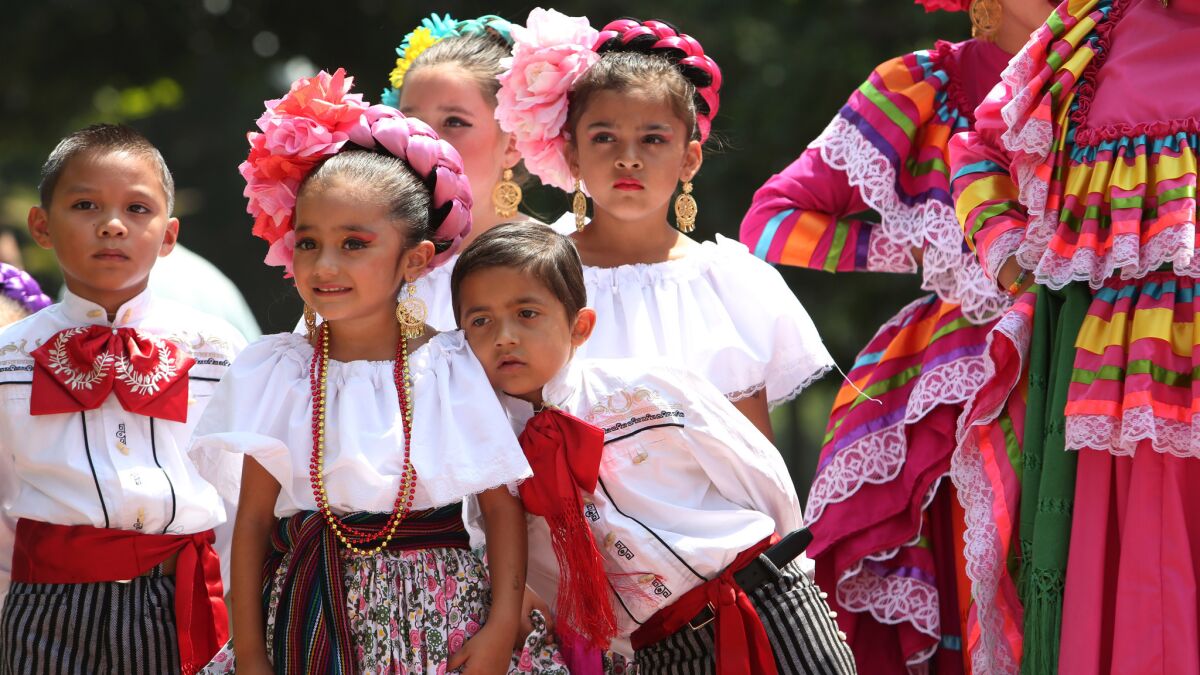 Irene Sepulveda-Hastings, the oldest descendant of Los Pobladores, reminded the crowd of the bravery of the city's pioneers.
"The walk [today] is a lot different from our ancestors'," said the 86-year-old Corona resident. "They didn't know what they were going to find on the trail."
As the pounding of drums filled the air, 29-year-old Arduro Ayala described both the poverty and the progress he saw as he navigated the historic route on foot.
Ayala marveled at how Los Angeles rose from a pueblo, or tiny village, into the booming and extremely diverse metropolis it is today. On his walk, he pondered what makes a great city.
"Organization, discipline, honesty, and" leaders, he said, "willing to cooperate with different people."
For more California breaking news, follow @AngelJennings. She can also be reached at angel.jennings@latimes.com.
ALSO
#RoseJam, other rolling closures could snarl weekend traffic
USPS employees accused of hoarding parcels, stealing veterans' medication
Mother was deported to Mexico and her kids remain in the U.S. Here's how this family works.
---
The stories shaping California
Get up to speed with our Essential California newsletter, sent six days a week.
You may occasionally receive promotional content from the Los Angeles Times.