USPS employees accused of hoarding parcels, stealing veterans' medication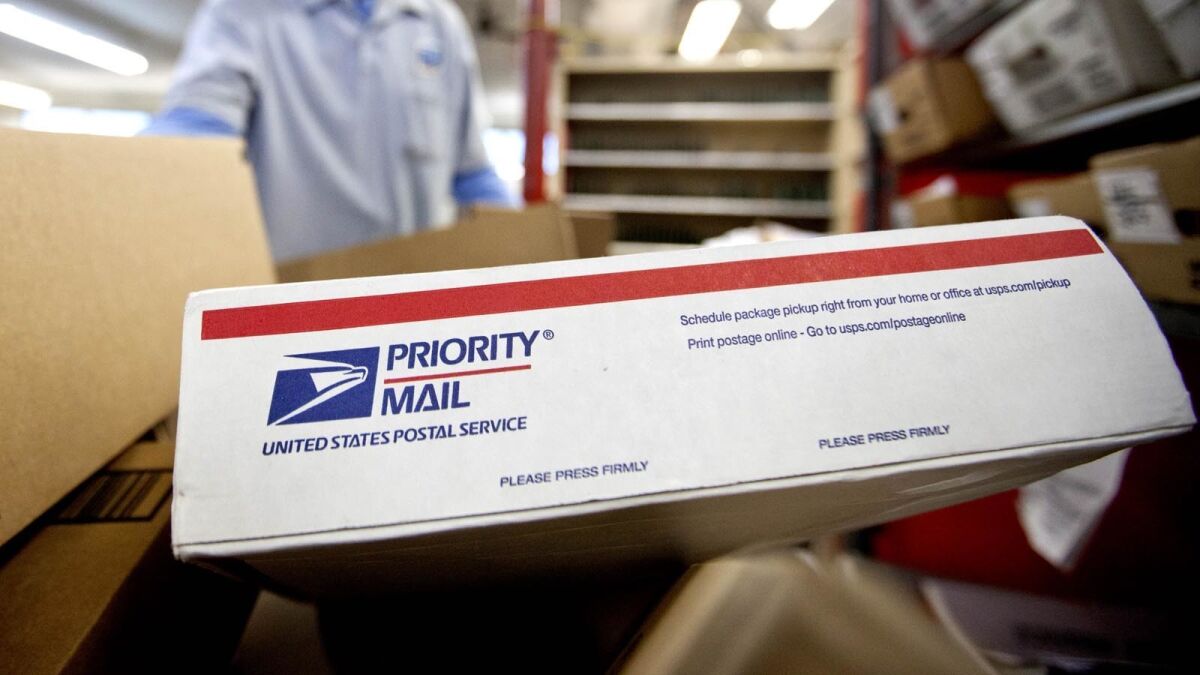 Federal authorities have charged dozens of Southern California postal workers and their associates with mail theft, embezzlement and an array of other crimes as part of a sweeping investigation into criminal activity at the U.S. Postal Service.
A total of 33 defendants were charged in 28 cases, including one individual who was found to have had tens of thousands of pieces of mail in her possession, according to a statement released Friday by the United States attorney's office for the Central District of California.
Arrest warrants were issued for six of the 33 defendants, officials said.
In addition to mail theft and embezzlement by postal workers and contractors, some of the cases involve bank fraud and false statements; a few allege crimes by people who are not USPS employees.
"The mail system plays an important role in our country's commerce and social communication. Maintaining its integrity is vital," United States Attorney Eileen M. Decker said in a statement. "Mail theft across Southern California has increased recently, which is significant since this type of crime tends to be a precursor to other crimes like identity theft and drug offenses. As a result, we are stepping up enforcement."
The alleged mail theft manifested itself in a variety of bizarre and disturbing forms, according to prosecutors.
Postal carrier Sherry Naomi Watanabe, 48, was found to have more than 48,000 pieces of mail at her Sawtelle residence, the Justice Department said. That mail was supposed to have been delivered on her route in Placentia.
In another case, Nicole Elwood, 45, was charged with mail theft for allegedly stealing medications sent by the U.S. Department of Veterans Affairs to veterans.
Justin Brewster, a 25-year-old USPS mail processing clerk, is accused of stealing video games that were mailed to or from the video game rental service Gamefly; Michael Smith, 43, allegedly took money orders from a mail envelope; and prosecutors say Jarol Garcia, 33, stole at least 166 mobile phones from parcels as they went through the Moreno Valley Delivery Distribution Center.
"The overwhelming majority of Postal Service employees are honest and dedicated public servants who are worthy of our trust," said Brian Washington, special agent in charge of the Postal Service's Office of Inspector General.
"However, when employees engage in criminal activity, our agency will aggressively investigate these matters to protect the overall integrity of the Postal Service."
Most of the defendants were charged in indictments that were returned by federal grand juries last week, officials said. Defendants charged as part of the sweep will be arraigned in the U.S. District Court in Los Angeles, Santa Ana and Riverside, they said.
Twitter: @ByMattStevens
ALSO
#RoseJam, other rolling closures could snarl weekend traffic
Man fatally shot by FBI agent serving search warrants in Compton
Range fire in Kern County 45% contained; evacuation orders will be lifted at noon
---
The stories shaping California
Get up to speed with our Essential California newsletter, sent six days a week.
You may occasionally receive promotional content from the Los Angeles Times.