'Suge' Knight hires new attorney to represent him in criminal threats case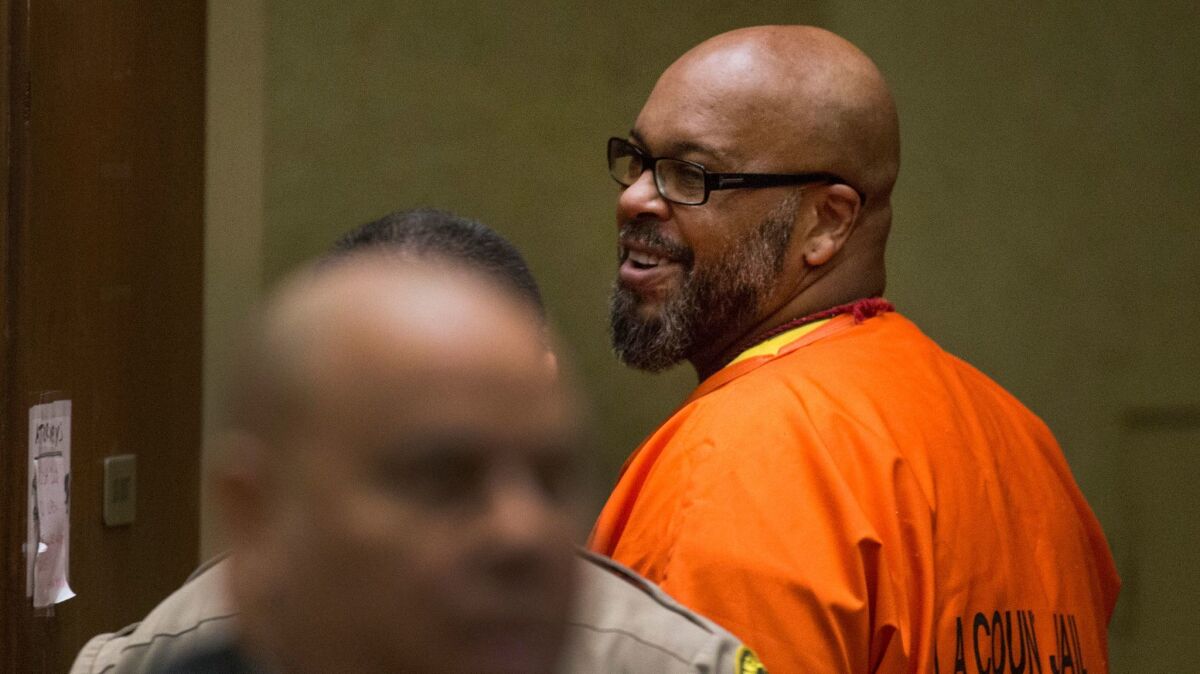 Former rap tycoon Marion "Suge" Knight hired a new attorney Monday to represent him against accusations that he criminally threatened the man who directed "Straight Outta Compton."
Knight's decision to hire criminal defense attorney Dominique E. Baños to replace Matthew Fletcher — who also briefly represented Knight in his ongoing murder case — cleared up a potential conflict of interest in the criminal threats case.
Last month, prosecutors filed a motion saying they'd gathered evidence of possible witness tampering, bribery and obstruction of justice by Fletcher in the murder case and asked the court to conduct an independent inquiry into whether his representing Knight in the threats case was a conflict of interest.
According to the motion filed by prosecutors, Fletcher had conversations with Knight and two others that showed the group understood "they were going to assist the defendant in procuring witnesses for his defense, which included payments for fabricated testimony." Fletcher denied wrongdoing at the time, telling The Times that prosecutors had taken his words out of context.
L.A. County Superior Court Judge Scott Gordon said Monday that the issue of Fletcher's potential conflict was now "moot," but told prosecutors they could refile a motion in the future if Fletcher again tries to represent Knight.
During the hearing, a prosecutor asked Gordon whether the new attorney had ties to Fletcher. The judge then turned to Baños, who responded, "I am not part of Mr. Fletcher's firm." Outside the courtroom, the attorney said she doesn't have ties to Fletcher or Thaddeus Culpepper, another of Knight's attorneys.
The Death Row Records co-founder is scheduled to return to court on Oct. 3 in the criminal threats case.
Asked after the hearing whether authorities will continue investigating the possibility of filing criminal charges for witness tampering, bribery or obstruction of justice, district attorney spokeswoman Shiara Davila-Morales responded, "We politely decline to comment."
A sheriff's spokeswoman said the homicide investigation remains the department's focus, but said the agency will "continue to investigate any and all crimes we identify during the course of that investigation. We will continue to work closely with the district attorney's office and will present facts that rise to a level of crime for filing consideration."
Knight has shuffled through several attorneys in the past few years.
His recent string of alleged crimes began on Aug. 8, 2014, when prosecutors say Knight, 52, sent a threatening text message to director F. Gary Gray, whose film about the rise of the seminal rap group N.W.A included an unflattering portrayal of Knight's role in the city's rap scene in the 1980s and '90s. After the fall of N.W.A, Knight co-founded Death Row Records with one of the group's founding members, Dr. Dre.
A month after Gray received the text, prosecutors say Knight and comedian Micah "Katt" Williams stole a photographer's camera in Beverly Hills. And four months after that, Knight was captured on security footage barreling his red truck into two men outside a Compton burger restaurant, killing 55-year-old Terry Carter, and then fleeing the scene. Knight, who says he acted in self-defense and eventually turned himself in, is expected to go to trial in the murder case as early as January.
For more news from the Los Angeles County courts, follow me on Twitter: @marisagerber
The stories shaping California
Get up to speed with our Essential California newsletter, sent six days a week.
You may occasionally receive promotional content from the Los Angeles Times.