Judge sets January 2018 trial date in Marion 'Suge' Knight's murder case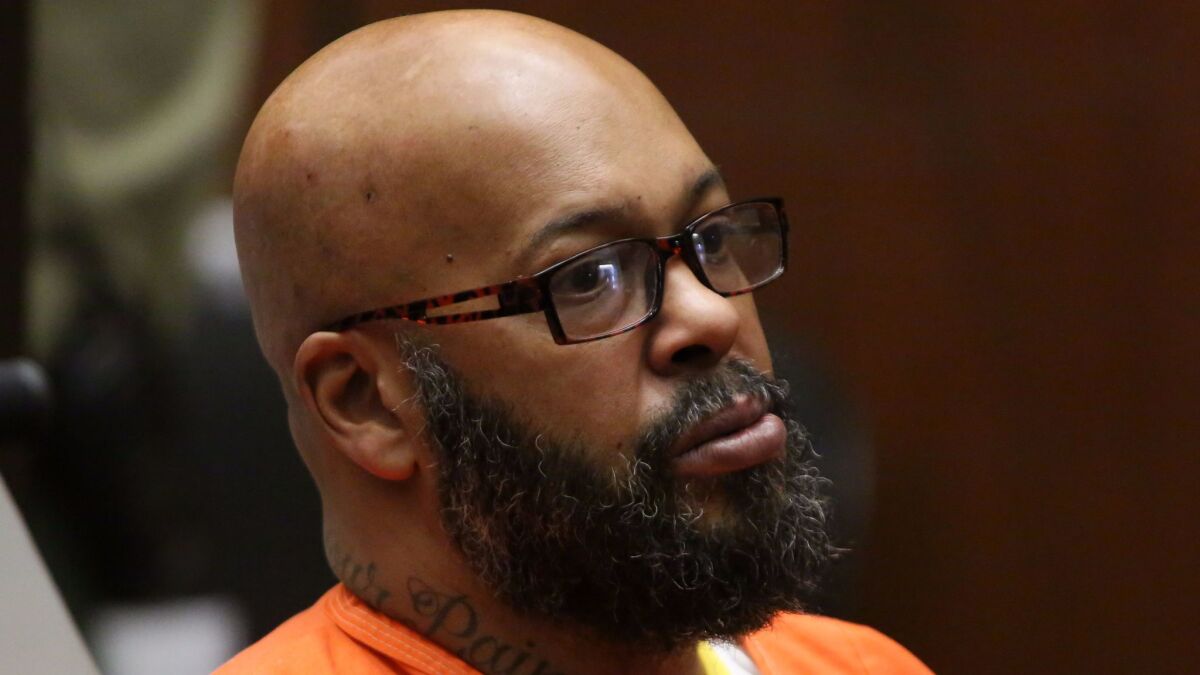 A judge set a trial date for next year in the murder case of former rap impresario Marion "Suge" Knight, characterizing it Thursday as a "must-go date" in a legal saga that has dragged on for more than two years.
Knight, 51, is accused of barreling his red truck into two men in the parking lot of a Compton burger stand in late January 2015, killing 55-year-old Terry Carter. Footage from a security camera shows Knight — who has pleaded not guilty and says he acted in self-defense — plowing his truck into the men. Knight fled the scene, but later turned himself in.
On Thursday, Los Angeles County Superior Court Judge Ronald S. Coen set the trial for Jan. 8, 2018, saying he expected the proceeding to take about a month. Carter's daughter Nekaya, who has portrayed past delays as justice deferred for her father, said she was grateful for the progress.
"It's far away, but it's a step," she said. "We need this trial to move forward — closure."
At the start of Thursday's hearing, Knight walked into the courtroom with his hands cuffed in front of him, clutching a water bottle. He smiled at his family members in the audience and nodded at the judge.
Before setting the date, Coen turned to Knight, asking, "How's that with you?"
"That's great," Knight said.
Coen then warned the Death Row Records co-founder — who has shuffled through several attorneys — that even if he switches lawyers again, the trial date will remain.
"This is in stone. This is a must-go date," Coen said. Knight nodded.
Coen then asked Knight — who was hospitalized late last month for an undisclosed condition — how he was feeling.
"Much better," Knight responded. (After the hearing, Knight's attorney, Jeremy Lessem, said his client has suffered from blood clots since surviving a shooting in 2014.)
Toward the end of the hearing, Knight addressed the judge, expressing frustrations with his access to legal experts and saying he wanted to get home to his family as soon as possible. One of Carter's daughters, who was seated in the audience, scoffed.
After the hearing, Knight's 21-year-old son, Suge Jacob Knight, said seeing Carter's daughter get emotional during the hearing impacted him.
"I feel for her, for her not having her father," he said, before adding that he believed his father had acted in self-defense.
A pretrial hearing in the case is set for May 18.
Knight — who was out on bail at the time of the fatal hit-and-run — is also charged in a separate robbery case.
For more news from the Los Angeles County courts, follow me on Twitter: @marisagerber
---
The stories shaping California
Get up to speed with our Essential California newsletter, sent six days a week.
You may occasionally receive promotional content from the Los Angeles Times.