In Los Angeles, homicides are down, but violent crime is up for the fourth year in a row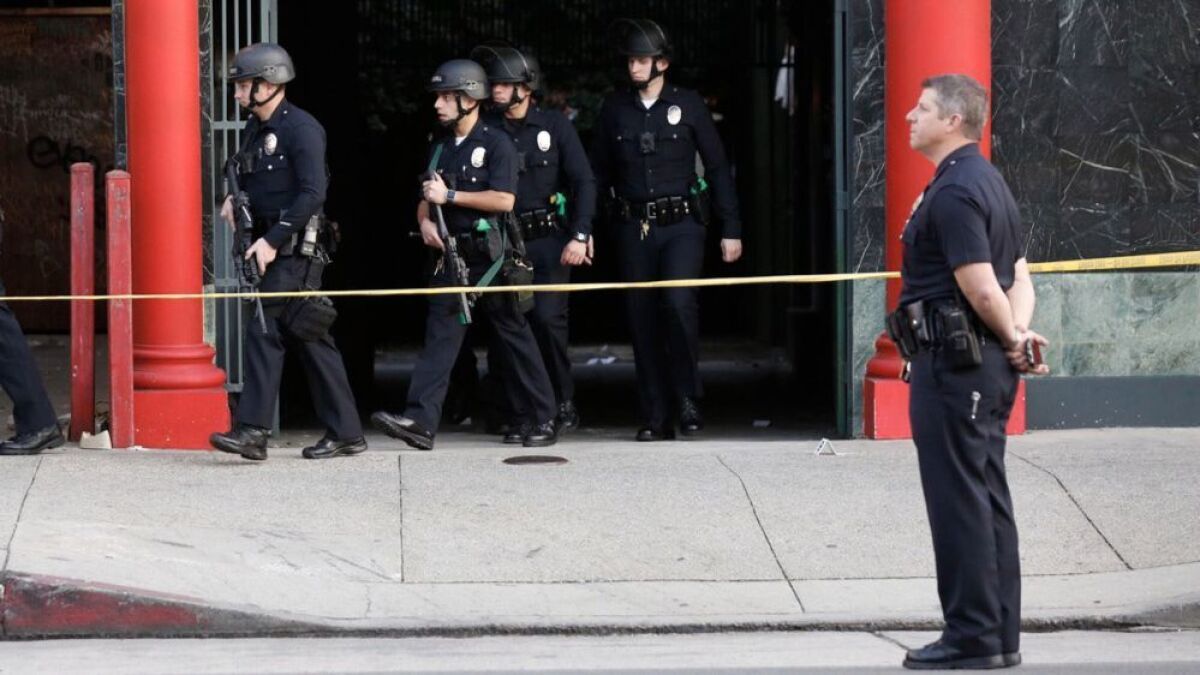 Homicides and gun violence were down in Los Angeles in 2017, a payoff of building closer ties between police and communities and increased efforts to remove firearms from the streets, officials said.
The 6% decline in homicides was a reversal from the increases of the previous two years. There were 271 homicides through Dec. 16, compared with 289 last year. The number of shooting victims was also down by 11% from 2016.
Angelenos are far less likely to be murdered than in the 1990s, when homicides peaked at 1,094 in a single year.
But there were other, more ominous trends in the year-end tally of crime in the city. Violent crime was up for the fourth year in a row, fueled by a 6% increase in robberies and a 5% spike in aggravated assaults. Property crime also ticked higher for the third year in a row— up 1% over last year.
Overall, violent crime was up 4% over last year and 16% over two years ago.
The Los Angeles Police Department did not make an official available to discuss the crime trends. A spokeswoman said no one could speak on the topic until a news conference in late January.
Earlier this year, a similar media event that was planned to discuss 2016 crime numbers never occurred.
In a written statement, LAPD Chief Charlie Beck said the drop in gun violence was due in part to "data-driven community-focused strategies, expanding community trust, and relentless follow-up."
Beck did not address the increases in other types of crime.
Mayor Eric Garcetti, in a statement, said, "This past year marked an important moment in our drive to end gun violence as we reduced the number of homicides and shooting victims. I thank Chief Beck and the LAPD for their continued work to make Los Angeles the safest city in America."
Kevin Orange, a Westmont resident who works to reduce gang violence, said rival gangs are increasingly building relationships with one another. He attributed the decline in homicides and nonfatal shootings to those networks.
"Before, they would pick up their guns. Now, they're picking up the phone and making a phone call," Orange said. "Instead of blaming somebody, what's the best way to deal with this situation without someone losing their life?"
In 2016, a rash of homicides and shootings early in the year prompted the LAPD to send extra platoons of elite Metropolitan Division officers to South Los Angeles.
This year, the situation stabilized. But while homicides went down, robberies continued to climb. Earlier this month, the LAPD held a news conference to discuss a 30% citywide increase in cell phone robberies.
"Keep your head up and put your phone down," Capt. Rafael Ramirez of 77th Division said. "On the bus, on the train, walking down the street — put your phone away, be aware of your surroundings and stop advertising that item."
At a Police Commission meeting earlier this month, Beck said the rise in aggravated assaults was due partly to ongoing adjustments in how the crimes are categorized — an issue that first surfaced in a 2014 Times investigation which found that the LAPD misclassified thousands of aggravated assaults as minor offenses, artificially lowering the city's violent crime rate.
The increases in some types of crime were not limited to the most violent areas of the city. In the Wilshire Division, for example, which includes Fairfax, Hancock Park and nearby neighborhoods, robberies were up 17%, and burglaries were up 16%. In the Topanga area, robberies increased by 14% and auto theft by 9%.
At a park near the La Brea Tar Pits, some Los Angeles residents said they did not worry much about crime.
But Remy Bender, 41, who has lived in the area for 20 years, said she never feels safe. An increase in the homeless population makes her feel uneasy, she said.
"I'm always looking out for something," she said.
The Watts area, meanwhile, did not see the drop in homicides most other places did.
Eddie Lewis, 58, stood outside his house on West 105th Street and pointed up the street and down an alley. Two homicides occurred at those locations in the past year, Lewis said.
"Too many shootings involving young kids," he said.
In the areas patrolled by the Los Angeles County Sheriff's Department, violent and property crime fell this year by 5% after two years of increases.
Homicides decreased by 20%, driven largely by a decline in gang-related deaths.
Compton recorded 39 homicides in 2016, compared with 21 through Nov. 30 of this year.
"Some of this we can take credit for by being proactive, by being out there, by working with community partners, engaging in intervention activity, working through the schools," Sheriff Jim McDonnell said of the homicide trend at a news conference Thursday.
McDonnell also cited the department's anti-gang unit, Operation Safe Streets, for quelling gang activity.
The Sheriff's Department runs the county jails and patrols the streets of unincorporated areas as well as cities such as Lakewood, Lancaster and West Hollywood.
McDonnell said criminal justice reforms such as Proposition 47 and AB 109 that were designed to reduce the prison and jail population have resulted in more people on the streets committing crimes to support their drug addiction. Meanwhile, there has been no increase in treatment programs, he said.
Proponents of the measures say there is no evidence they have led to more crime. Earlier this year, Los Angeles County received nearly $40 million from a Proposition 47 fund for drug and mental health treatment as well as prison re-entry programs, said Will Matthews, public affairs manager for Californians for Safety and Justice, which sponsored the proposition.
In a pair of studies released this fall, Mike Males, a senior research fellow at the Center on Juvenile and Criminal Justice, argued that changes in the law are not responsible for crime increases because crime trends vary widely both in L.A. County and statewide.
Local variations, including organized crime rings and economic conditions, are a more likely explanation, he said.
"Of course, the police are blamed a lot when crime goes up, and I don't think it's justified in most cases," he said.
In San Francisco, crime was up 11% through Nov. 30, with homicides increasing by 14% and thefts from vehicles by 26% compared with 2016 data.
Oakland saw a 1% increase in crime this year. Homicides and violent crime were down, but burglaries were up 21%.
Craig Lally, president of the union that represent rank-and-file LAPD officers, pointed to a chronic shortage of manpower as a reason why crime has been going up in Los Angeles. The department needs to add at least 2,500 officers to its 10,000-person force, Lally said.
"We're working the homeless problem — that's always our problem, as is the mental illness problem," Lally said. "We're tasked with doing way too much with very little resources."
Community policing programs, paired with enforcement strategies such as taking guns off the street, have helped reduce homicides, said Steve Soboroff, president of the Los Angeles Police Commission, the LAPD's civilian governing body.
But building trust among the city's Latino residents is increasingly difficult because of the Trump administration's strict immigration policies, Soboroff said.
And, he said, the root causes of crime — poverty, overcrowded schools, drug addiction — are beyond a police department's power to fix.
"What it comes down to in the very end game, it isn't about policing," Soboroff said. "It's about the underserved getting services, and they're not getting enough."
Times staff writers Makeda Easter, Kate Mather and Michael Livingston II contributed to this report.
For more news on the Los Angeles Police Department, follow me on Twitter: @cindychangLA
---
The stories shaping California
Get up to speed with our Essential California newsletter, sent six days a week.
You may occasionally receive promotional content from the Los Angeles Times.