Previously secret LAPD discipline records reveal lying, sexual misconduct by officers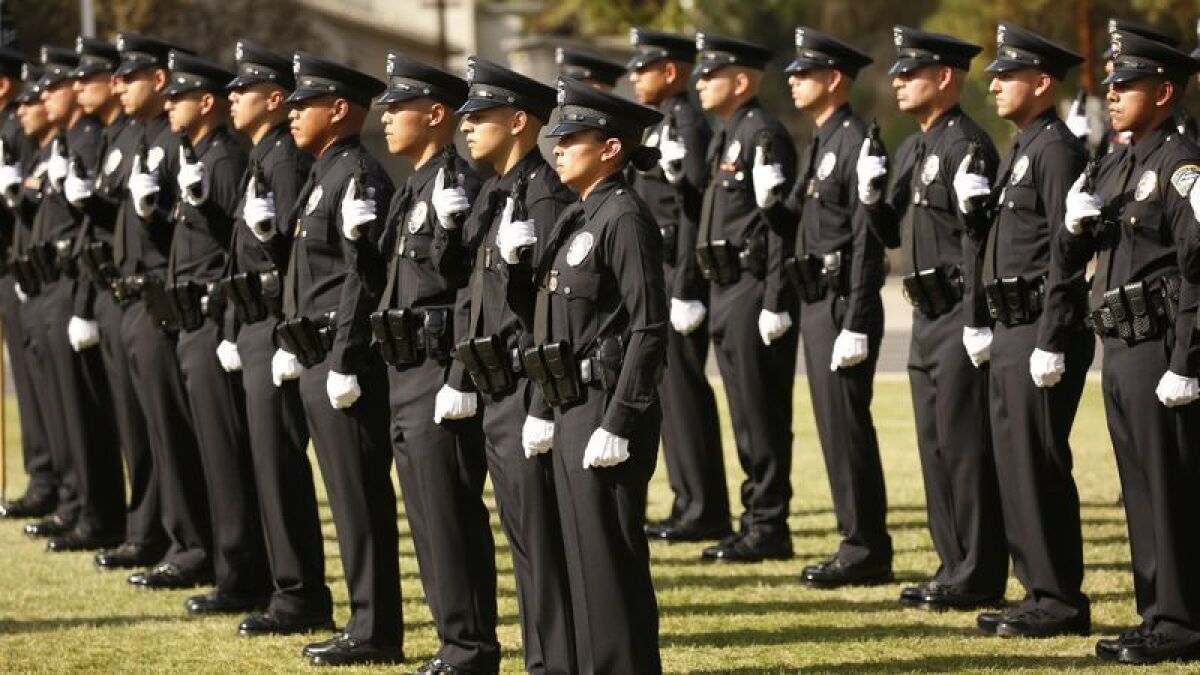 One Los Angeles police officer was fired for sexual misconduct after a woman accused him of raping her outside a Hollywood apartment complex.
Another lawman was fired for perjury after dash camera video contradicted his testimony in a South L.A. gun possession case.
Documents from the two misconduct cases are among the first released by the Los Angeles Police Department under a landmark state transparency law that requires law enforcement agencies to publicly disclose records of internal investigations into police shootings, severe uses of force and confirmed cases of sexual assault and lying by on-duty officers.
The department made the documents public after a judge rejected a request by the union that represents LAPD officers to bar the release of records of incidents before Jan. 1, when the law went into effect. In siding with open-government groups and media organizations, including The Times, Superior Court Judge Mitchell L. Beckloff ruled that the law applies to all records, regardless of when the incidents occurred.
Beckloff also denied a similar request by the union that represents rank-and-file Los Angeles County sheriff's deputies. The California Supreme Court declined to hear the union's appeal.
Nevertheless, the Sheriff's Department has since refused to release documents to The Times under Senate Bill 1421, claiming the newspaper's requests were "too broad in scope." Numerous other agencies, including now the LAPD, have released records in response to identical requests.
Sheriff Alex Villanueva, who promised during last year's election campaign to make the department more transparent, said in a statement that the agency was working to process an increased number of requests that are "voluminous, complex and time consuming." The department is waiting on approval from the county Board of Supervisors for funding to add more staff to comply with the new law.
"Members of my department have been working tirelessly to request these much-needed resources," Villanueva said.
Until last year, California had the nation's strictest protections on officer personnel files. The state's powerful law enforcement unions repeatedly blocked attempts to make any disciplinary records public. But lawmakers approved SB 1421 amid a heightened debate over how officers use force and interact with communities of color.
The law has set off a legal battle across the state as police unions have gone to court to try to block the disclosure of records from older incidents.
Among the records the LAPD released late last week was a 2018 use of force report that details the 2017 killing of a man shot by police while holding a toy gun and then run over by a patrol car in Wilmington.
The Los Angeles Police Commission previously released a less detailed account of shooting. The five commissioners unanimously decided last year that Officers Arturo Urrutia and Daniel Ramirez reasonably believed Eric Rivera, 20, posed a serious threat before they fatally shot him.
Sexual misconduct
The records from the two disciplinary cases give a rare glimpse into the LAPD's internal investigations of officers accused of wrongdoing.
In September 2016, Officer Israel Martinez met a woman during a routine traffic stop in Hollywood and the two exchanged phone numbers.
They began messaging each other and, after the conversations turned sexual, agreed to meet in Hollywood after Martinez finished work, according to the internal LAPD records.
The woman, whose name is redacted, later told Inglewood police that Martinez sexually assaulted her beside the dumpsters outside an apartment complex.
Martinez, who joined the force in 2012, admitted to having sex with the woman but insisted the encounter was consensual, according to the records. An hour later, she texted Martinez and said "sleep good," and "I want a redo but I want you to rape me," the records showed.
Internal investigators determined the woman gave inconsistent and false statements.
The department faulted Martinez for inappropriately engaging in sex in a public place, having a relationship with a woman he met while on duty and sending her an image of his genitalia in a text message from his work cellphone. The LAPD initially moved to suspend Martinez for 15 days and transferred him to a different patrol area. Then-LAPD Chief Charlie Beck later sent Martinez's case to the Board of Rights to face harsher discipline.
The recently released records do not say what happened at the board hearing, but Martinez's employment with the department ended in December 2017, according to the Los Angeles Fire and Police Pensions. He could not be reached for comment.
Prosecutors decided there was insufficient evidence to file charges against him, according to the memo from the district attorney's office.
False statements
Records from the second disciplinary case focused on testimony by Officer Kevin Gaines after a 2014 arrest.
Gaines said at a preliminary hearing that he saw Earl Butler reach for his waistband and run from officers when confronted in the parking lot of St. Andrews Park Recreation Center in South L.A.
Gaines said he and another gang enforcement officer immediately chased Butler into the recreation center's gym, according to the records. Gaines wrote in his report that Butler pulled out a silver revolver and threw it into a storage area. Officers arrested him on suspicion of being a felon in possession of a firearm and carrying a concealed weapon.
But dashboard camera footage later obtained by prosecutors showed that Butler did not reach for his waistband or run from officers before entering the gym, according to the internal affairs report released by LAPD. Gaines also did not immediately follow Butler into the gym, but was talking to other men outside the gym for a minute and a half, the report says.
The LAPD's internal investigation concluded that Gaines had made false statements under oath. The police discipline file shows that Gaines was also facing allegations of false testimony in another case around the same time, though the newly disclosed records do not provide details.
Butler pleaded no contest to a misdemeanor charge and received 12 months' probation as part of a plea deal that was offered "partly because Gaines' credibility had been called into question," according to a district attorney's memo. Prosecutors declined to charge Gaines with perjury, noting that none of his false statements changed the fact that the defendant was illegally possessing a gun.
An LAPD Board of Rights review concluded that Gaines should be fired. Beck removed him from his position in March 2018 after more than eight years on the force, court and employment records show. An attorney for Gaines did not immediately comment.
---
The stories shaping California
Get up to speed with our Essential California newsletter, sent six days a week.
You may occasionally receive promotional content from the Los Angeles Times.