Deputies sue former high-ranking sheriff's official and former prosecutor, alleging vendetta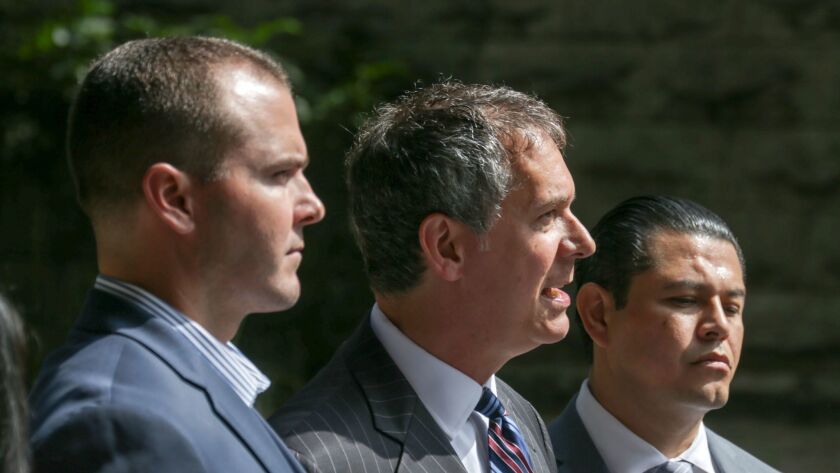 Two Los Angeles County sheriff's deputies say they were framed for lying about a drug bust and that prosecutors knowingly withheld evidence that would have spared them a trial, lost wages and public humiliation, according to a lawsuit filed Wednesday.
The lawsuit names former Los Angeles County Undersheriff Paul Tanaka and former county prosecutor Kevin Stennis, who now serves as a Los Angeles County Superior Court judge.
Deputies Robert Lindsey and Charles Rodriguez were accused in 2013 of writing false reports after a surveillance video apparently contradicted their accounts of the 2011 arrest of an accused drug dealer. They were were acquitted in 2015 of perjury and conspiracy charges stemming from the arrest.
In their civil rights complaint, Lindsey and Rodriguez allege that the whole ordeal was the result of a sham investigation orchestrated by former Los Angles County Undersheriff Paul Tanaka as part of a vendetta against Lindsey's father, a retired Sheriff's Department commander. According to the lawsuit, Tanaka told the elder Robert Lindsey his career "was over" after Lindsey refused to falsify exam results so that Tanaka's chosen deputies could be promoted to lieutenant in 2002.
Tanaka has since been convicted of obstructing a federal probe of abuses in the county's vast jail system. He was painted by prosecutors as an iron-fisted manager and the ringleader of the obstruction plot that ultimately ended in criminal convictions for more than 20 officials, including former Sheriff Lee Baca.
An attorney for Tanaka, who is serving a five-year prison term at a minimum-security facility in Colorado, was not immediately available for comment.
Lindsey, 35, and Rodriguez, 42, also cite evidence that former Los Angeles County prosecutor Kevin Stennis — who now serves as a Los Angeles Superior Court judge — engaged in a behind-the-scenes email exchange with the sister of the alleged dealer and dangled the possibility of securing a visa for the man. The accused dealer, whose alias was "Abraham Rueda" but whose real name is Uriel Salgado, was in the U.S. illegally and was the prosecution's key witness in the case against Lindsey and Rodriguez.
In the emails, Stennis writes about how he might be able to have his superiors help secure a U visa for Salgado, who'd been convicted several times on drug charges, according to the suit. The U visa program was designed to help crime victims who've suffered physical and psychological abuse and to aid in the prosecution of domestic violence, sexual assault and human trafficking.
In an email exchange reviewed by The Times, Salgado's sister Veronica Flores implores Stennis to write a letter on Salgado's behalf for the U visa, but Stennis says it would have to wait until the case is finished.
"The problem with the U visa is our office won't consider it until the case is over because we can't make it appear that we are doing it to gain favor for his testimony," Stennis wrote.
He wrote in another email: "I personally can't do it because it will be considered 'improper' on the present case and I would have to disclose it to the defense attorneys and a big problem would occur."
Mary Hearn, a spokeswoman for the Los Angeles Superior Court, said Stennis would not comment because judges cannot discuss active cases.
Ron Kaye, the attorney for Lindsey and Rodriguez, says the email exchange between Stennis and Flores should have been disclosed by prosecutors during the discovery phase before the first preliminary hearing in February 2014 and could have resulted in the case being dismissed against his clients. Instead, the emails came to light by chance during a cross-examination during the trial in June 2015.
Under the landmark 1963 U.S. Supreme Court decision in Brady vs. Maryland, prosecutors must turn over exculpatory material, such as evidence that impairs a witness' credibility.
The underlying criminal case against Salgado was dropped on Aug. 18, 2011 after the surveillance video emerged and called the deputies' reports into question. The same day, former Capt. William Carey, who reported directly to Tanaka, initiated an investigation into Lindsey and Rodriguez, according to the lawsuit.
Carey was sentenced Monday to nine months in prison after admitting to a role in the jail probe obstruction scheme.
The first time prosecutors tried to charge Lindsey and Rodriguez with lying on their police reports, Salgado failed to show up at a preliminary hearing and the case was dismissed. But the case was refiled and at some point Lindsey's defense attorney, Kasey Sirody, asked Stennis why he was prosecuting the case again.
Sirody said in a declaration that Stennis told her a sheriff's official had a meeting with his boss, and he was then told to refile the charges.
The lawsuit doesn't specify which sheriff's official had the meeting with Stennis' boss.
A spokesman for the district attorney's office declined to speak on the matter. A Sheriff's Department representative had no immediate comment.
Prosecutors contended the video appeared to show that Lindsey lied in a report about where he was standing when he said he spotted cocaine inside Salgado's SUV, and that he was positioned in such a way that he couldn't have seen the drugs and couldn't have justified a search. Prosecutors also alleged Rodriguez incorrectly wrote in a report that the SUV was towed from the scene. They assert that Rodriguez drove the vehicle away himself.
But Sirody, one of Lindsey's defense attorneys, said the video evidence in fact corroborated what the deputies wrote in their reports.
"If anything he wrote a brief, middle-of-the-night report, but it's not different than what's shown in the video," Sirody said of Lindsey's report.
Lindsey said in 2015 that after they were acquitted, every juror approached him and Rodriguez to thank them for their service.
Lindsey said at a news conference Wednesday that his trial had him "scrapping for money and borrowing money" from his family.
"Just the sheer embarrassment," was a hardship, he said. "It was just a very trying time for me and my family."
Lindsey and Rodriguez were reinstated as working deputies in February but given only a year's worth of back pay instead of being reimbursed for the 2½ years they were on leave without pay. Lindsey is assigned to a courthouse and Rodriguez helps to transport inmates, though both deputies would prefer to go back to patrol, Kaye said.
Twitter: @mayalau
---
The stories shaping California
Get up to speed with our Essential California newsletter, sent six days a week.
You may occasionally receive promotional content from the Los Angeles Times.