Bay Area murder suspect released on bail after raising nearly $70 million in property and cash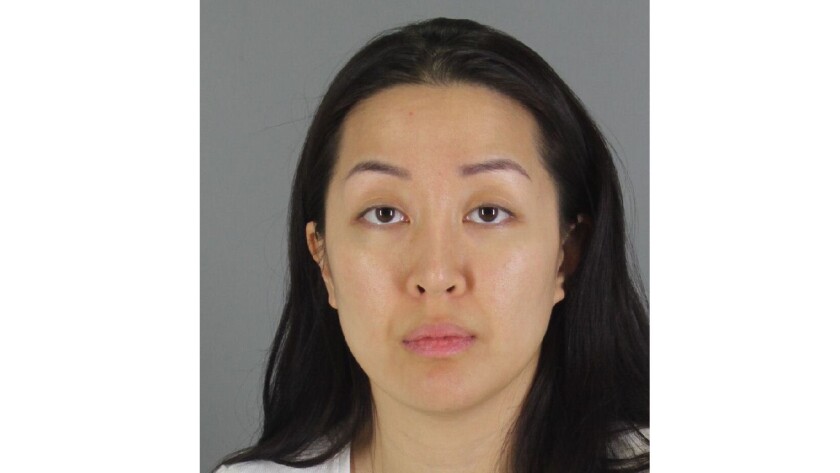 A Bay Area woman accused of killing the father of her two children was released Thursday from custody after raising nearly $70 million to get out of jail.
Tiffany Li, 31, is accused of murder and of conspiring with two other suspects to kill her ex-boyfriend, Keith Green, said San Mateo County Dist. Atty. Steve Wagstaffe. Li had been held on $35-million bail for nearly a year.
Li was released from the San Mateo County Jail at 1:50 p.m., according to authorities. She is scheduled to appear July 17 for a court hearing.
Her release comes after about 20 friends, family and business associates offered $4 million in cash and $62 million in properties as collateral. Because real estate was part of the assets used to secure her $35-million bail, she was required to post twice that amount to obtain her freedom, her attorney, Geoffrey Carr, said Wednesday.
"I was surprised at the number of people that came forward," Carr said. "She is well-liked in the community and is a straight shooter. I think people believe she is not guilty."
The bail is the highest ever posted in San Mateo County's history — "and we are a wealthy county," Wagstaffe said. It is also one of the largest in U.S. history, attorneys said.
Li's release came with certain conditions: She must wear an electronic home-monitoring ankle bracelet, submit to house arrest, surrender her passport as well as her children's and stay at least 100 yards away from any airport.
Wagstaffe said he thinks Li is a flight risk. She lives about 10 minutes from San Francisco International Airport, he said.
"I hope I am wrong," Wagstaffe said. "On July 17, I hope she walks into that courtroom. I still think she is flight risk, but I am not a prophet."
During the early stages of the case, Wagstaffe said, prosecutors requested that Li be denied bail altogether, but a judge didn't agree. So they asked for bail to be set at $100 million because of her purported flight risk, and again the judge declined. Eventually, Wagstaffe said, Li's bail was set at $35 million.
She lives in Hillsborough, one of the nation's wealthiest cities. Li, a native of China with U.S. citizenship, is a property manager and former stockbroker, her attorney said.
The mother of two comes from a wealthy background with family ties to China, Wagstaffe said.
"Our belief is her family wealth is in the $100-million to $150-million range," he said. "She comes from enormous wealth."
Prosecutors allege that Li and her boyfriend Kaveh Bayat came up with a plan to kill Green, her former boyfriend, because she was afraid of losing a custody battle with him, Wagstaffe said. Bayat was also jealous of Green, the district attorney said. The couple asked Olivier Adella to get rid of Green's body, Wagstaffe said.
Green had met with Li on April 28, 2016, at a pancake restaurant in Millbrae, authorities said, but he never returned home from the meeting and was reported missing.
Green's body was found May 11 in a ravine off Highway 101 near Healdsburg. He had been shot to death.
A week after the body was discovered, Li, Adella and Bayat were arrested on suspicion of murder.
Carr, Li's attorney, said he was concerned about his client because she has received many angry letters and death threats complaining about her making bail.
"You are entitled to bail. Everyone is," he said.
Twitter: VeronicaRochaLA
---
UPDATES:
3:20 p.m.: This article was updated with comments from San Mateo County Dist. Atty. Steve Wagstaffe.
This article was originally published at 2:25 p.m.
---
The stories shaping California
Get up to speed with our Essential California newsletter, sent six days a week.
You may occasionally receive promotional content from the Los Angeles Times.