9th Circuit to study workplace conditions in wake of Kozinski's retirement over sexual misconduct accusations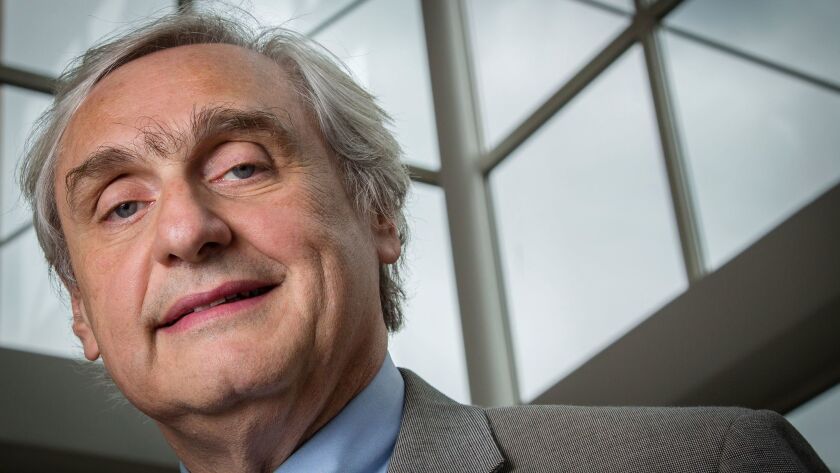 Reporting from San Francisco —
A federal appeals court has assigned a committee to investigate workplace conditions in the wake of sexual misconduct charges that recently forced a high-profile judge to retire.
Chief Judge Sidney R. Thomas of the U.S. 9th Circuit Court of Appeals named four judges and an employment lawyer to the committee, which will review policies to protect workers and recommend changes if necessary.
Thomas said Friday that he first created the committee Dec. 17, the day before 9th Circuit Judge Alex Kozinski announced his retirement after former clerks, externs and others in the legal profession accused Kozinski of sexual misconduct.
Thomas did not mention Kozinski by name in announcing the selection of the committee, but noted there were rules in place to deal with complaints against federal judges.
"We do have many effective procedures in place to avoid problems in the workplace," he said in a news release. "But we need to re-examine them, develop better means of communication, and assure our law clerks and staff of a healthy and productive workplace."
Ninth Circuit Judge M. Margaret McKeown will head the committee. The other members named Friday were district Judges Virginia A. Phillips of Los Angeles, Charles R. Breyer of San Francisco and Candy W. Dale of Idaho, and San Diego attorney Abby Silverman, an expert in employment law.
The women who complained about Kozinski included one of his former law clerks, who said confidentiality rules in the judges' chambers made it impossible for her and other law clerks to seek redress.
The women accused him of a variety of improprieties, including showing them pornographic images and groping, in blog posts and to the Washington Post.
Kozinski, 67, appointed by President Reagan, was one of the highest-profile judges in the federal appeals court system. He espoused libertarian views, wrote provocative rulings and railed against prosecutorial misconduct.
Twitter: @mauradolan
---
The stories shaping California
Get up to speed with our Essential California newsletter, sent six days a week.
You may occasionally receive promotional content from the Los Angeles Times.