Alameda County Sheriff's Office Twitter account retweets white nationalist by mistake, official says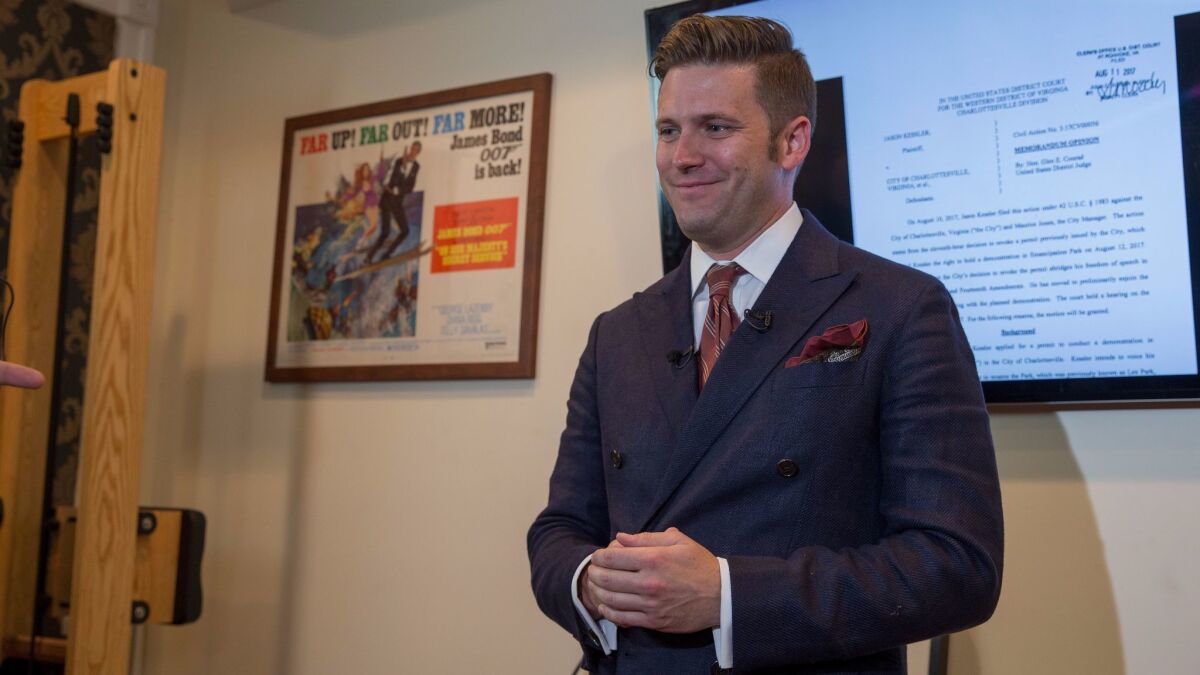 The Alameda County Sheriff's Office was met with a wave of furious criticism after one of the department's public information officers said he mistakenly retweeted one of the nation's most prominent white nationalists, Richard Spencer, from the department's official Twitter account.
On Monday night, the sheriff's office retweeted Spencer, who tweeted a link to a live feed of a news conference with "#UniteTheRight" in the caption.
Sgt. Ray Kelly said he was the one who did it. He is one of four sheriff's employees who handle the department's official account and he said he was scrolling through its Twitter feed Monday night when he came across news about an upcoming right-wing rally in Berkeley on Aug. 27.
"I had clicked on some links from Charlottesville and some links on the proposed rally in Berkeley and one of the names it took me to was this guy named Spencer," Kelly told the Los Angeles Times on Tuesday morning. "It took me to a Periscope press conference screen. When the screen was up, all these buttons and symbols go on the screen and I tried to click out and during that process I must've hit the retweet accidentally."
The response — as it usually is on social media — was swift.
"I had no idea that I had done it and then I realized, 'Uh-oh,' we started getting all these retweet notifications," he said.
Kelly said he tried to un-retweet Spencer but instead only muted it so it didn't show up on his screen, but remained there for everyone else to see. He had to call the department's IT team to take down the retweet, he said.
"I'm 43 years old and I'm not very Twitter savvy, obviously," Kelly said. "At the end of the day it was a mistake; it was terrible, but it was not done with any bad intentions."
Kelly tried to explain in subsequent tweets.
First the sheriff's account tweeted "That was an accidental retweet and was in no way done intentionally."
It followed that up with "We are working to take this accidental retweet down. It is not showing up in our feed for is is [sic] to delete."
Some online pointed out that the Alameda sheriff's account was also following another white nationalist's Twitter account. The social media team aims to follow accounts across the political spectrum to keep tabs on what's going on in their jurisdiction in real time during rallies, Kelly said.
"Our intention was to be prepared for the rally coming to Berkeley and to know who the power players are and what some of the rhetoric is," Kelly said.
But after the people pointed out that one of the accounts being followed belonged to a white nationalist, the sheriff's department unfollowed it.
"People got upset and called and complained. I unfollowed it because people were upset about it," Kelly said.
Detectives use other accounts and methods to gather intelligence so unfollowing users from the main account isn't a loss, he said.
For breaking California news, follow @JosephSerna on Twitter.
ALSO
Following Charlottesville violence, Trump's retweets -- and deletes -- cause a stir
Commission to decide whether LAPD was justified in South L.A. shooting that killed 18-year-old
Boyfriend arrested after woman's body is found stuffed in trash can in Stockton
---
The stories shaping California
Get up to speed with our Essential California newsletter, sent six days a week.
You may occasionally receive promotional content from the Los Angeles Times.