Amanda Bynes' mental health hold after fire could last two weeks
Vanilla Ice, real name Robert Van Winkle, was arrested in February 2014 in Florida on suspicion of felony burglary and grand theft. The rapper-turned-DIY Network personality, who allegedly took items from an abandoned home near one he was renovating for his TV show, cut a plea deal for community service, restitution and a clean record if he behaves for nine months.
(Palm Beach County Sheriff's Office / Associated Press)
Emile Hirsch was arrested Jan. 25, 2015, in Park City, Utah, on suspicion of assault but didn't pose for booking photos until a March 16 court appearance. He allegedly put Paramount Digital Entertainment/Insurge Pictures VP Daniele Bernfeld in a chokehold at Sundance.
(Handout / Getty Images)
Dustin Diamond, who played Screech on "Saved by the Bell," was arrested Dec. 26, 2014, in Wisconsin after a bar fight late Christmas night. A police report said he admitted accidentally stabbing a man who was harassing his fiancee.
(Ozaukee County Sheriff / Associated Press)
Former Los Angeles news anchor Bree Walker was arrested by Anaheim police Feb. 19, 2014, after authorities said she appeared drunk and refused to take a Breathalyzer test.
(Handout / Getty Images)
David Cassidy was arrested on suspicion of felony driving while intoxicated on Aug. 21, 2013, in Schodack, N.Y. The actor was released on $2,500 bail.
(Handout / Getty Images)
Dina Lohan was arrested Sept. 12, 2013, in New York on suspicion of driving while intoxicated after cops pulled her over for driving 77 mph in a 55 zone. She blew a 0.20 on a breath test, cops said, more than twice New York's legal limit of 0.08.
(Handout / Getty Images)
This notorious mug shot of "That '70s Show" actress Lisa Robin Kelly is from March 2012, when she was arrested on suspicion of spousal abuse in North Carolina. Kelly was arrested again in Burbank in June 2013 on suspicion of DUI.
(Handout / Getty Images)
This Clark County Detention Center booking photo shows environmental activist Erin Brockovich, 52, arrested June 7, 2013, on suspicion of boating while intoxicated at Lake Mead near Las Vegas. Brockovich was released from the Clark County Detention Center after posting $1,000 bail.
(HOPD / AP)
Oscar-winning actress Reese Witherspoon became agitated after her husband, CAA agent Jim Toth, was arrested on suspicion of driving under the influence in Atlanta on April 19, 2013, officials said. Witherspoon was subsequently arrested for disorderly conduct.
(Georgia Department of Corrections / AFP)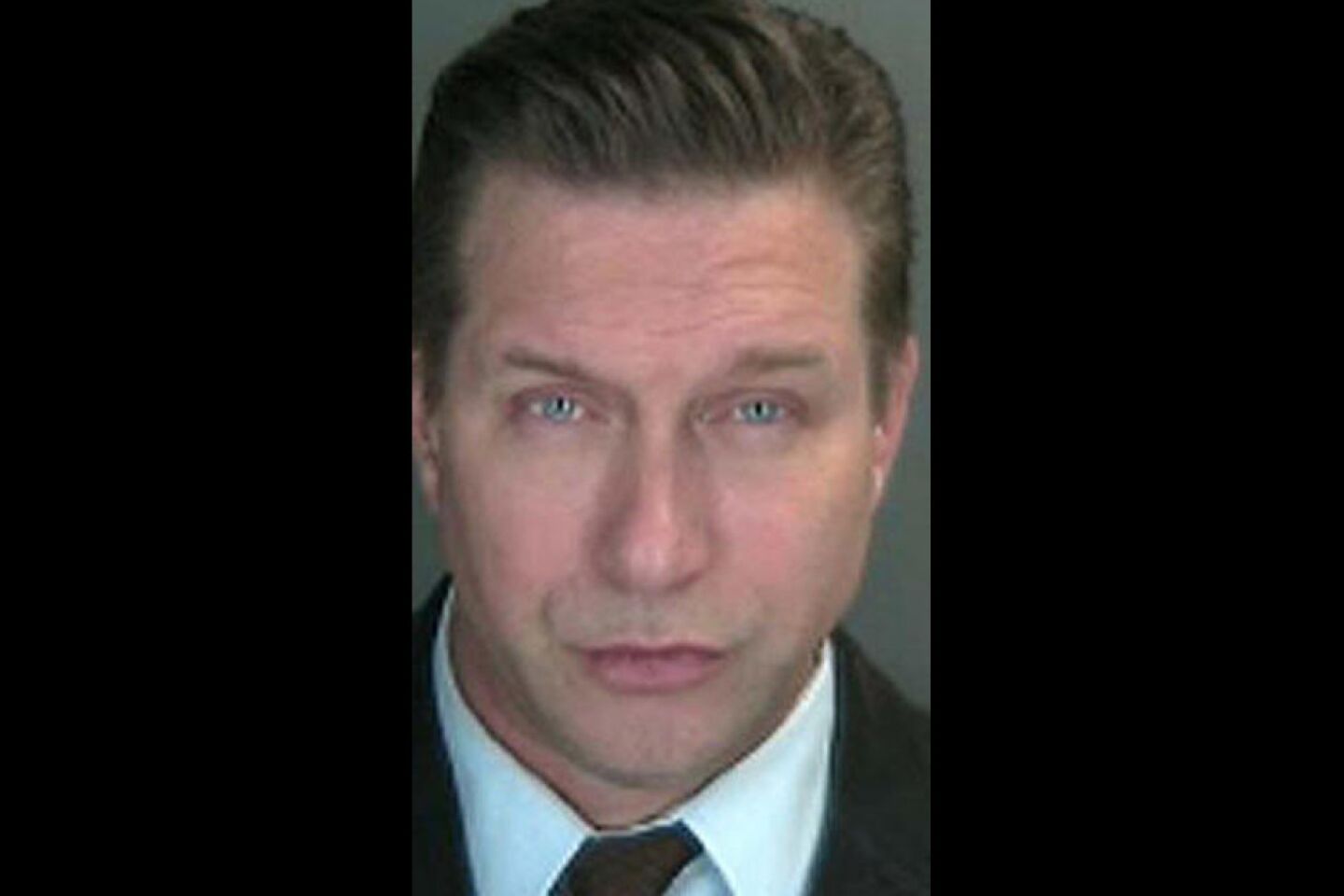 Stephen Baldwin was arrested Dec. 6, 2012, and arraigned on charges that he failed to file state income taxes for three years, 2008, 2009 and 2010.
(Rockland County District Attorney's Office / Associated Press)
The rapper and reality TV personality was arrested Oct. 18, 2012. According to a police report obtained by the Associated Press, he is accused of throwing his fiancee to the floor twice and wielding two knives while chasing and threatening to kill her 17-year-old son.
(Las Vegas Police Department / Associated Press)
Randy Travis is bruised up in a mug shot taken after he was arrested Aug. 8, 2012, on suspicion of DWI and a third-degree felony count of retaliation. He was naked when he was arrested.
(Grayson County Sheriff's Office / Associated Press)
Amanda Bynes was arrested April 6, 2012, on suspicion of DUI after allegedly clipping the corner of a sheriff's cruiser in West Hollywood. She later pleaded not guilty, and tweeted a request to President Obama asking that the officer who arrested her be fired.
(Los Angeles County Sheriff's Dept. / Getty Images)
Randy Travis was arrested Feb. 6, 2012, on a charge of public intoxication. He was parked at a Baptist church, allegedly smelling of alcohol with an open bottle of wine in the front seat of his Trans Am.
(Denton County Sheriff's Dept. / Associated Press)
Nicolas Cage was arrested April 16, 2011, in New Orleans on charges of domestic abuse battery and disturbing the peace. He was allegedly drunk and fighting with his wife about whether the French Quarter residence they were standing in front of was their rental home.
(Orleans Parish Sheriff's Office / Associated Press)
Flavor Flav -- real name William Jonathan Drayton Jr. -- was arrested in Las Vegas in May 2011 after a routine traffic stop resulted in police officers finding four warrants out for his arrest. The Public Enemy alum had four misdemeanor traffic warrants.
(Las Vegas Metropolitan Police / Getty Images)
David Cassidy's car was stopped Nov. 3, 2010, on the Florida Turnpike for weaving and nearly causing an accident, police said. Cassidy allegedly failed a field sobriety test and later showed a blood alcohol level around 0.14. He pleaded no contest to DUI and got probation.
(Florida Highway Patrol / Associated Press)
MIAMI - NOVEMBER 08: In this handout photo provided by the Miami-Dade Corrections and Rehabilitation Department, Lawrence Former NFL great Lawrence Taylor has been indicted on two felony counts and three misdemeanor charges related to the alleged rape of a 16-year-old allegedly hired as a prostitute, the Rockland County, N.Y., district attorney's office said.
(Handout / Getty Images)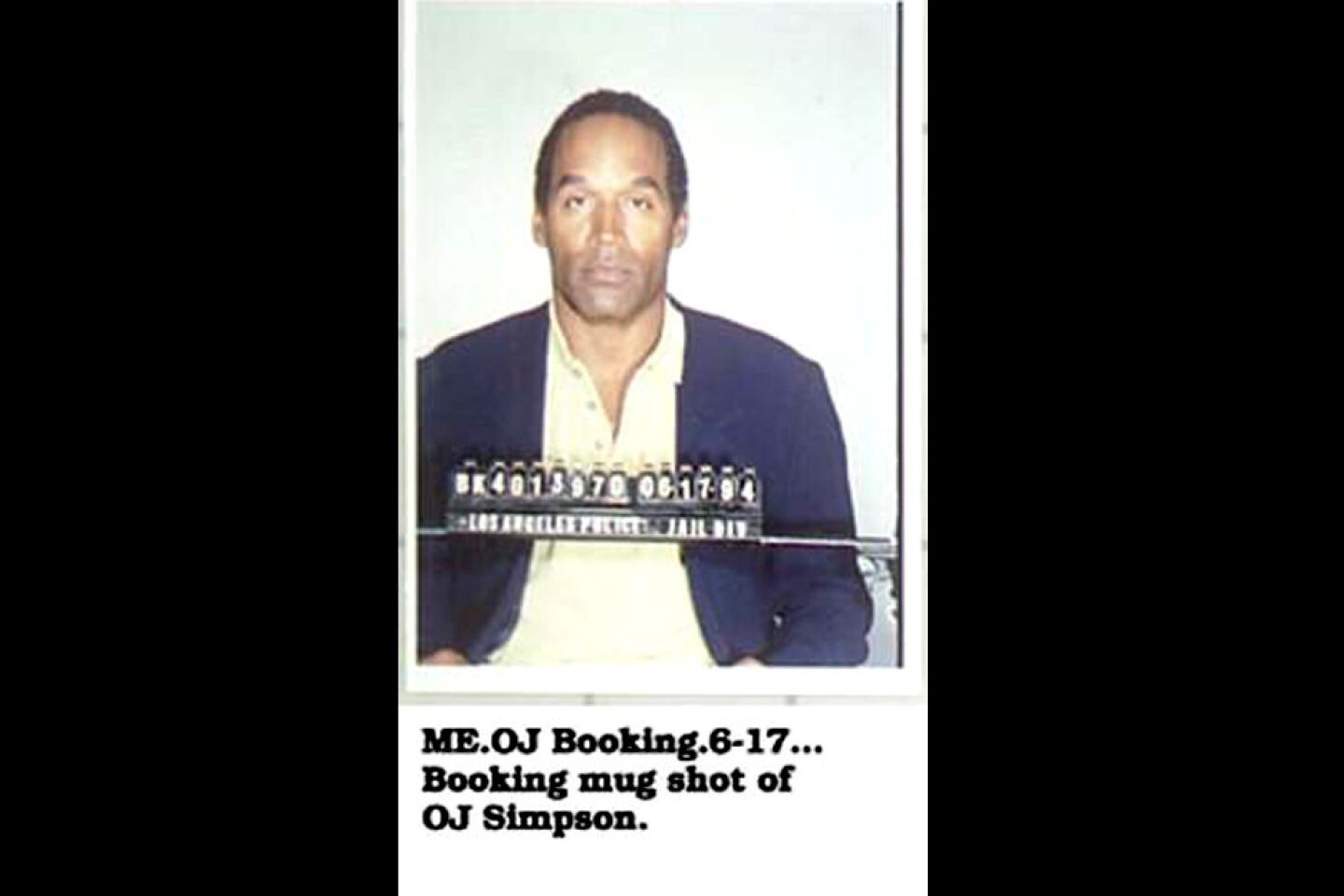 O.J. Simpson's mugshot from his arrest in Los Angeles in 1994.
(Bob Carey / Los Angeles Times)
Actress Amanda Bynes could remain in a mental health facility for up to two weeks after authorities detained her Monday night in front of a Thousand Oaks home, according to a source familiar with the case.
Bynes was detained by Ventura County sheriff's deputies Monday and hospitalized for a mental health evaluation after she set a small fire in front the home. Authorities said she had no connection to the home.
Bynes, who is already facing drug charges in New York, was taken into custody for her own safety under California's Welfare and Institutions Code, known as a 5150 hold, following a disturbance in Thousands Oaks residential neighborhood, said Sheriff's Capt. Don Aguilar.
Typically, such holds last for only 72 hours. But a source close to the case, who asked not to be named, said authorities could seek to have the order extended for up to two weeks if they can show she is a danger to herself and others.
Deputies responded to a home in the 200 block of Avenida De Los Arboles about 8:46 p.m.
"There was a call about a small fire that she'd apparently set in front of the residence, kind of out on a sidewalk on the concrete," said Sgt. Eric Buschow. "It wasn't an attempt to burn down the house or anything."
Buschow said the fire did not damage the property.
Aguilar said "deputies investigated the incident and determined that she met the criteria of 5150.... She was detained and taken for a mental health evaluation."
In May, Manhattan prosecutors charged Bynes with attempted evidence tampering, reckless endangerment and marijuana possession after New York police alleged she tossed a bong out of her apartment.
It was the latest in a string of erratic behavior from the "Hairspray" and "She's the Man" star, who wrote on Twitter after the incident in New York: "I'm Not Crazy."
Her attorney in Los Angeles, Richard Hutton, said afterward his client was "fine" and recent reports were "exaggerated."
Bynes has had a series of runs in with authorities in Los Angeles County that resulted in several auto-related charges.
In one of the incidents, near the corner of Robertson and Santa Monica boulevards, she was taken into custody by deputies after her car struck a sheriff's cruiser. She was detained on suspicion of driving under the influence.
Shortly after the arrest, she posted a message on Twitter asking President Obama to fire the deputy who made the arrest, saying she does not drink alcohol.
In the months that followed, she was charged in two alleged hit-and-runs involving other motorists, but a judge dismissed those cases after she and insurers reached a civil settlement with those involved.
Last year, her attorney entered a no-contest plea for Bynes to a charge of driving with a suspended license in a case filed by Burbank prosecutors. Her license had been suspended after the series of driving incidents. Bynes was placed on three years' informal probation and ordered to pay a fine while a second charge was dismissed.
In the recent New York case, an employee at the 47th Street high-rise where Bynes lives reported to police that she was smoking marijuana in the building's lobby, acting erratically and supposedly talking to herself, according to authorities.
Bynes has denied using drugs and said the alleged bong was actually a plant vase.
ALSO:
Glendale's Rose Parade float might honor Meatball the bear
'80s flashback: A Flock of Seagulls' equipment stolen in Downey
California Coastal National Monument to expand in Mendocino County
Twitter: @lacrimes| Google+
The stories shaping California
Get up to speed with our Essential California newsletter, sent six days a week.
You may occasionally receive promotional content from the Los Angeles Times.