Editorial: Want to build housing for homeless people faster? Here's how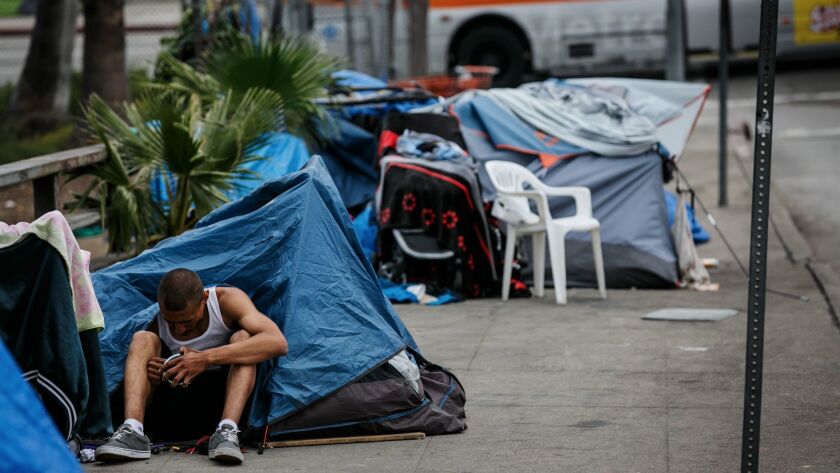 Now that the city of Los Angeles has set aside more than a billion dollars to fund housing for the homeless, let's get it built faster.
Under last year's Proposition HHH, $1.2 billion will be raised to build 10,000 units of housing over the next decade — mostly permanent supportive housing for chronically homeless people. But under current law, before developers can even apply for this assistance, their projects generally have to survive a series of complicated planning department reviews, potentially contentious community outreach meetings and the close scrutiny of two city government oversight committees. This process can take well over a year.
Of course, it can take that long for developers of market-rate buildings as well. But homeless housing is different; it is both more controversial and more desperately needed. With more than 34,000 people living on the streets, the city faces an immediate crisis and needs to take whatever reasonable, responsible steps it can to speed the approval of permanent supportive housing. When Mayor Eric Garcetti was urging people last fall to vote for Proposition HHH, he also pledged to work toward streamlining the approval and permitting process.
Now, the city planning department is proposing a sensible way to do that: through a new law cutting out some steps in the review process for projects that qualify as permanent supportive housing. The planning department will soon put the proposed ordinance out for public comment for 60 days before sending it to the planning commission and then the City Council for approval.
The most significant feature of the ordinance would free developers from maximum density requirements for their site.
The chief purpose of the ordinance is to help move reasonable projects more quickly through the process. So the measure allows developers to do several things "by right" — meaning without obtaining special approval from the city or planning department. For example, projects that are proposed on land that is currently zoned for public facilities would be allowed to build multi-family housing there by right if land nearby is zoned for that use. In fact, a number of the city-owned sites that have been offered up for homeless housing are zoned for public facilities. Conversion of residential hotels to supportive housing would be allowed by right everywhere, without triggering the time-consuming review process. Other than those exceptions, a project must conform to its underlying zoning. There wouldn't be any by-right building of housing in an industrial zone or a single-family residential zone.
Perhaps the most significant feature of the ordinance would free developers from maximum density requirements for their site. Developers would still be restricted by height limitations, setbacks and rules on total buildable space. But most permanent supportive housing developments feature smaller units and more common space — where residents may gather for meetings, workshops or events — so building more densely makes sense. This would not lead to tiny, unlivable tenement-style apartments, city officials say, because there are other rules that would protect against it. For instance, developers of these projects receive financing from local and federal agencies that set standards for the kinds of units they will subsidize.
The ordinance would also exempt permanent supportive housing from the usual rule that there needs to be one or more parking spaces created for each apartment built, leaving developers free to use the space in other ways. The proposal is reasonable because people moving into these units are the neediest of homeless people; it's unlikely that many of them — if any — will have cars, advocates say. Even as their situation improves, most are unlikely to buy cars. That said, other people will be at these buildings on a daily basis — social workers, counselors, resident managers, families and friends; there should be some parking spaces for them as well.
These are smart steps for streamlining the planning approval process, not for cutting corners. And any homeless housing developer applying for HHH funds will still have to get final approval for the entire project from the city's HHH Citizen Oversight Committee and Advisory Oversight Committee which submit their recommendations to the City Council.
The ordinance offers a thoughtful and measured path to ramping up the housing that every elected official in the city and the overwhelming majority of its voters have said they want now.
Follow the Opinion section on Twitter @latimesopinion or Facebook
---
A cure for the common opinion
Get thought-provoking perspectives with our weekly newsletter.
You may occasionally receive promotional content from the Los Angeles Times.