Council panel deals setback to proposed homeless housing project in Boyle Heights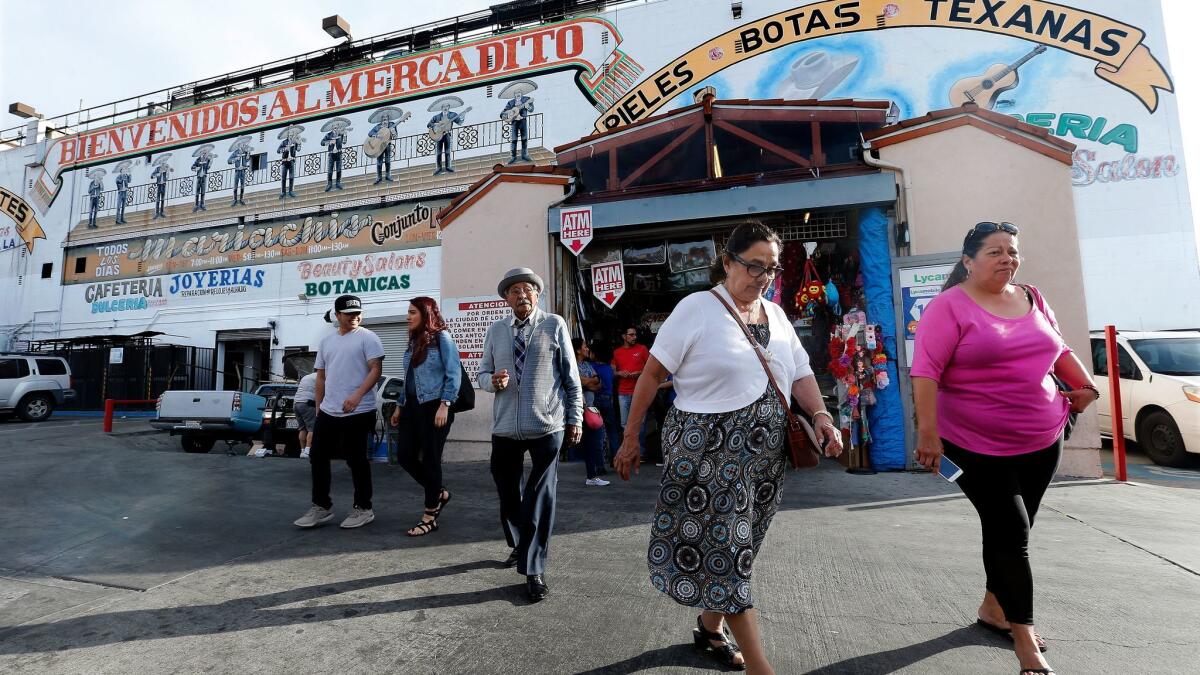 Homeless advocates were regrouping Wednesday after a Los Angeles City Council committee sided with a Boyle Heights shopping center owner who opposed a project to build 49 units for mentally ill homeless people.
The council's Planning and Land Use Management committee granted an appeal Tuesday filed by the owner of the Eastside landmark El Mercado. It contested the planning department's environmental clearance of the project proposed by the nonprofit group A Community of Friends.

For the record:
8:22 a.m. Sept. 24, 2023A previous version of this article misspelled Mike Alvidrez's surname as Alvidres.
If backed by the full council, the appeal would require an environmental report that could further delay — and potentially derail — a project that has been in the works more than five years.
Leaders of homeless services agencies said defeating the project would set a dangerous precedent for the success of the $1.2-billion Proposition HHH homeless housing bond approved by voters last year.
"This isn't a good sign," said Ruth Schwartz, executive director of Shelter Partnership.
Gary Toebben, president and chief executive of the Los Angeles Area Chamber of Commerce, said backers of the project should discuss with committee members how to make the project acceptable to them.
"If we don't find a way to make it work we have sent a message to everyone who would oppose a project like this in their neighborhood that they should shell out money, hire lobbyists and fight it because there is some possibility of success," Toebben said.
City Atty. Mike Feuer offered legal assistance to supporters.
"If there is any way this project can go forward, it should," Feuer said. "My office stands ready to help make that happen."
Dora Leong Gallo, executive director of A Community of Friends, said she was still hopeful for "an opportunity to resolve this matter in a collaborative way, instead of through legal means."
Representatives of the United Way of Greater Los Angeles, the California Community Foundation, the Los Angeles Chamber of Commerce and a handful of homeless service agencies — organizations that led last year's successful campaign for Proposition HHH — had rallied around A Community of Friends. The group has built and manages about 40 buildings with supportive services for people with mental disabilities.
They were stunned when Councilman Jose Huizar — without calling a vote — declared Tuesday that the committee had granted an appeal of the project's environmental clearance.
When members of the audience shouted demands for a vote, Huizar, who chairs the committee, simply asked if there were any objections. The three other committee members who were present remained silent.
Gallo said after the meeting that she hoped to fare better when the item goes before the full City Council.
But the unanimous rebuke by the committee illustrated the difficulty of overcoming the council's long-standing practice of deferring to members' wishes on matters in their districts.
Huizar, who represents Boyle Heights, has opposed the project since at least 2013, when he cast the only vote against it as a member of the Metropolitan Transportation Authority board.
The property, sandwiched between the Evergreen Cemetery and the Mexican-themed shopping center on East 1st Street, was acquired by Metro as a potential site for a Gold Line station. When the station was later placed elsewhere, the lot became a staging area during construction, then was offered for transit-oriented development. A Community of Friends' proposal was accepted.
The city planning department signed off on the project in spring 2016. The late Pedro Rosado, owner of El Mercado, appealed, demanding a full environmental report. Huizar let the matter languish for more than a year before posting it on the committee's calendar in June.
At that meeting, an attorney representing El Mercado submitted a lengthy document outlining 10 flaws in the city's environmental review, leading to a continuance.
At the beginning of Tuesday's hearing, Senior City Planner Blake Lamb rebutted all 10 points, saying each had been reviewed and found to have no merit.
Boyle Heights residents spoke on both sides. About 20, including Pedro Rosado's son Tony, said the project would be too dense for the area and chastised Metro for failing to build a parking structure there.
Others said the project would bring much-needed housing. But the majority of the 30 people who spoke in favor of the project came from organizations involved in homelessness, which also submitted more than 40 letters of support.
Among them were Mike Alvidrez, chief executive of Skid Row Housing Trust; Ann Sewill, vice president for health and housing of the California Community Foundation, and Schwartz. They extolled A Community of Friends as an exemplary housing provider. Schwartz characterized opposition to the project as discriminatory.
Huizar defended his record on affordable housing, saying he has supported homeless housing at numerous sites in Boyle Heights.
He cited an abandoned oil well on the property — an issue discounted by the city planning department only an hour earlier — as a reason for requiring a full environmental report.
Invoking the toxic contamination caused by the defunct Exide battery reprocessing plant in Vernon, Huizar said the project posed unknown health hazards to nearby residents.
Councilman Mitch Englander, who represents the northwest San Fernando Valley, joined Huizar, and caused gasps in the audience by accusing A Community of Friends and its director, Gallo, of poor management.
Englander said a building in his district owned by A Community of Friends has had an excessive number of calls for police service.
Councilmen Marqueece Harris-Dawson, who was a leading figure in the Proposition HHH campaign, and Bob Blumenfield also raised no objection to the appeal. Committee member Curren Price Jr. was absent.
Twitter: @LATDoug
ALSO
Citing potential health risks, City Council panel rejects plan for homes near the 110 and 91 freeways
Steve Lopez: If we want a real river in L.A., we should start by cleaning up the water
LAUSD's costly 20-year construction project ends with opening of $160-million Maywood campus
USC's massive campus addition features student housing — and Trader Joe's and Target open to the community
---
UPDATES:
6:20 p.m.: This article was updated with reaction to the committee action.
This article was originally published at 10:25 a.m.
Sign up for Essential California for news, features and recommendations from the L.A. Times and beyond in your inbox six days a week.
You may occasionally receive promotional content from the Los Angeles Times.