After 32 years behind bars, man walks free to meet jubilant family after judge throws out murder conviction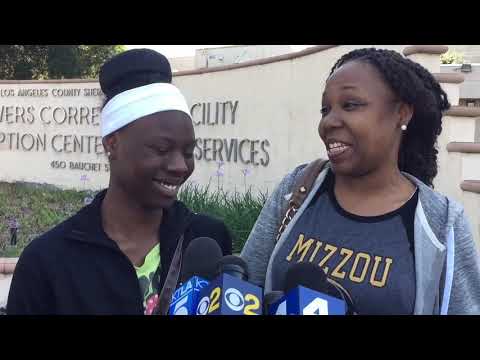 Andrew Leander Wilson, 62, spent 32 years behind bars before being released from prison Thursday after a judge threw out his murder conviction. (Irfan Khan / Los Angeles Times)
Catrina Burks caught the first flight to Los Angeles on Thursday. She'd left her Michigan home in a rush the evening before and driven to the airport in Chicago after getting a call from her father's attorney.
"He's getting out," the lawyer said. "Maybe today."
After spending 32 years behind bars, her father, Andrew Leander Wilson, had just had his murder conviction thrown out by a judge.
When Wilson finally walked out of the Men's Central Jail on Thursday afternoon, he said he had no words to describe the reunion with his family. The reality of the release, he said, was still sinking in.
"I'm happy I'm at the end of it now," he said. "I'm all right."
He was taken into custody when Burks was 10. For his daughter, now a 43-year-old mother of six children who'd never met their grandfather in person, the news of his release felt surreal. She'd always known he was innocent, she said, but never expected that people within the system would admit to past mistakes.
But that's what happened this week.
Following Andrew Wilson's release after 32 years behind bars, granddaughter Souriya Hemphill, 15, left; daughter Catrina Burks, 43; Wilson, 62; and his sister Gwen Wilson reunite during a news conference outside Men's Central Jail in Los Angeles.
(Francine Orr / Los Angeles Times)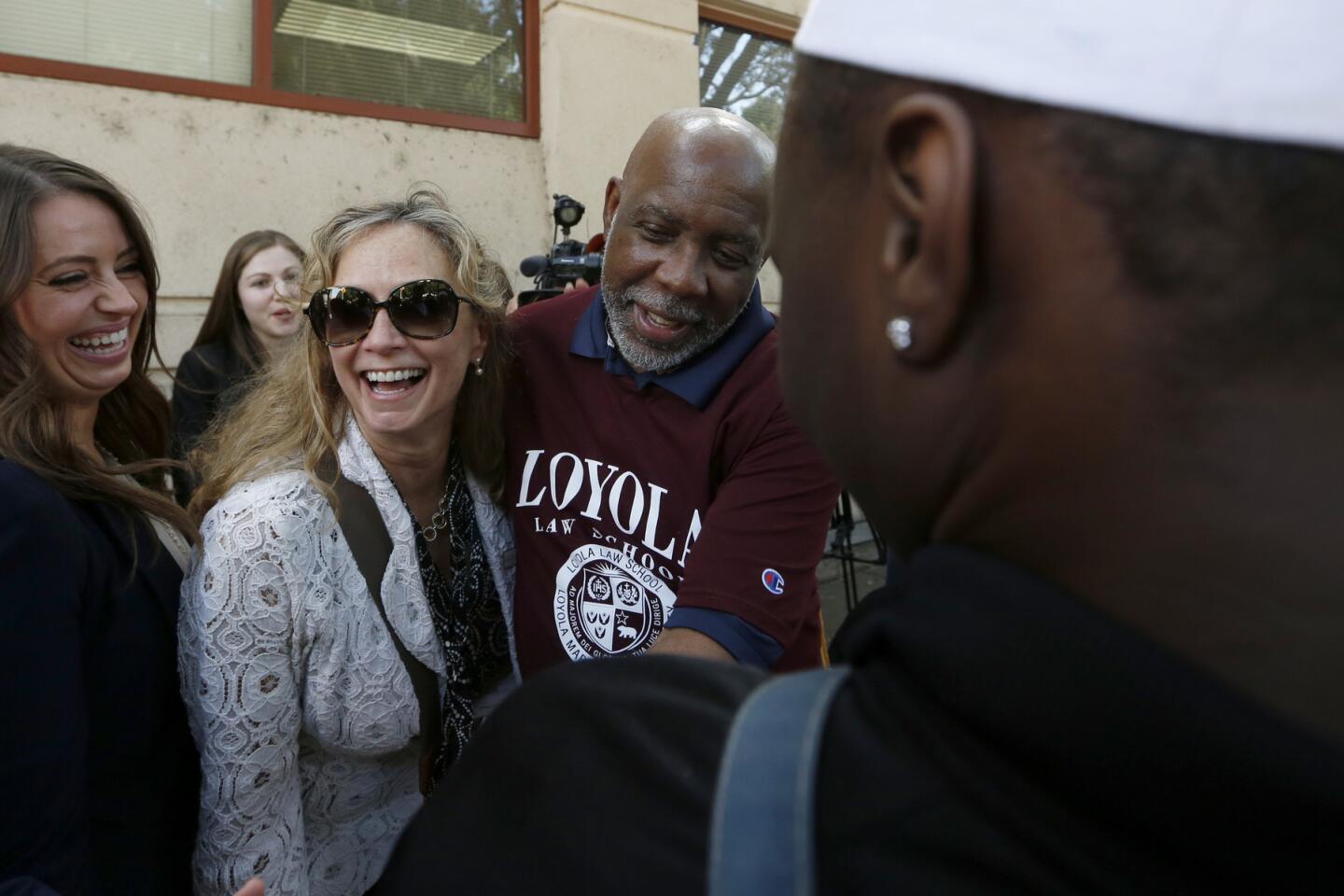 Attorney Jacqueline Rembis, left, and Legal Director Paula Mitchell — both of Loyola Law School's Project for the Innnocent — embrace Andrew Leander Wilson during a news conference outside Men's Central Jail in Los Angeles.
(Francine Orr / Los Angeles Times)
Andrew Wilson is surrounded by supporters and media upon his release from Men's Central Jail. After 32 years spent behind bars, his murder conviction was thrown out by a judge this week.
(Francine Orr / Los Angeles Times)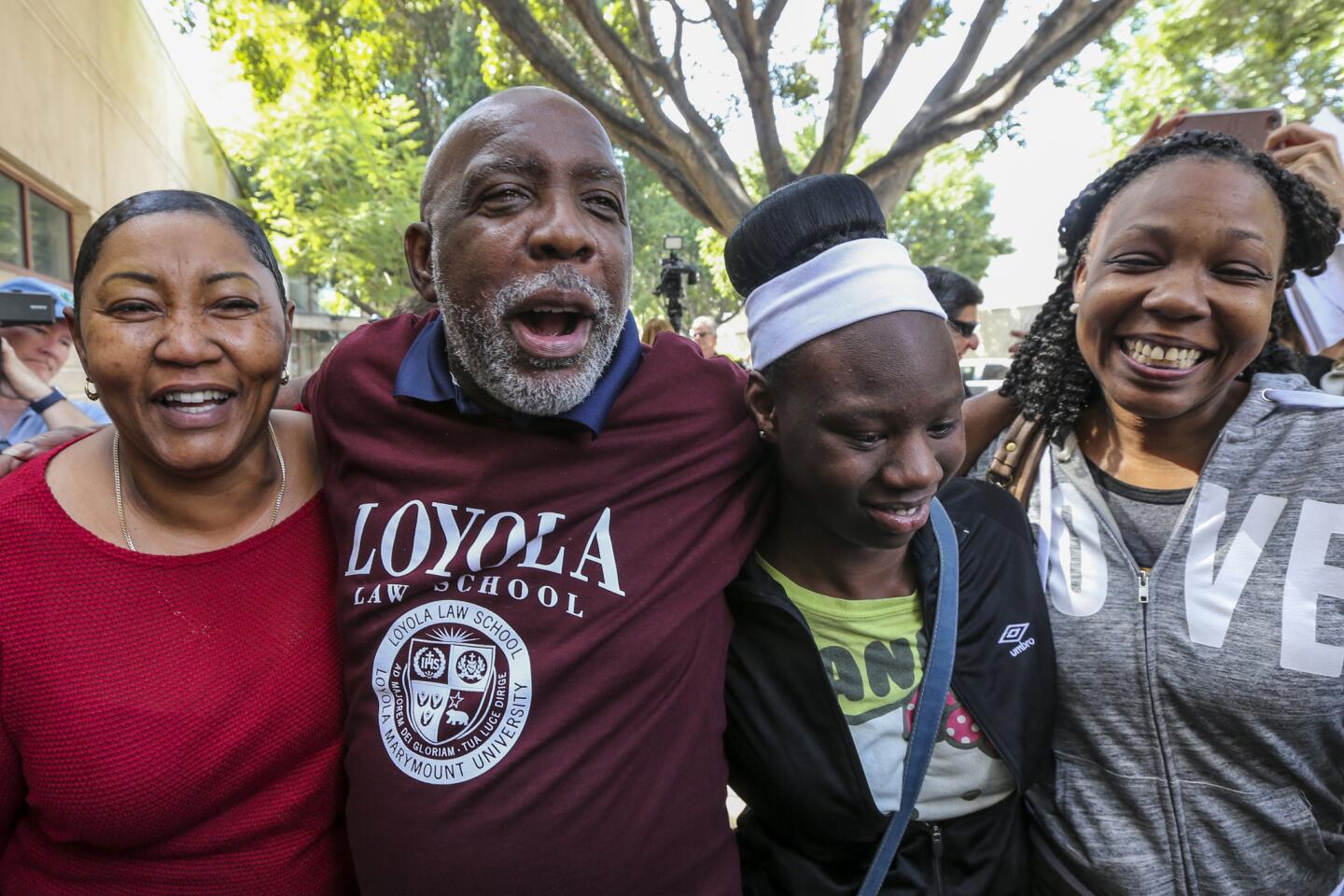 Andrew Wilson, flanked by his sister Gwen Wilson, left, granddaughter Souriya Hemphill and daughter Catrina Burks, is in a jubilant mood after his release Thursday.
(Irfan Khan / Los Angeles Times)
Andrew Wilson, center, holding the hands of his daughter Catrina Burks, left, and sister Gwen Wilson, emerges from the Inmate Reception Center at Men's Central Jail in L.A. after his release.
(Irfan Khan / Los Angeles Times)
Citing "cumulative errors," a prosecutor Wednesday conceded that Wilson, 62, had been deprived of his right to a fair trial. A judge threw out his convictions for robbery and murder in the 1984 stabbing death of 21-year-old Christopher Hanson.
The district attorney's office has said it still believes Wilson was involved in the murder but will not refile charges. Attorneys with Loyola Law School's Project for the Innocent, which advocated for Wilson, have argued that the evidence clearly exonerates him. A judge is expected to rule on his factual innocence at a later hearing.
By 2 p.m. Thursday — minutes before Wilson's scheduled release — a lifetime of memories without her father rushed through Burks' mind.
She thought about her son's death in a crash several years ago and how she couldn't collapse into her father's arms for support. She flashed back to her graduations from high school and college and the moment her cousin walked her down the aisle at her wedding. She remembered her mother, who died in 2003 knowing her husband was innocent but never knowing he'd go free.
"She never remarried," Burks said. "It tore her apart."
To clear her mind, Burks lighted a cigarette and paced the sidewalk outside the jail. She stared at the swarm of reporters with TV cameras nearby.
"It's been such a long road," she said. "He's a great man. Even though he's been behind bars all this time, he's been a great father. So kind."
She got a letter from prison every birthday, and he often called to speak with her children. Whenever she spoke with him by phone and he could tell she wasn't feeling well, he told her that her suffering hurt him too. "You're killing me," he'd say.
But he always offered a fatherly remedy: Beet juice with a bit of cayenne pepper.
As she recounted the memory, she noticed commotion nearby and realized it was almost time for his release. She rushed through the glass doors with a big white sign above them reading, "Inmate Reception Center."
As he walked through the doors with his family, Wilson smiled and greeted the crowd. Loyola Law School students who worked on his case burst into applause and Burks pulled her father's hand, which was interlaced with her own, toward her heart.
"I still have a parent," she said, smiling. "This is my all."
Wilson's sister, Gwen, repeatedly kissed his hand and said she couldn't stop thinking about the memories of chasing him around the house when he was a baby.
When Wilson — dressed in a maroon Loyola T-shirt — walked to the microphones, he offered words of encouragement to others behind bars: "Don't stop fighting. Don't give up. It seems like that's what the justice system wants you to do — give up."
Asked if he felt bitter toward the system or the people who had testified against him at trial, Wilson shook his head, calling it a waste of time.
He had two immediate plans to attend to: Eat a burger and visit his 96-year-old mother, Margie Davis, in St. Louis.
For more news from the Los Angeles County courts, follow me on Twitter: @marisagerber
Sign up for Essential California for news, features and recommendations from the L.A. Times and beyond in your inbox six days a week.
You may occasionally receive promotional content from the Los Angeles Times.