Andrew Leander Wilson will be released from custody after serving 32-years for a murder he said he didn't commit. Loyola Law School's Project For The Innocent argued on his behalf and today an LA Superior Court granted a request to vacate his convic
For 30 years, Margie Davis wrote letters to anyone with the power to right wrongs. The message was always the same: My son, Andrew Wilson, was wrongfully convicted of murder. Please help.
When help didn't come, she wasn't surprised. At 96, she said, she's learned that living in a country built on the idea of justice for all doesn't always lead to justice for everyone. So she was shocked — ecstatic — Wednesday afternoon when her son's lawyer called to tell her a Los Angeles County judge had just thrown out the murder conviction.
"I think this is justice," Superior Court Judge Laura F. Priver said before ordering that Wilson, who served 32 years behind bars, be released from custody as soon as possible.
Wilson, who always maintained his innocence, was convicted of robbery and murder in the 1984 stabbing death of Christopher Hanson, a 21-year-old man with a disorder that kept his blood from clotting.
"This case is like something you would see on TV," said Laurie Levenson of Loyola Law School's Project for the Innocent, which championed Wilson's case. "It has everything from bad witness identification, not turning over impeachment evidence, having a theory and marching toward it, officers putting a full-court press on witnesses."
When deputies ushered Wilson, 62, into the courtroom in handcuffs, he smiled at law students seated in the audience and fist-bumped one of his attorneys.
Toward the beginning of the hearing, Deputy Dist. Atty. Erika Jerez conceded that "cumulative errors" had deprived Wilson of his constitutional right to a fair trial. The district attorney's office, she added, doesn't plan to refile charges against him.
But in a letter to the judge last week, Jerez wrote that the district attorney's office "wishes to make it explicitly clear that while we believe the record demonstrates Mr. Wilson was denied a fundamentally fair trial, we do not believe Mr. Wilson is factually innocent."
The defense contends that Wilson did not commit the crime, and on May 3, the judge is expected to hold a hearing to begin the process of determining whether Wilson is factually innocent — a designation he needs to receive compensation from the state.
At the end of the hearing, Priver smiled as she turned to the defendant's table.
"You ready for the words, Mr. Wilson?" she asked.
He nodded.
"You're discharged," she told him.
"Thank you," he said, softly. "Thank you."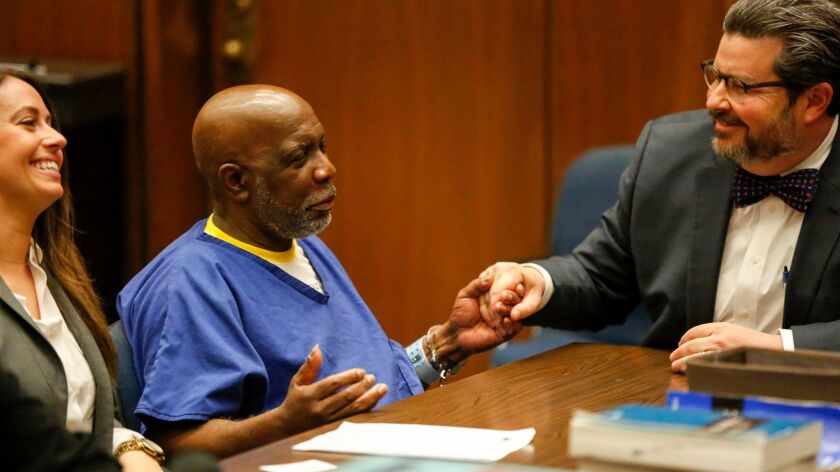 Paula Mitchell, the lead attorney on Wilson's case, said that the trial prosecutor, Laura Aalto, allegedly withheld several pieces of key evidence from the defense. There was evidence, Mitchell said, that the sole eyewitness to the crime — the victim's girlfriend, Saladena Bishop — was not credible.
Law enforcement determined Bishop was "a liar," according to court documents, after she filed a false police report accusing another man of kidnapping and attempted rape, Mitchell said. That information, however, was never turned over to the defense.
There's also evidence, records show, that LAPD Det. Richard Marks directed Bishop to Wilson's photo while showing her a set of pictures and asking if she recognized the man who attacked her boyfriend, Hanson.
Mitchell said the prosecution also suppressed evidence that Hanson's best friend contacted Aalto before the trial to tell her that he believed Bishop was responsible for the slaying and had stabbed Hanson in the past. Bishop could not be reached for comment.
Reached by phone Wednesday, Aalto said that she can't remember all the details of Wilson's case, but she insisted she wouldn't have withheld information. The retired prosecutor said she remembers thinking at the time that the case was weak but still felt it was worth putting before a jury.
"I don't know if he was guilty or not," she said. "But I thought it was a case worth trying."
Loyola Law School's Project for the Innocent learned of Wilson's case in 2015 from the federal public defender's office, which was looking into another murder case involving the same LAPD detective, Marks.
According to court documents, in a recently recorded interview with Wilson's attorneys and prosecutors, Marks said that he knew that directing a witness' attention to a photo could lead to unreliable or tainted identifications.
"I knew what I had done," he said, according to court documents. "I mean, I knew it."
A police spokeswoman said the department had no comment on the defense's allegations about Marks, but she said that the detective is now retired. Marks could not be reached for comment.
Wilson is expected to be released from Men's Central Jail on Thursday. His first plan once he's out? Visit his 96-year-old mother in St. Louis.
Reached by phone at her home, Davis said she can't wait to make new memories — a vindication for all those unanswered letters.
"I sent it to the L.A. Times, they ignored it. I sent it to the governor, he ignored it. I sent to the Justice Department," she said. "I just didn't have any help."
She didn't expect this day to come, Davis said, but she also never doubted her son.
"I knew that he was innocent all along," she said. "It's no news to me. He is an honest person — I knew he wouldn't lie."
For more news from the Los Angeles County courts, follow me on Twitter: @marisagerber
ALSO
Former L.A. County Sheriff Lee Baca found guilty on obstruction of justice and other charges
Charges filed against L.A. County probation supervisor in videotaped jail beating
ICE agents make arrests at courthouses, sparking backlash from prosecutors and attorneys
---
UPDATES:
7:15 p.m.: This article was updated with additional comments from Wilson's mother and the original trial prosecutor.
This article was originally published at 2:05 p.m.
---