Witness in obstruction trial says former L.A. County sheriff was furious about FBI probe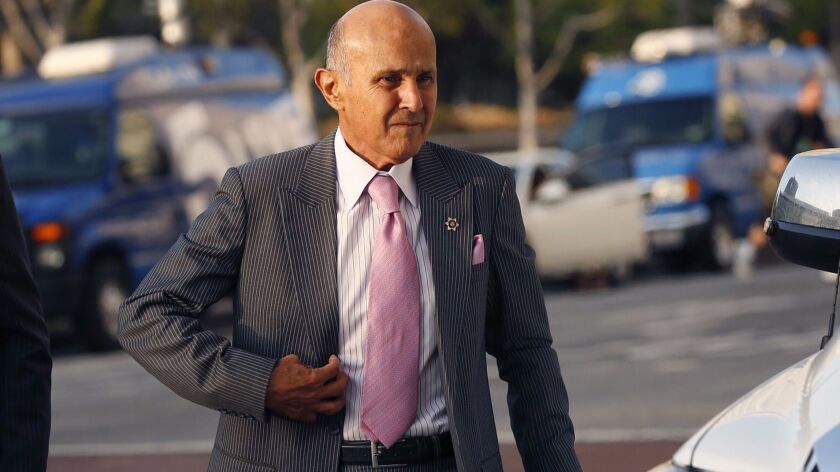 Prosecutors rested their obstruction of justice case Thursday afternoon against ex-Los Angeles County Sheriff Lee Baca, after calling to the witness stand a former U.S. attorney who recounted Baca's fury upon discovering that the FBI was conducting a civil rights investigation into his department.
Andre Birotte Jr., formerly the top federal prosecutor in Central California who has since been appointed as a District Court judge, is among a handful of witnesses who directly interacted with Baca over the six-week period in 2011 during which prosecutors allege the retired sheriff and his subordinates conspired to interfere with a federal investigation into abuse and corruption in county jails.
In their weeklong case, prosecutors sought to prove to jurors that Baca, 74, was at the heart of a scheme carried out by his subordinates to hide a federal informant from the FBI and intimidate an agent working on the case. Nine others, including former Undersheriff Paul Tanaka, have been convicted of related charges.
Birotte said Baca, whom he had known for years, was the most upset he had ever seen him in phone calls and meetings after the sheriff learned that FBI agents had smuggled a cellphone to the informant by bribing a corrupt sheriff's deputy as part of an undercover sting.
"I'm the GD sheriff, these are my GD jails," he quoted Baca as saying in a meeting with himself and Steven Martinez, who was in charge of the FBI office in Los Angeles at the time.
The former U.S. attorney said he told Baca there was nothing illegal about federal investigators conducting an undercover operation and keeping the sheriff in the dark about it.
"That's what cops do … We're not going to stop doing this investigation," Birotte said he told Baca.
Assistant U.S. Atty. Brandon Fox asked Birotte to read a letter Baca sent him at the time, calling the FBI's actions "illegal, unethical and irresponsible," and accusing federal agents of engaging in a "fishing expedition" by issuing subpoenas for Sheriff's Department records on abuses in the jails.
In the letter, Baca demanded that federal authorities "allow the Sheriff's Department to conduct its own investigation free from the encumbrance of the FBI's attempt to justify their actions retroactively by now seeking information with an over broad request for documents."
Fox asked Birotte how he interpreted Baca's letter.
"Basically, 'Back off, we're going to do it ourselves,'" Birrotte responded.
Jurors also heard Thursday from FBI agent Leah Tanner. Under cross-examination from defense attorney Nathan Hochman, Tanner testified about how phone records showed that roughly 60 calls were exchanged between Tanaka and the lieutenants, sergeants and deputies who have been charged and convicted in the obstruction case.
When it came to Baca, she said, there was only one: a three-minute call between Baca's department-issued cellphone and one belonging to sheriff's Lt. Stephen Leavins.
The trial is expected to continue Friday with Baca's defense. Hochman told the judge he would call five character witnesses, and others who would attest to the sheriff's efforts to reform his jails.
For more news on the obstruction of justice trial of former L.A. County Sheriff Lee Baca, follow me on Twitter: @vicjkim
MORE LOCAL NEWS
Major storms barrel into California: 'Every field is a big lake'
Police killing of unarmed, 73-year-old grandfather sparks anger, anguish
Sex offender convicted of killing 4 women in Orange County
---
The perils of parenting through a pandemic
What's going on with school? What do kids need? Get 8 to 3, a newsletter dedicated to the questions that keep California families up at night.
You may occasionally receive promotional content from the Los Angeles Times.