Holidays bring dirty air and wood-burning bans to Southern California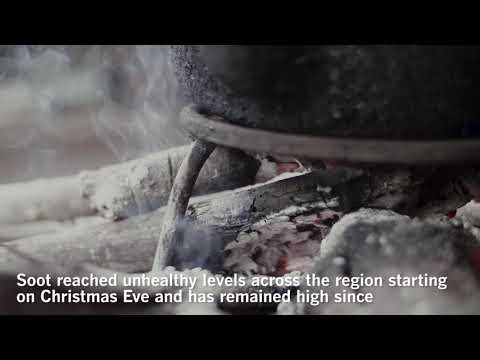 Officials have issued no-burn alerts banning the use of wood fireplaces.
Air quality has taken a dive across Southern California during the holidays, even as smog-control officials issue a string of no-burn alerts banning the use of wood fireplaces.
Fine-particle pollution, or soot, reached unhealthy levels across the region starting on Christmas Eve and has remained high since, according to monitoring data from the state Air Resources Board.
The air was dirtiest on Christmas Day, violating health standards across many parts of Los Angeles, Orange County and the Inland Empire. In Long Beach, fine particle pollution, or PM2.5, reached 90 micrograms per cubic meter — more than twice the federal limit of 35.
Pollution typically spikes on Christmas, the Fourth of July and New Year's Eve as smoke from fireplaces and fireworks fills the air.
"Wood-burning fireplaces add more PM2.5, but they are not the sole culprits," said Patrick Chandler, a spokesman for the South Coast Air Quality Management District.
Another factor is the weather.
"For the past couple weeks, Santa Ana and offshore winds have carried smog and particulate matter from the inland areas toward coastal areas," Chandler said. "In the past few days the offshore winds have weakened, accompanied by sporadic periods of morning onshore flows that carried smog back to the basin."
Also to blame are temperature inversions that trap pollution near the ground in the mornings, Chandler said. Smoke from recent wildfires has also contributed — though winds have blown most of it up the coast and away from the most populated areas of Southern California.
Predicting high air pollution to continue, the South Coast air district on Wednesday issued its 18th no-burn alert of the year.
Residents across much of Los Angeles, Orange, Riverside and San Bernardino counties are prohibited from burning wood or manufactured fire logs in fireplaces and outdoors through midnight on Thursday. Gas fireplaces are not subject to the ban.
The ban on wood-burning is intended to curb fine-particle pollution, which can lodge deep in the lungs and trigger asthma attacks and other respiratory illnesses.
Air pollution has also jumped in the San Joaquin Valley, where pollution levels have violated federal health standards on all but four days since Dec. 1.
Sign up for Essential California for news, features and recommendations from the L.A. Times and beyond in your inbox six days a week.
You may occasionally receive promotional content from the Los Angeles Times.