A run-down mansion, a Getty connection: The tale of the weapons cache at an L.A. home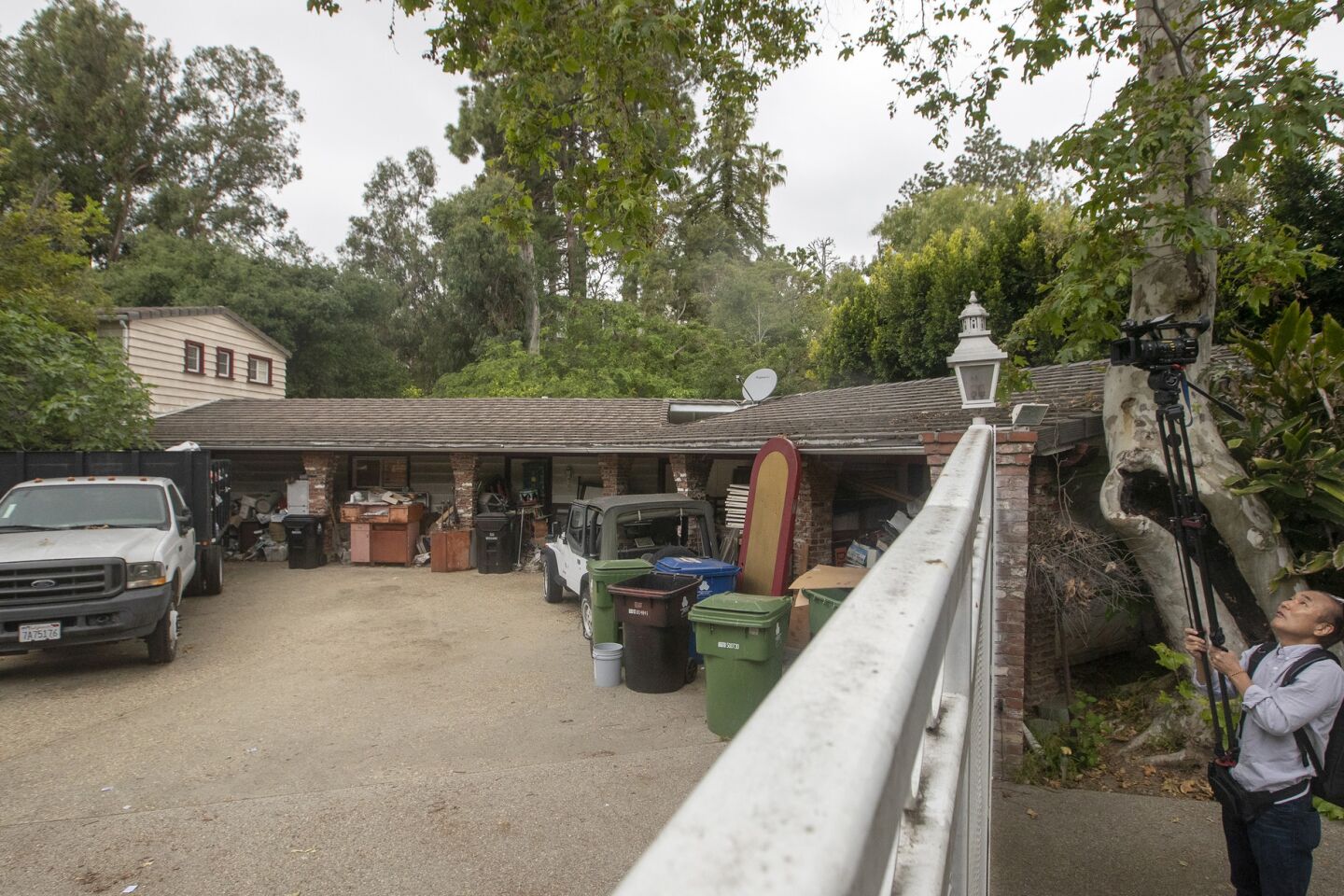 A member of the media takes video of a home at 111 N. Beverly Glen Blvd., where the U.S. Bureau of Alcohol, Tobacco, Firearms and Explosives seized approximately 1,000 guns.
(Allen J. Schaben / Los Angeles Times)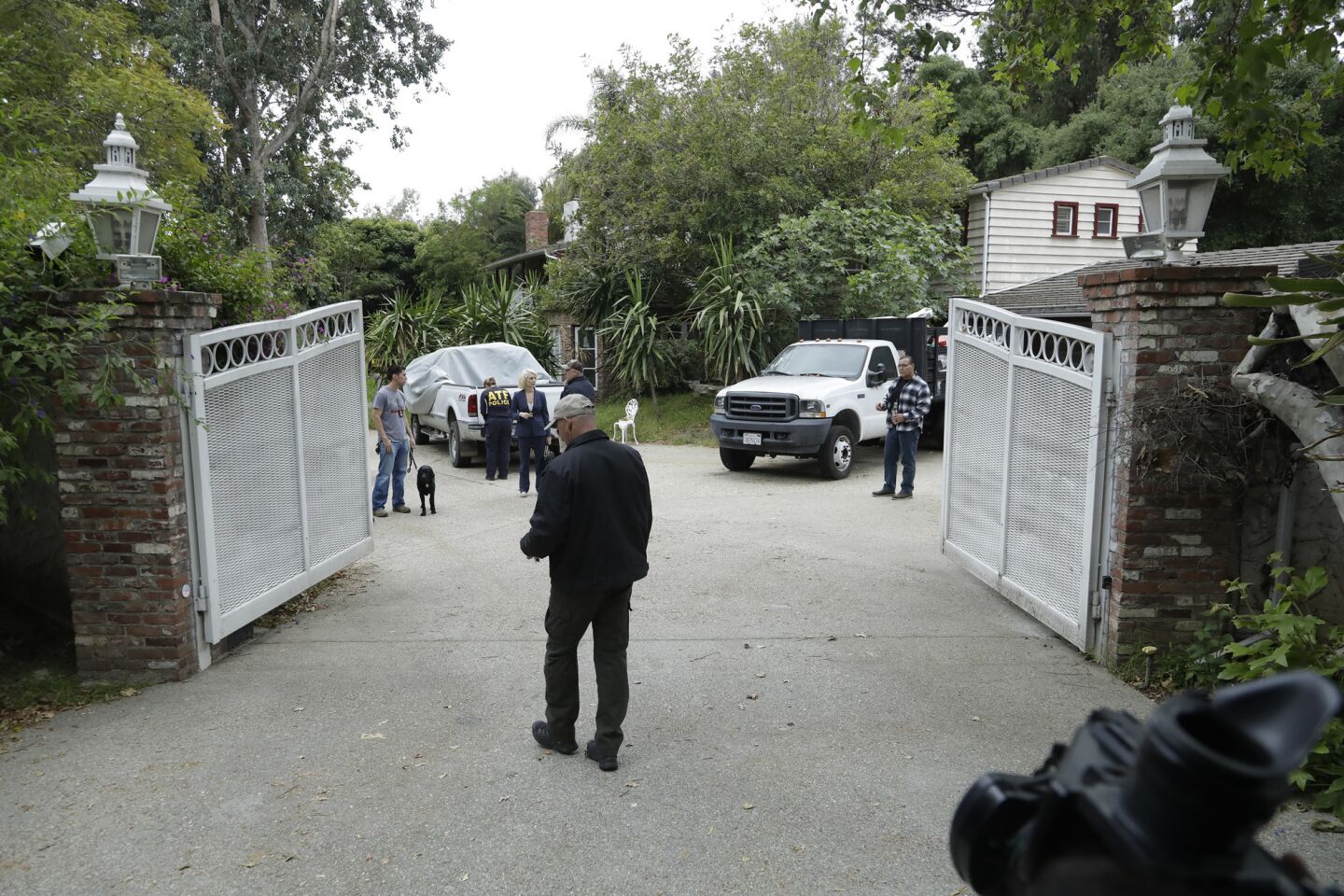 The LAPD confiscated numerous weapons and thousands of rounds of ammunition from this home on Beverly Glen Boulevard in Holmby Hills.
(Myung J. Chun / Los Angeles Times)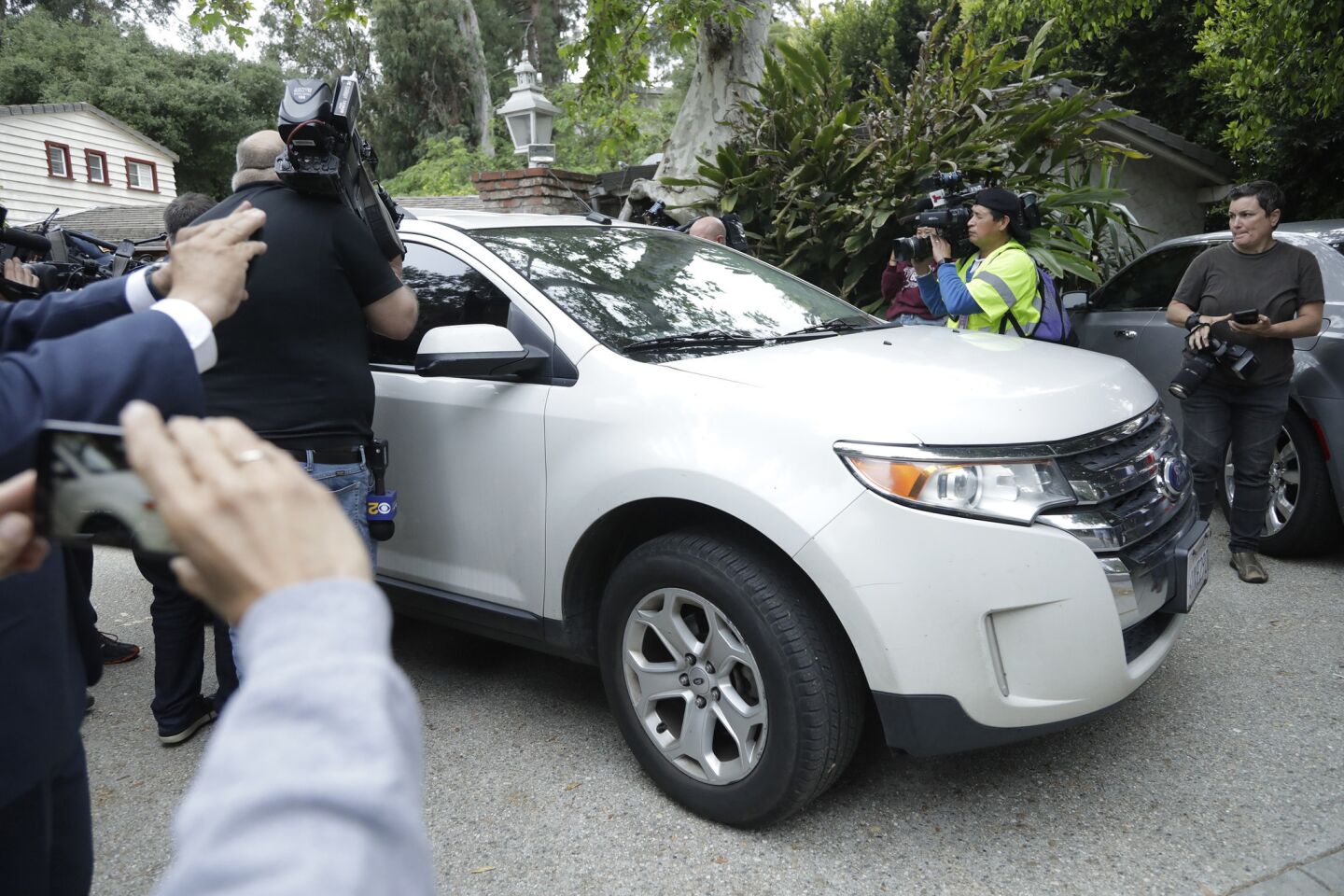 An unmarked police vehicle carrying the suspect drives away from the Holmby Hills home.
(Myung J. Chun / Los Angeles Times)
The scene was straight out of a B movie: Run-down mansion. Tony neighborhood. Anonymous tip. The whiff of celebrity. And a jaw-droppingly large cache of weapons, some of questionable legality.
Investigators with the federal Bureau of Alcohol, Tobacco, Firearms and Explosives descended on the tatty Bel-Air mansion along with members of the Los Angeles Police Department in the early morning darkness.
What they found there Wednesday was both lethal and perplexing. The sprawling white clapboard house — two stories, five bedrooms hidden behind a discolored gate and a tall hedge — was in complete disarray. Guns were everywhere in what authorities described as a hoarder's paradise in the 100 block of North Beverly Glen.
There were AR-15 military-style automatic rifles, what appeared to be a World War II-era Thompson submachine gun, .44-caliber handguns, .357 magnum revolvers, long guns with intricately carved stocks, an Uzi 9-millimeter submachine gun — complete with silencer — and a 9-millimeter Luger pistol.
More than 1,000 firearms in all. It would take 30 law enforcement personnel more than a dozen hours to clear the house and remove the weapons, along with gun parts and boxes of ammunition. The weapons were arrayed in long lines on white blankets on the property's winding driveway Wednesday, a jumble of metal and wood.
Once authorities cataloged the stockpile, the guns were loaded into a large box truck and driven off the property. The weapons will be itemized and booked into evidence, said Lt. Chris Ramirez, an LAPD spokesman.
"This is a big stash," Ramirez told reporters at the scene. "It's beyond comprehension that somebody can have so many weapons in a residence like this, in a neighborhood like this."
More than a thousand guns were seized after federal agents searched a home in Holmby Hills, authorities said.(Video by Myung Chun/Los Angeles Times)
That somebody is alleged to be 57-year-old Girard Saenz, who was inside the home at the time of the raid. He was arrested on suspicion of violating California's law regarding assault weapons and .50-caliber Browning machine guns. The law prohibits the manufacture, distribution, transportation, importation and sale of such guns except in specific circumstances.
As authorities investigated Wednesday evening, vans rumbled by full of tourists headed to see the nearby Playboy Mansion and other homes owned by wealthy Los Angeles A-listers. Jay-Z and Beyoncé live in a mansion less than a mile from the scene.
But Saenz — who authorities allege was selling weapons from the Bel-Air home — has a much stronger connection to the rich and famous than simply living near the hip-hop power couple.
He was identified in court records as the longtime companion of Los Angeles real estate mogul Cynthia Beck. Public records show the Bel-Air property is owned by Beck, who has three daughters with J. Paul Getty's son Gordon Getty. Getty is an heir to the Getty Oil fortune and an international patron of the arts.
Beck was thrust into the spotlight in 1999, when the girls filed a petition in Los Angeles Superior Court to change their surname from Beck to the far more glamorous Getty. At the time, there also were negotiations over the possibility of future inheritance.
Getty, who had a wife and four grown sons in San Francisco, publicly acknowledged his double life, which had been an open secret in certain glitzy Bay Area circles. Tongues wagged.
As one local columnist cracked at the time: "If only San Francisco's high society had been hired to guard the United States' nuclear weapons secrets, the ones that have steadily leaked out to the Chinese."
Getty also was a father figure, business partner and political donor to none other than Gov. Gavin Newsom, who, as a teenager, went on an African safari with the oil scion and his wife, Ann.
Beck bought the house in January 2001, but it remains unclear what, if any, connection she has to Wednesday's events or if she lives at the home. In more recent years, she has accumulated a trove of property in Los Angeles and San Francisco, some of which she owns with Saenz, according to public records.
She could not be reached for comment Thursday.
Authorities launched their investigation into the weapons cache after they received an anonymous tip that someone was manufacturing and selling guns at the home.
The ATF said in a statement that its agents searched the house after discovering Saenz was illegally selling firearms outside the scope of the federal license he possesses. Law enforcement has not specified how Saenz was allegedly selling weapons.
Saenz posted a $50,000 bond and was released from custody shortly after 9 a.m. Thursday. He could not be reached for comment.
He has been a licensed general building contractor since 1994 and operates a business that he started in the early 1990s in San Diego called Gerry Saenz and Associates, according to public records. Archives from a local newspaper in Coronado from 1993 note that the business specialized in architectural environmental lighting and landscape design.
Saenz was arrested at a Malibu home in September 2017 on suspicion of brandishing a firearm. But those involved told deputies they did not want to pursue the matter, according to a Los Angeles County Sheriff's Department spokesman. Saenz was released within a few hours of being detained. No charges were filed.
Saenz's current business address is a property on North Bunker Hill Avenue in Los Angeles that he owns with Beck. The home was one of several locations that were searched by authorities Wednesday, law enforcement sources not authorized to speak publicly told The Times.
Public records indicate Saenz lived in the San Diego area with his ex-wife in the early 1990s and eventually moved to Los Angeles.
Neighbors say the home where he was arrested is normally quiet.
"I was talking to my neighbors — nobody knows who he is," said resident Nicole DiGiorgio, a Queens native who is among the few pedestrians to brave the sidewalk-less streets in the neighborhood. "I walk up and down here all the time, I never see anyone come in or out."
On Thursday, Bel-Air bustled with housekeepers, gardeners and maintenance staff tending to the clay tennis courts and tangled private jungles that dot the tony enclave. Drivers slowed as they passed the Beverly Glen home to snap photos and show their friends on FaceTime.
Experts say it's not illegal for someone to possess a massive cache of weapons. But the person is required to comply with California and federal laws regarding firearms, said Steve Cooley, a former L.A. County district attorney.
Still, the amount of firepower stored in the house unnerved some neighbors.
"It's scary, because you think it's a safe place, especially this area," said Christian Aleman, a carpenter who parks across the street from the home and walks to a nearby job site. He said he never saw anyone come or go from the house, but he worried for the children who played at a park down the street.
"There's a lot of kids playing in this park," Aleman said. "Always, all the time, right across from this house."
To read this article in Spanish, click here
Times staff writers Alejandra Reyes-Velarde, Jaclyn Cosgrove and Alexa Diaz contributed to this report.
The stories shaping California
Get up to speed with our Essential California newsletter, sent six days a week.
You may occasionally receive promotional content from the Los Angeles Times.