Controller: Progress in Bell, but potential for more problems high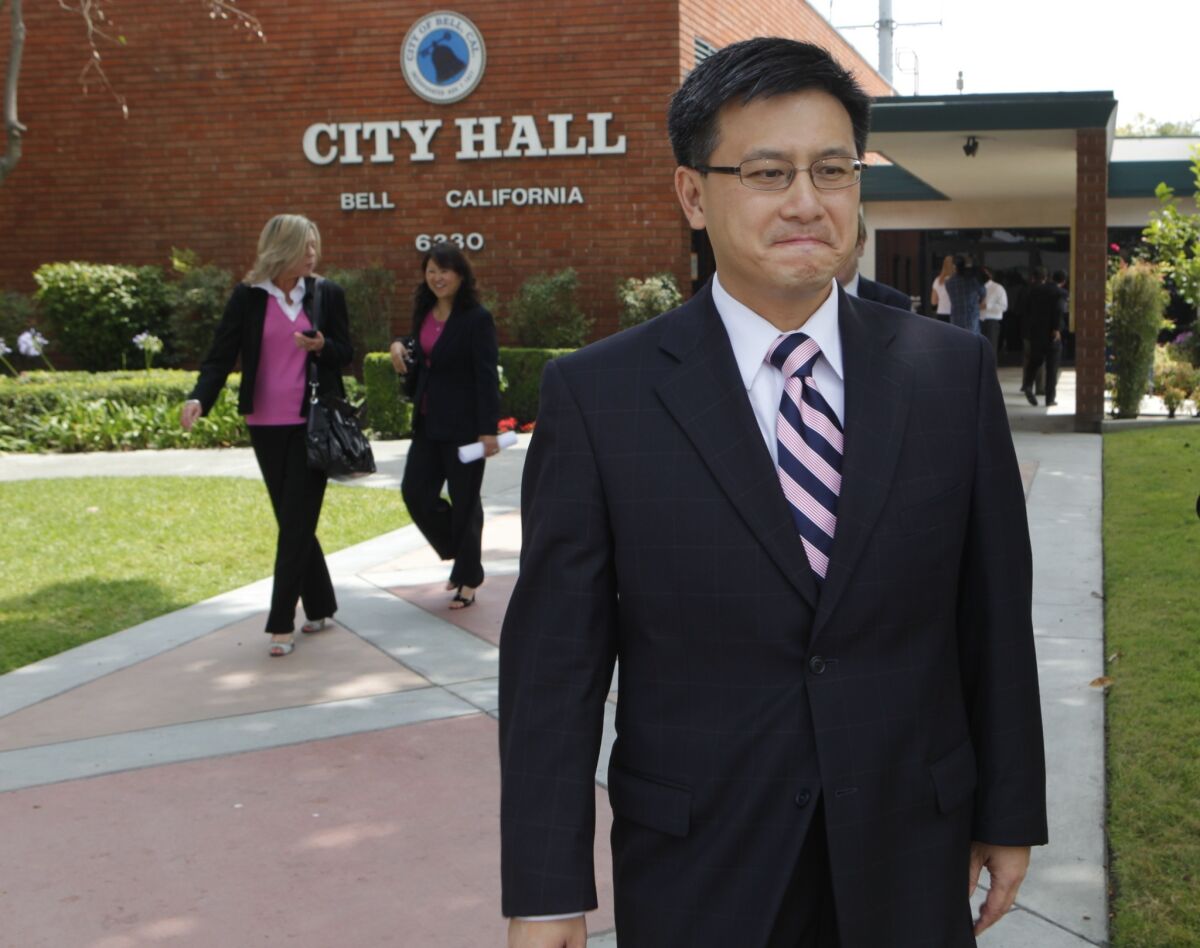 The new leadership in Bell deserves credit for ejecting corrupt city leaders, but if additional problems aren't fixed, the potential for mismanagement and fiscal crisis remains high, state Controller John Chiang said.
Chiang issued his final audit on Bell on Wednesday morning, nearly three years after a corruption scandal uncovered overpaid city leaders, overtaxed residents and other financial mismanagement.
"Bell's new leadership deserves credit for changing the culture of city hall by emphasizing transparency and inviting more citizen participation in its decision-making," said Chiang. "However, the potential for fiscal mismanagement and budget failure remain high until they address the major gaps found in their accounting, reporting, and other management practices."
FULL COVERAGE: Corruption in Bell
Among the audit's findings, Bell currently has a negative cash balance, caused in part by the city's move to stop collecting the illegal taxes. Bell promised to refund more than $3 million in overpaid taxes to residents and businesses, but auditors found that the city had not done so.
Auditors also faulted the city for not following more than 20 recommendations the controller's office made after the corruption scandal.
In a statement, the city thanked Chiang and his office for assistance, noting that it is using the recommendations as a blueprint toward transparency and reform.
"There is still much work to be done in the city of Bell," the statement said. "While the organization survived the Rizzo Scandal of 2010, its impact has left a lasting impression. Similar to a natural disaster, rebuilding is a direct function of the strategic marshalling of resources targeted for its recovery."
Mayor Violeta Alvarez said the city remains committed to reform and believes there is a "pathway out of its current financial condition."
Assemblyman Anthony Rendon, who represents the city of Bell, said more work needs to be done. In a statement he said, "The crisis in Bell was not created in a year, so I doubt that it will be completely solved any time soon considering the overwhelming number of fiscal issues in question combined with a struggling local economy."
"I have hope and confidence in the new leaders of Bell to work diligently to follow the state controller's advice to eventually get the city back on its feet."
In March, a Los Angeles jury convicted five of six former Bell City Council members of stealing from the working-class city.
Former City Administrator Robert Rizzo, who many believe was the mastermind of the corruption, and his assistant, Angela Spaccia, will be tried later this year.
ALSO:
Steve Lopez: Labor unions the big loser in mayor's race
Prosecutors opt to retry five ex-Bell City Council members
Sun Valley bear tranquilized, captured after roaming neighborhood
Twitter: @latvives
---
Life is stressful. Our weekly mental wellness newsletter can help.
You may occasionally receive promotional content from the Los Angeles Times.