Beverly Hills OKs limit on watering lawns, backed by $1,000 fines
Beverly Hills will have to cut water use to comply with Gov. Jerry Brown's drought order.
(Mel Melcon / Los Angeles Times)
A gardener waters the front lawn of a home in Beverly Hills.
(Mel Melcon / Los Angeles Times)
A sign welcomes visitors to Newport Beach.
(Mark Boster / Los Angeles Times)
Newport Beach is one of the heaviest per-capita water using cities in the state.
(Mark Boster / Los Angeles Times)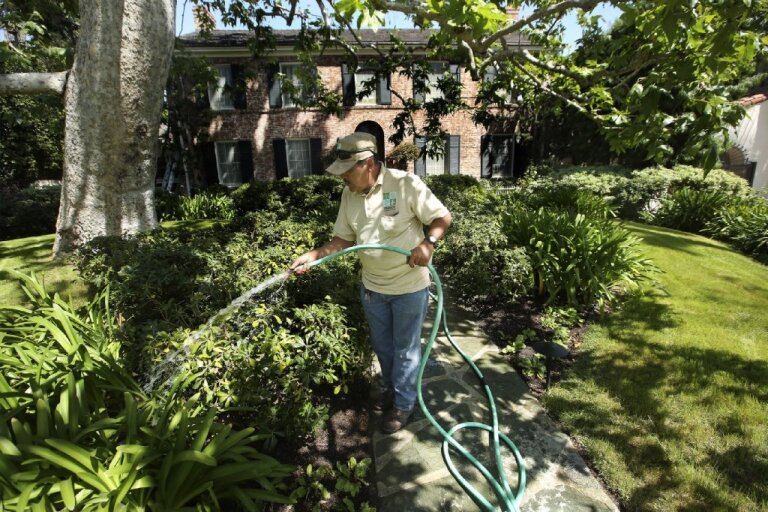 A landscaper waters the yard of a Beverly Hills home this week. Gov. Jerry Brown issued an executive order mandating that urban areas cut water use 25% by the end of February 2016.
(Mel Melcon / Los Angeles Times)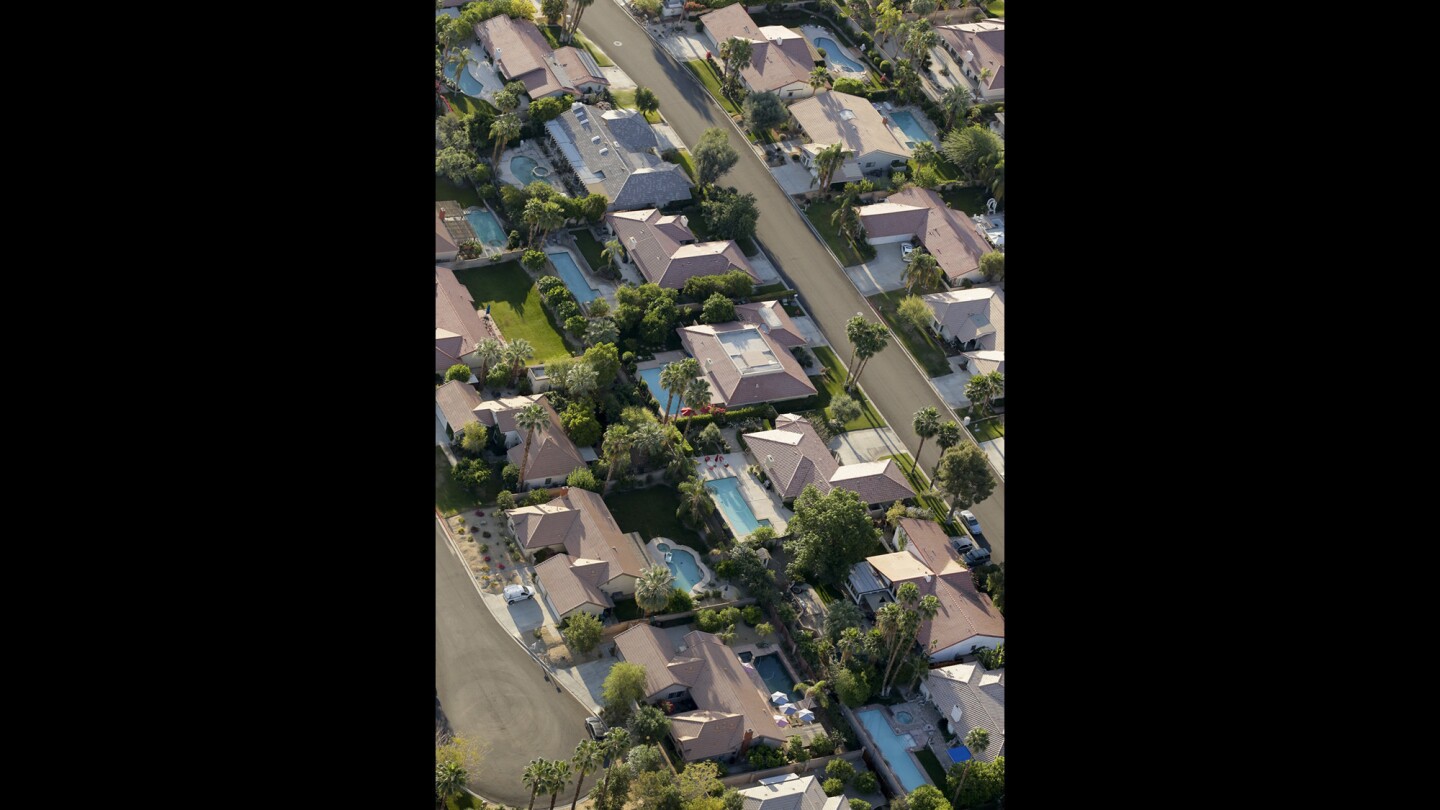 Homes with swimming pool line the streets of this neighborhood in Palm Springs.
(Chris Carlson / Associated Press )
A bicyclist rides by a Long Beach home that features drought tolerant plants.
(Genaro Molina / Los Angeles Times)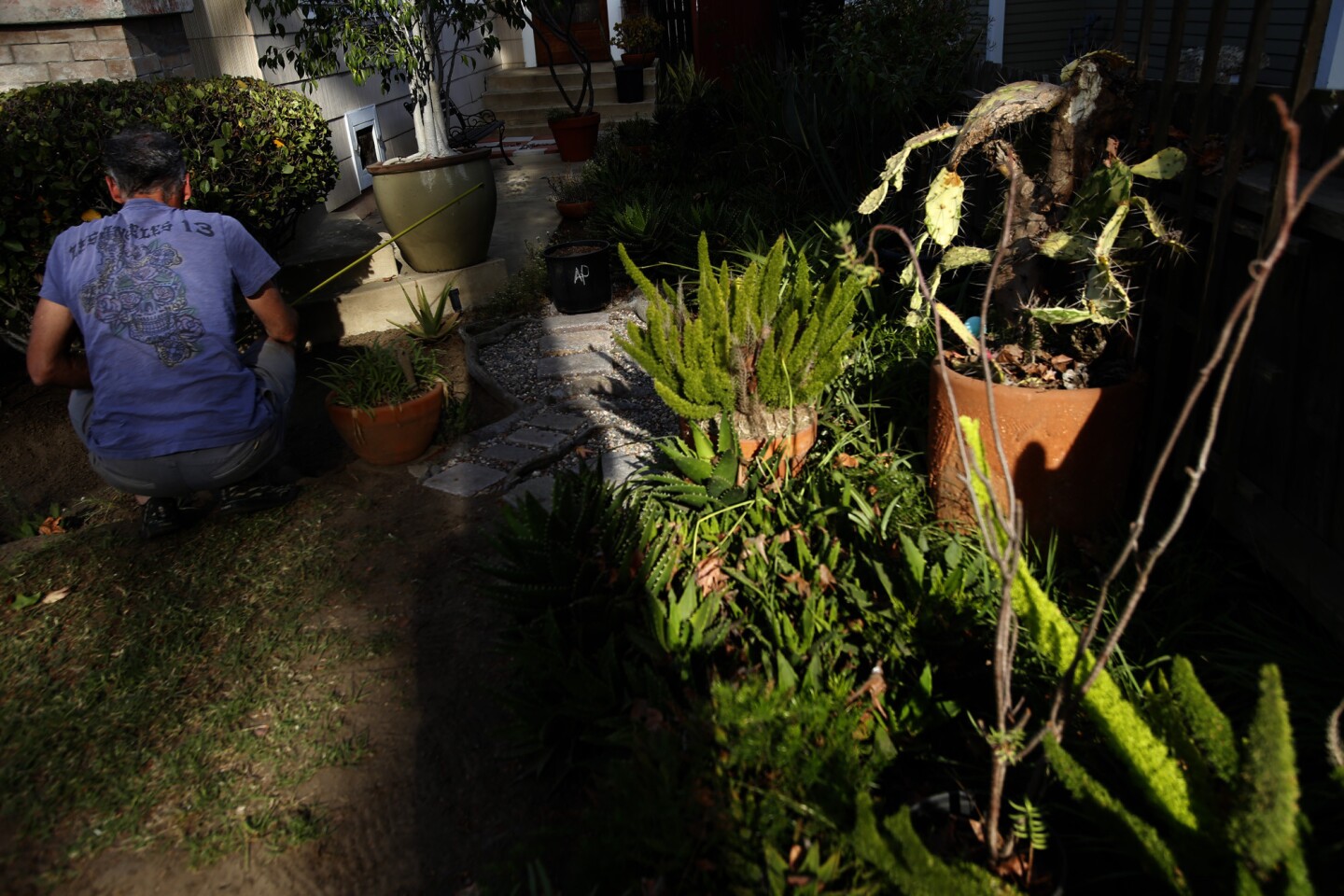 A Long Beach homeowner works in his frontyard alongside drought tolerant plants.
(Genaro Molina / Los Angeles Times)
The Beverly Hills City Council has cracked down on water waste, agreeing to enact a slew of new rules aimed at slashing the city's consumption amid an unrelenting drought.
Under the requirements, which the council is expected to formally pass May 5, water wasters could be fined up to $1,000 for draining and refilling existing swimming pools, washing cars with drinkable water at home or watering more than two days a week.
In addition, the vast majority of the city's residents would have to cut their usage by 30% compared with the same billing cycle the previous year. The city's lowest water users would be exempt from that specific mandate.
Beverly Hills is under intense pressure to cut its water use by 36% by the end of February 2016. The city is among dozens of urban water suppliers that have been preliminarily instructed to cut that much in order to help the state meet Gov. Jerry Brown's order requiring a 25% statewide water-use reduction.
Beverly Hills residents have for months been among the state's highest water users and, until Tuesday, officials had stressed education rather than penalties.
Beverly Hills Mayor Julian Gold said in a statement that new technology and education would remain a "big part" of the city's program, but also acknowledged: "We are in a crisis situation with the drought and Beverly Hills is determined to meet the new water conservation goals."
"We will evaluate our progress on a regular basis and make adjustments to our conservation program as needed," Gold said.
Over a span of more than two hours Tuesday, the City Council discussed three proposed sets of tighter watering restrictions. The city's public works commission had recommended that the council adopt its most stringent proposal -- "Stage D." That stage would have penalized customers who failed to make their cuts with a surcharge of up to 10 times the normal water rate.
After discussing a recent court decision on the legality of tiered rates, the council ultimately settled on a modified version of Stage D that would establish a penalty surcharge specifically based on the cost of providing the higher volume of water.
According to a prepared statement: "Analysis on the tiered penalty rate will be completed over the next couple of months to ensure compliance with state law."
"We definitely characterize [the plan] as strict," city spokeswoman Therese Kosterman said Wednesday. "Water conservation matters and we're one of the first cities out there that is responding to the new state water board restrictions. We think it's a pretty strong program."
Los Angeles Times staff writer Matt Hamilton contributed to this report.
Follow @ByMattStevens on Twitter for coverage of the California drought.
---
The stories shaping California
Get up to speed with our Essential California newsletter, sent six days a week.
You may occasionally receive promotional content from the Los Angeles Times.