Bird sues Beverly Hills over its ban of motorized scooters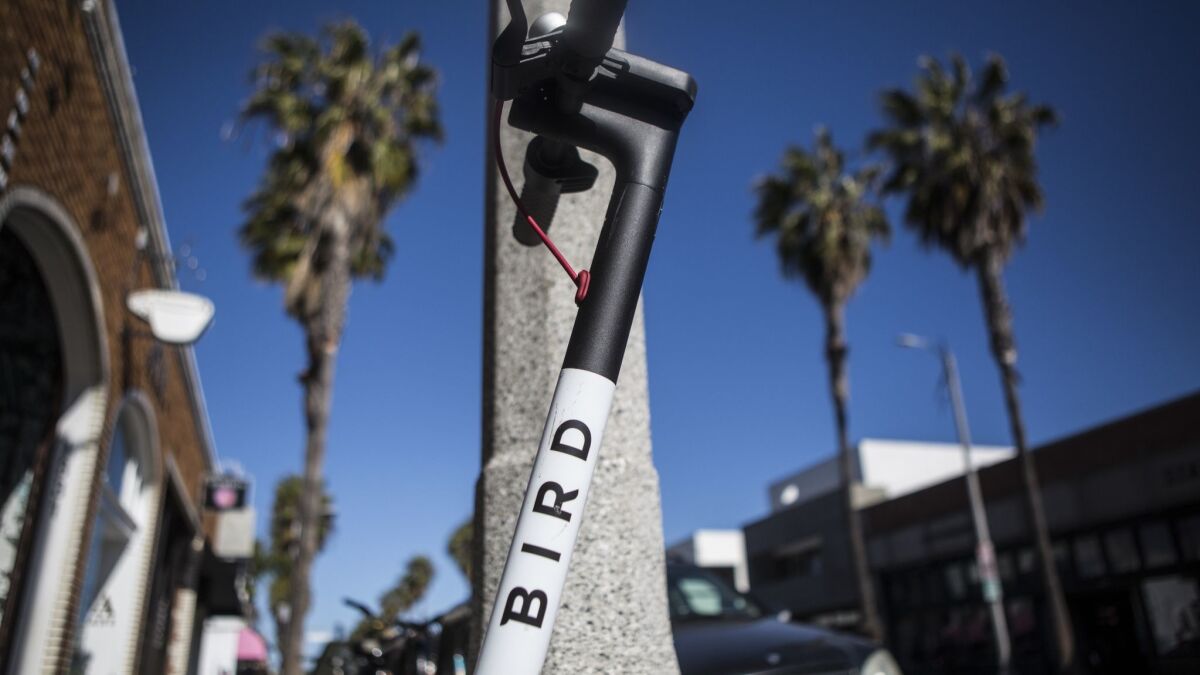 Opening a new chapter in the scooter wars, Bird filed a lawsuit Thursday against Beverly Hills, seeking to overturn the city's ban on motorized scooters that has led to the impound of more than 1,000 of the company's vehicles since July.
The 41-page lawsuit filed in Los Angeles Superior Court marks Bird's first attempt to use the legal system to overturn a city's scooter ban, and could set the stage for future confrontations as the vehicles grow more popular.
"Anywhere there's a ban in California, it's illegal," Bird's chief legal officer, David Estrada, said in an interview Thursday, adding that the company will "aggressively review" bans in other cities.
Bird's explosive growth in Southern California over the last year has sparked controversy in cities where the electric-powered scooters appeared with little warning. Elected officials in West Hollywood, El Segundo and Ventura have moved to ban the scooters supplied by Bird and its main competitor, Lime.
Los Angeles, Santa Monica and Long Beach have approved pilot programs that would require the scooter companies to follow parking laws and share some data with city officials in exchange for permits that allow a set number of vehicles.
That patchwork of regulations has made doing business more complicated, Estrada said, because residents don't think about the boundaries for Los Angeles County's 88 cities when they move around the region.
In the lawsuit, Bird alleges that the Beverly Hills City Council's July decision to ban scooters violated several California laws, including a clause that gives motorized scooter riders the same rights on the road as drivers, bicyclists and motorcycle riders.
Beverly Hills spokesman Keith Sterling said he could not comment on the lawsuit because the city had not yet seen it.
The lawsuit also accuses the Beverly Hills Police Department of violating Bird's due process rights. The city impounded more than 1,000 scooters and charged Bird more than $100,000 to retrieve them, without telling the company where they had been parked or for how long, the lawsuit said.
During the appeals process, Bird faced "an opaque and unfair administrative hearing," overseen by police officers who could not be impartial, according to the lawsuit.
The lawsuit also alleges that Beverly Hills broke California's open government laws, which typically require that agencies publish agendas for public meetings 72 hours in advance. Sterling said the City Council discussed regulating or banning scooters at a public study session on the afternoon of July 24, and decided afterward to add the ban to that evening's City Council agenda as an "urgency" item.
By not analyzing the potential effects of a scooter ban, Beverly Hills also violated California's rigorous environmental laws, Bird said. Electric scooters have the potential to take cars off the road, improving air quality, the company said.
The lawsuit cited a recent survey in Portland, Ore., which found that scooters had encouraged more than 20% of respondents to get rid of a car, or to think about it. Nearly one in five people said they would have used a car to make their last trip if a scooter hadn't been available. More than one-third said they otherwise would have walked.
California's environmental laws have been a staple in Beverly Hills' years-long battle with the Metropolitan Transportation Authority over its plans to build a subway line beneath the high school. But the city's willingness to go to court over environmental laws doesn't worry Bird, Estrada said.
For more transportation news, follow @laura_nelson on Twitter.
The stories shaping California
Get up to speed with our Essential California newsletter, sent six days a week.
You may occasionally receive promotional content from the Los Angeles Times.