Marvin Gaye children ask judge to bar sales, performance of 'Blurred Lines'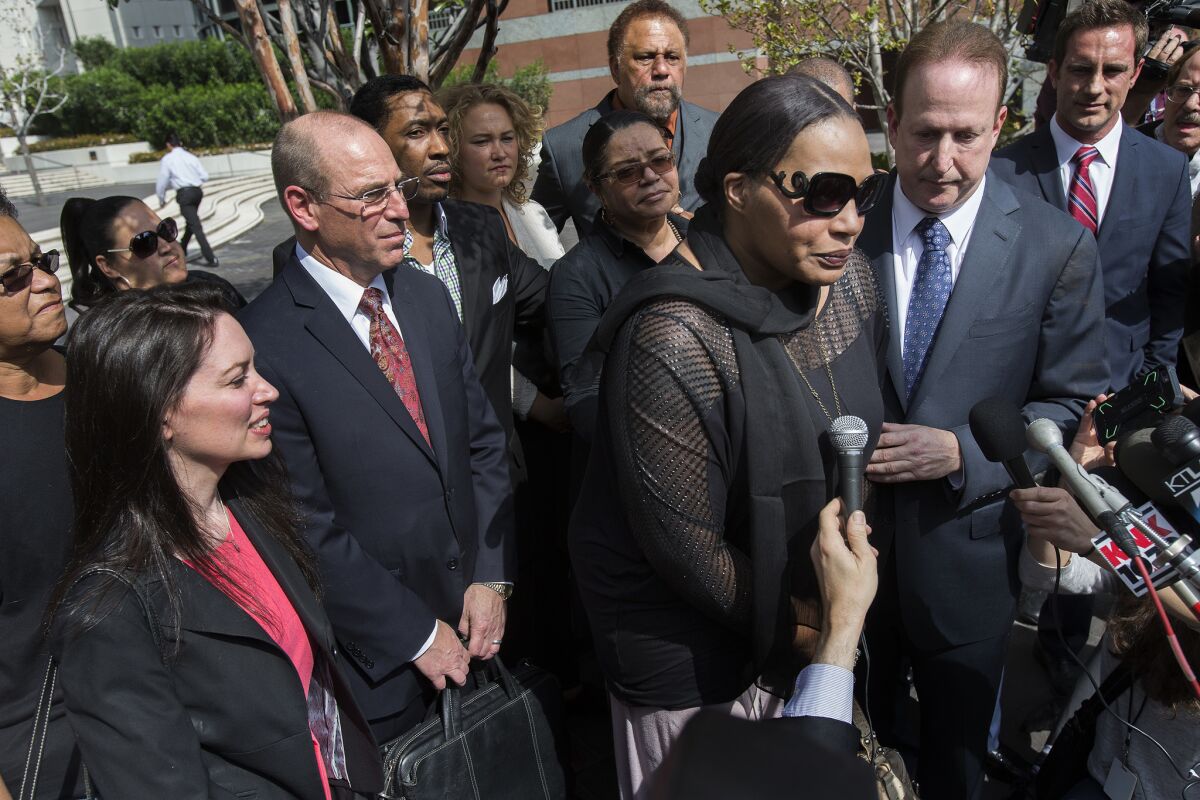 Attorneys for the family of late musician Marvin Gaye have asked a federal judge to block the sale, distribution and performance of the hit 2013 song "Blurred Lines," after last week's jury verdict that the tune infringed on Gaye's 1977 chart-topper "Got to Give It Up."
Jurors awarded three of Gaye's children, who inherited rights to the Gaye song, nearly $7.4 million of profits previously generated by "Blurred Lines," which was 2013's biggest single and earned more than $5 million each for singer Robin Thicke, producer Pharrell Williams and the record companies.
The jury found that rapper T.I. and record labels Interscope and Star Trak were not liable for the infringement.
In a request for a permanent injunction filed late Tuesday, Gaye family attorneys contended that the copyright infringement of the soul singer's work was continuing with each sale of the song. Thicke and Williams "are being unjustly enriched (and the Gayes irreparably harmed) each day that 'Blurred Lines' is being sold," attorneys wrote.
Attorneys said they weren't seeking to make the song entirely unavailable, but said they needed the court order to start negotiations regarding the sharing of future profits from "Blurred Lines."
Lawyer Howard King, who represented Thicke, Williams, T.I. and the record companies, has said he doesn't believe an injunction should be granted because the companies that own the recording and distribute the song were vindicated by the jury of any infringement.
"Some creative gymnastics will be required to justify any injunction against the owner and distributor of the song recording after they have been adjudicated not to be infringers," he wrote in a guest column for The Hollywood Reporter last week, calling the case "not finished by any stretch of the imagination."
Gaye family attorneys contended in papers that the record labels were profiting from infringing work, and that without the musical composition "all Interscope would be distributing is a picture of Robin Thicke and a CD containing silence."
They also filed a motion Tuesday asking the judge to correct the verdict to also hold T.I. and the record companies liable, saying that as a matter of law everyone involved in the creation and distribution of the song should be responsible even if they weren't directly involved in the copying.
The closely watched trial in downtown Los Angeles, which featured colorful testimony by Thicke and Williams and a rare look at the inner workings of the music industry, sparked renewed interest in the song. "Blurred Lines" sold 6,000 digital tracks in the first week of trial and was streamed online nearly 2 million times during the same week.
Times Staff Writer Ryan Faughnder contributed to this report.
For news on the courts, follow @vicjkim
---
The stories shaping California
Get up to speed with our Essential California newsletter, sent six days a week.
You may occasionally receive promotional content from the Los Angeles Times.