Former assemblyman files papers to fill Bob Filner's mayoral seat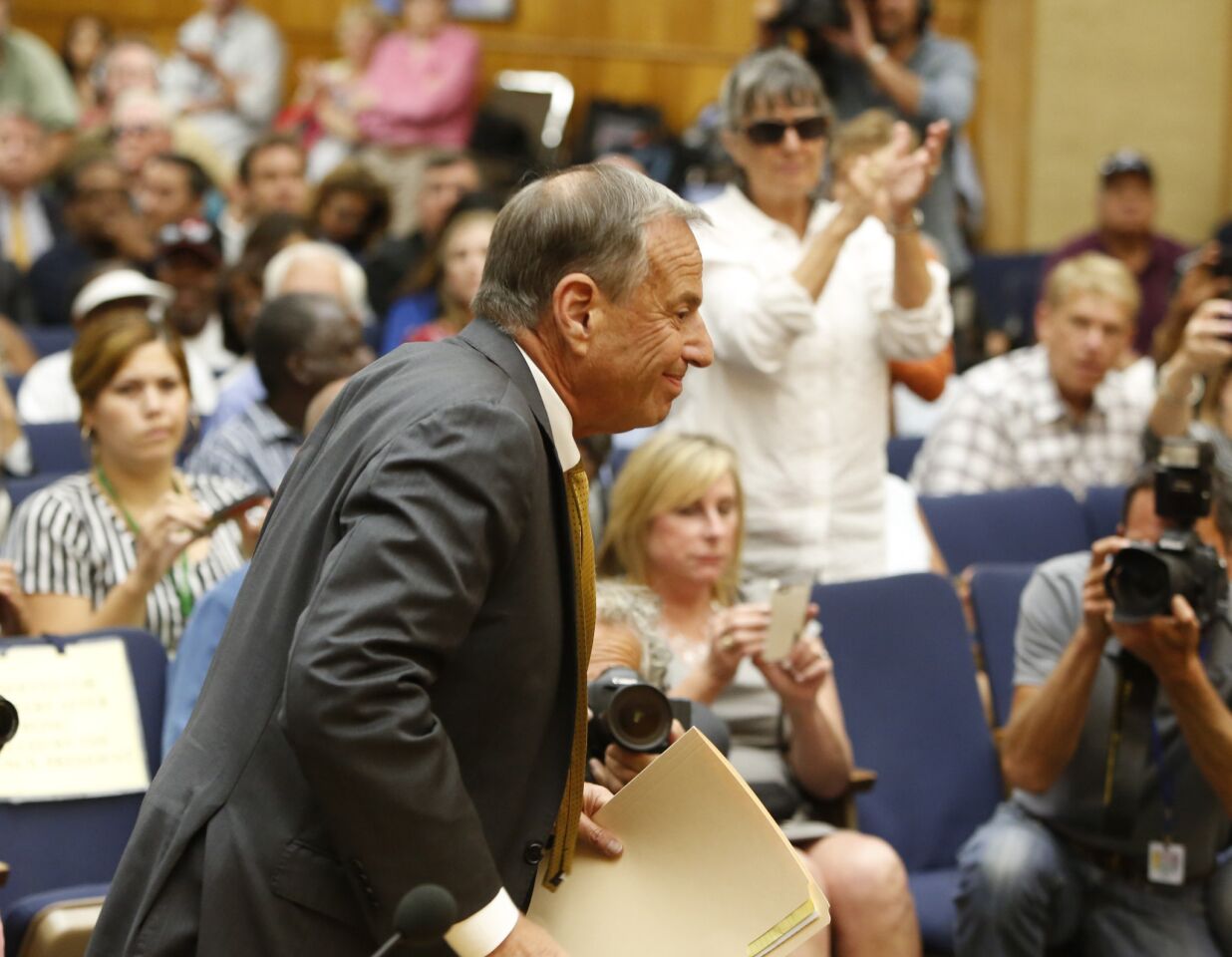 Bob Filner enters the San Diego council chambers to announce that he is resigning as mayor as his supporters applaud in the background. He was publicly accused of sexual harassment by many women.
(Don Bartletti / Los Angeles Times)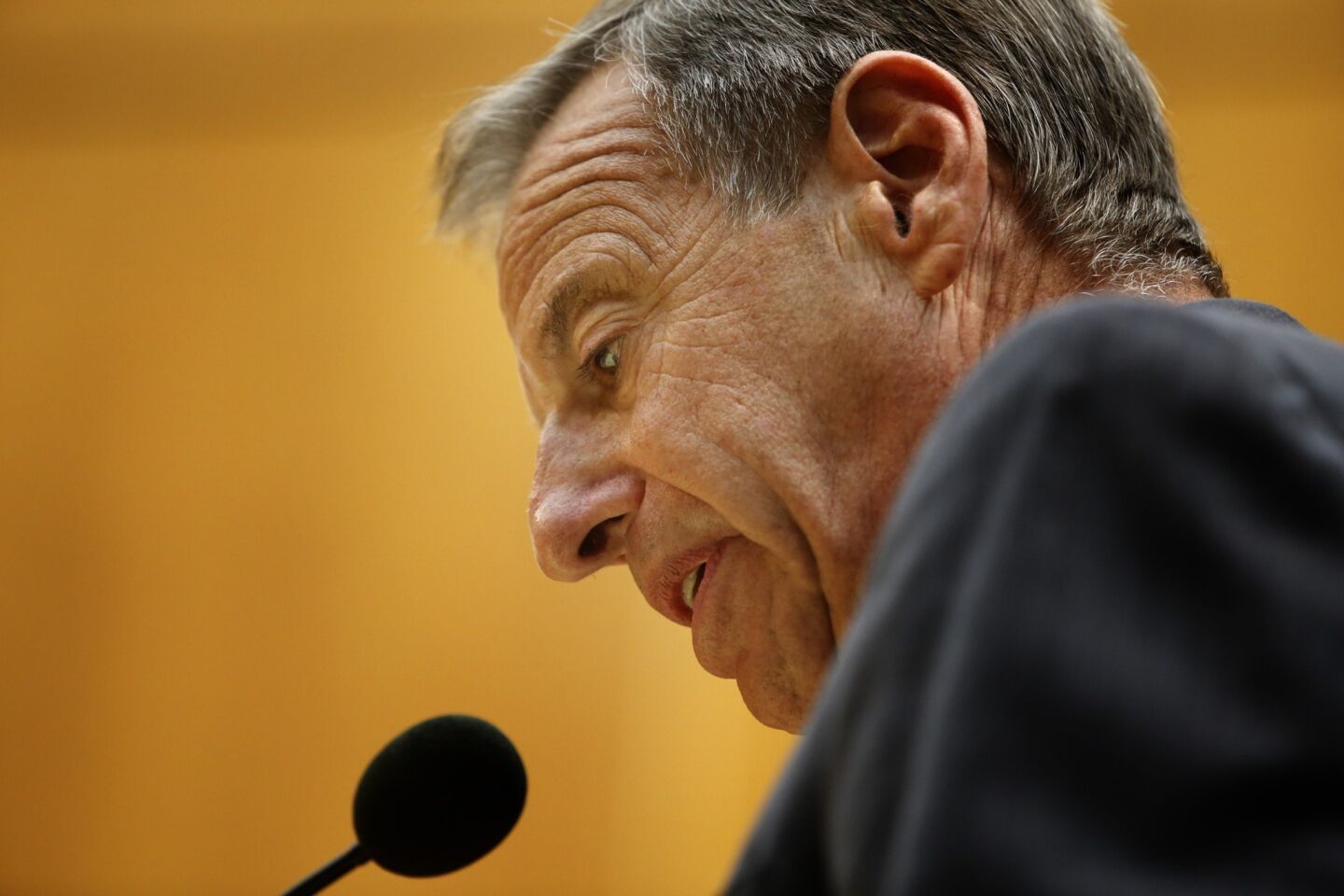 In the San Diego City Council chambers Bob Filner announces he is resigning as mayor.
(Don Bartletti / Los Angeles Times)
As Bob Filner addresses the City Council, the official San Diego city statement is projected on a screen.
(Don Bartletti / Los Angeles Times)
San Diego City Council President Todd Gloria, right, listens to public comment about Mayor Bob Filner during a special meeting in the council chambers. Later in the afternoon, Filner appeared and announced his resignation, with Gloria appointed interim mayor.
(Don Bartletti / Los Angeles Times)
SAN DIEGO -- San Diego Mayor Bob Filner has not yet officially resigned, but one high-profile candidate has already signed up for a special election to take his place.
Former Assemblyman Nathan Fletcher, who lost in last year's mayoral primary, has filed papers with the city clerk indicating an intention to start fund-raising. Meanwhile, Dist. Atty. Bonnie Dumanis, who also lost in the primary, has ruled out a second run.
But former Councilman Carl DeMaio has said he has not decided whether he will file as a candidate. To do so, DeMaio would have to drop his bid for the Republican nomination for a San Diego congressional seat now held by Rep. Scott Peters, a Democrat.
When Filner, as expected, resigns, the City Council will have to call a special election within 90 days. If no candidate receives more than 50% of the vote, a runoff would be held between the two top vote-getters.
The council is slated to meet in closed session Friday afternoon to consider a proposed deal reached in mediation over a sexual harassment lawsuit against Filner and the city.
Under the terms, Filner would resign and the council would approve a financial settlement involving Filner's costs linked to the lawsuit, filed on behalf of his former director of communications.
Even as Filner was poised to resign, organizers of the recall campaign were still out across the city and outside City Hall on Friday.
"Until the City Council sets the date for the election, we're continuing," said recall leader Michael Pallamary.
Referring to the fact that Filner has apparently already signed a resignation letter, pending the approval of the mediation deal by the City Council, Pallamary said, "We don't trust his signature."
Meanwhile a small group of Filner supporters were outside City Hall, waiting for the council meeting to begin.
Some held signs. "No coup" read one.
"He's a great person, it's so unjust," said Rosa Plasencia, a resident from San Ysidro. "He dealt with us for many years and always respected us."
ALSO:
Chris Brown calls D.A. 'racist' for upping community labor hours
Man who killed wife, microwaved dog won't get case reviewed
Filner signs resignation letter ahead of council's settlement vote
Twitter: @LATsandiego
---
The stories shaping California
Get up to speed with our Essential California newsletter, sent six days a week.
You may occasionally receive promotional content from the Los Angeles Times.