Bootlegged apartments could get a chance at L.A. city approval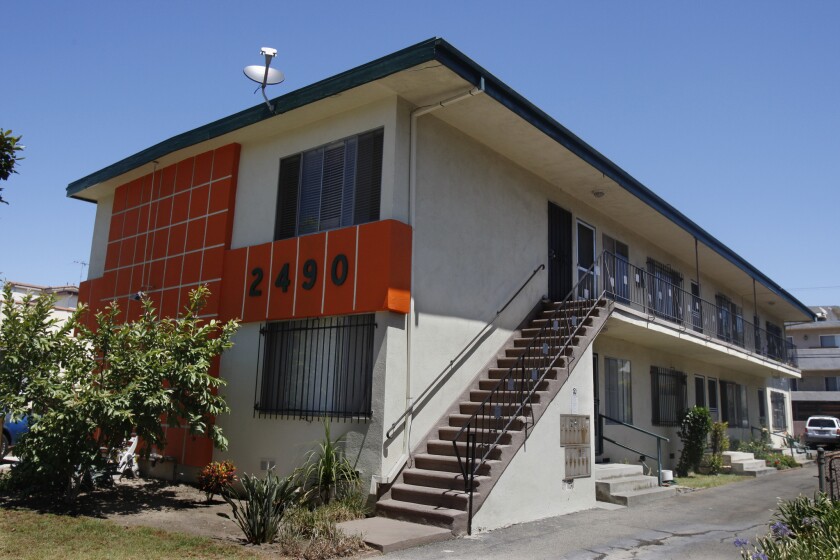 Los Angeles has long suffered a housing crisis that prices many Angelenos out of decent, affordable homes.
Yet even as local leaders bemoan that problem, city officials say hundreds of apartments — many of them safe and habitable — have been shuttered annually in the wake of inspections that revealed they never got city approval.
Loath to lose more housing, Los Angeles lawmakers are now taking steps to help legalize "bootlegged" apartments that have long existed without municipal blessing.
The proposed amnesty was born out of an unusual alliance of landlords and tenant advocates troubled by the elimination of quality, affordable units created without city permits. A City Council committee moved Wednesday to start hammering out rules that would give many of those apartments a smoother path to legalization.
The goal, City Councilman Felipe Fuentes said, is to "maintain affordability and try to get folks into stable, dignified housing."
Both tenant and landlord groups praised the budding plan as a "win-win" — a way to preserve housing and prevent renters from being ejected from livable units. But the idea has already raised concerns among some residents who see it as a reward for flouting the law.
Housing inspectors say that bootlegged units are often much like sanctioned apartments because they were carved out of other units or building space that was legally permitted. In many cases, the main barriers to legalizing them are not construction or safety problems but city codes that mandate a minimum number of parking spots and limit the number of units on a lot.
Yet city officials say many landlords are discouraged from even trying to legalize safe, decent bootlegged units. Planning associate Matt Glesne said the existing process to seek relief from zoning requirements is "not cheap and not quick," costing landlords upward of $10,000 and taking six to nine months.
Instead, many landlords simply shutter the unit. Between 2010 and 2015, the vast majority of illegal units found by city inspectors were ultimately removed, eliminating more than 1,700 apartments. In the face of rising rents, city lawmakers are trying to ease the way to legalize such units.
Under the proposed new rules, landlords would have a limited time to seek to legalize bootlegged units that already exist. "We're not talking about creating anything new," said Larry Gross, executive director of the Coalition for Economic Survival, a tenant advocacy group that helped develop the idea. "These tenants are already there."
City planners would vet illegal units against a checklist to make sure they did not create a nuisance in their neighborhoods. Landlords would have to provide some affordable housing in exchange for the legalized unit. Parking rules could be relaxed if the apartments were close enough to a major transit stop, Fuentes suggested.
If a unit fell short on that checklist, however, it would still have a chance at legalization through a longer, more extensive city process. In that case, neighbors would be notified and have a chance to appeal the decision, and the city could impose conditions to ease any negative effects on the neighborhood.
Under either process, landlords would not be able to pass on the costs of legalizing a unit to their tenants. And they couldn't get any apartment approved if it violated health and safety codes. The city would put a pause on fines and other penalties while a landlord was going through the legalization process, and would create a method to help estimate the costs of bringing the unit in line with building codes beforehand.
The proposal still leaves some key details to be decided: It remains unclear exactly how parking rules might be altered to legalize existing units, for example. Landlords urged city officials now tasked with drafting the rules to make the process as simple as possible.
"The less red tape the city puts in front of it, the better," said Earle Vaughan, a former president of the Apartment Assn. of Greater Los Angeles, which helped develop the plan. "L.A. is behind the curve on this. San Francisco has already passed this. Santa Monica passed something like this a long time ago."
City lawmakers will still have to approve the rules once drafted. No neighborhood councils have officially weighed in on the plan yet, but some residents are wary of the idea. Last year, before any details of the plan had been spelled out, the Del Rey Residents Assn. sent a letter to lawmakers saying that it "vehemently" opposed an amnesty plan for illegal apartments, saying it would reward people for breaking the law. The group was also leery of loosening parking requirements, saying its area already faced "vociferous parking disputes."
Steve Sann, chairman of the Westwood Community Council, said he wants to know whether the city would still impose some kind of penalty for bootlegged units. "These owners have been making all this extra money for years — what are the consequences?" Sann asked.
City officials believe that most of L.A.'s bootlegged units are on single-family lots, such as illegally converted garages, but the proposal only targets illegal units in apartment buildings. Fuentes said it was easier to start with bootlegged units in apartment buildings because the city already has a systematic program for inspecting them every four years.
However, "the next round will be to try to determine what it is that we do with those illegal garage conversions," Fuentes said at the committee meeting Wednesday.
Follow @latimesemily for what's happening at Los Angeles City Hall
---
The stories shaping California
Get up to speed with our Essential California newsletter, sent six days a week.
You may occasionally receive promotional content from the Los Angeles Times.